The Old Elevator Restaurant recently announced that it had received a celebrated "Wine Spectator Award of Excellence".
Information on the award was recently published in the August 31, 2003 issue of Wine Spectator Magazine. The magazine, which was established in 1976 and has a paid circulation of over 350,000 copies per issue, is considered to be North America's pre-eminent source for wine enthusiasts. The Restaurant Awards Program, which has been showcased each year in Wine Spectator Magazine since 1981, was created to honor restaurants that show passion for great food and wine. This year 3,360 restaurants worldwide were provided with awards ranging from Award of Excellence to Best of Award of Excellence to its Grand Award.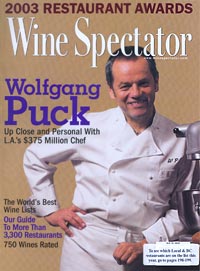 The Award of Excellence, which the Old Elevator received, is awarded to restaurants that display commitment to a fine wine list, with a sufficient selection of better producers along with a thematic match to the menu in both price and style. There are now 176 restaurants in Canada which received Wine Spectator Awards in 2003. Amongst them, the Old Elevator is only one of four restaurants in the BC interior and the first restaurant in the East Kootenays to receive this prestigious award. More information on Wine Spectator and the Restaurant Awards Program can be found at www.winespectator.com.
"The Award of Excellence was a wonderful way to be recognized on our 25th anniversary," states Restaurant Manager, Laura Wyatt. "We have been working very hard over the last few year's to take our menu and our wine list to the next level. We have been successful by sticking to the philosophy that a quality wine at a fair price is the perfect complement to a great meal. The response from our customers has been fantastic, especially the enthusiasm they show as they become more educated about the wines."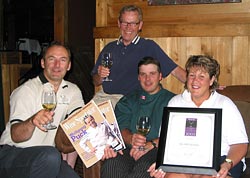 Celebrating its 25th year of operations, the Old Elevator continues to be one of Fernie's most beloved and popular dining venues. Housed in a restored grain elevator originally built in 1908, the Old Elevator offers guests a truly unique dining environment. In addition to a great setting, the Old Elevator offers guests creative menus and the most extensive wine cellar in the Kootenays. The restaurant's entrees and wines draw on both regional and Old World influences including BC's West Coast, the Okanagan Valley, Tuscany and Bordeaux. More information on the restaurant, its menu and wine list can be found at www.oldelevator.com.