What Fernie locals already know was just confirmed by National Geographic–Fernie has been listed as one of the World's top 25 ski towns!
Just what makes a classic ski town? It starts, naturally, with skiing and snowboarding so good they attract people like youth-bestowing fountains. Then add an inviting mountain burg steeped in ski heritage, amenities, and culture. These are the 25 best. For insider tips, we asked local luminaries where to stay, play, and party, whether you're on a budget or indulging. —Aaron Teasdale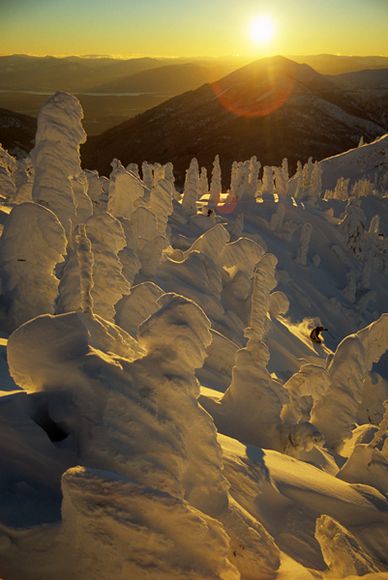 Fernie, British Columbia, Canada
Best For: Adventurous skiers with a hunger for the steep and deep
Though it serves up some of the most spectacular terrain and best snow in all of Canada, this historic mining hamlet of 4,217 people tucked into the far southeastern corner of British Columbia still somehow flies below the greater ski-scene radar. Which isn't a bad thing—its wide-open alpine bowls, knife ridges, and daredevil chutes are rarely crowded, and fresh tracks can still be found in afternoons on powder days. For many skiers and snowboarders it hits the Canadian sweet spot, with more consistent powder than Whistler and warmer temperatures than Banff.
Similar to its American cousin, Whitefish, a hundred miles to the south, Fernie is a small, funky town with a tiny yet charming downtown. Restaurants are eclectic and unpretentious, the old train station has been converted to an arts center, and ski bums abound. It's the kind of town where old skis are turned into fences, benches, and coat racks. Thanks to new developments at the base of the hill and in town, lodging options at all price points abound, from hostels to luxury lodges.
Fernie Alpine Resort overlooks the Elk River Valley from 4.5 miles outside town, clinging to the sculpted faces of the Lizard Range. Its five distinct bowls will keep advanced skiers and snowboarders drunk on adrenaline all day, while the new chairlift to the summit of Polar Peak opens up hundred-mile mountain views and 3,497 feet of vertical drop. Diehard powder addicts can head up to the Bear Lodge of Island Lake Catskiing, a few miles past the ski area, for world-class cat skiing.

Ask a Local
Brian Bell came to Fernie in 1993, living in his van, to ski for a winter and never left. He's been running the Mountain Adventure Skills Training Program at the Fernie Campus of the College of the Rockies for 15 years. Here are his recommendations.
Best Digs
Budget: The Raging Elk Hostel in downtown Fernie
Swank: The Lizard Creek Lodge on the mountain is ski-in, ski-out.
Best Eats
Cheap: Big Bang Bagels—get the "Mr. Fernie" on a whole wheat salty top.
Gourmet: Picnic Restaurant + Social has beautiful ambience and the slow-braised buffalo ribs are fantastic.

Best After-Ski Party Spot
The Griz Bar right at the hill has the best nachos in town and great acoustic après-ski bands. Be sure to ask about the naked table sliding.
Best Rest-Day Activity
Hang out sipping espressos at Bean Pod, the best coffee (and handmade artisan chocolates) most likely in the Western Hemisphere. Then go fondle all the beautiful skis at the local ski shops in historic downtown Fernie.
Fernie's Classic Ski Run
"Sky Dive nonstop, top to bottom. By far the best fall line on the hill," says Bell.
READ MORE: http://adventure.nationalgeographic.com/adventure/trips/best-ski-towns-photos/
Photograph by Ryan Creary, Corbis