A Fernie local and avid skier, Klyde DeGroot, is the winner of the handmade SnoDay Fernie Factor powder skis. Congratulations Klyde! Klyde commented when he picked up his skis, "These are beautiful and really well build, they're gonna rip—I'll mount them tonight!"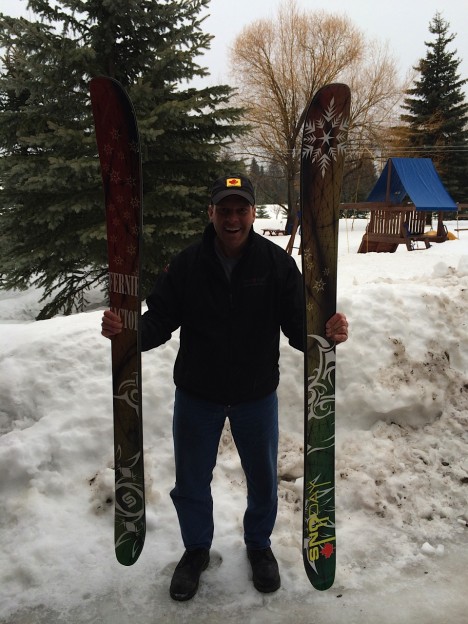 The SnoDay Fernie Factor skis were handbuilt in Cochrane AB by John Hromyk and his team at SnoDay. These skis were named Fernie Factor's, to celebrate Fernie's frequent dumping of large quantities of powder that greatly exceed the forecasts. For example, last year on a Powder Tuesday, 10 cms was forecast and 70cm accumulated in 24 hours!
The sweepstakes was held on FernieForum a Facebook page covering the latest Fernie news, events, locals reports, snow conditions, and a page to keep in touch with your favourite mountain community.
Hromyk and his team and strive to create skis that will deliver exceptional performance in the all conditions experienced on a typical SnoDay in the Rockies.
They are designing and building skis for performance skiers that will respond quickly to inputs and give the rider the opportunity to push their skills with ease and confidence. All their skis are race inspired with varying degrees of camber and side-cuts, even on the widest profiles. Responsive, agile and durable aren't just buzz words but pillars of quality.
Klyde will be celebrating the Fernie Factor's tomorrow!