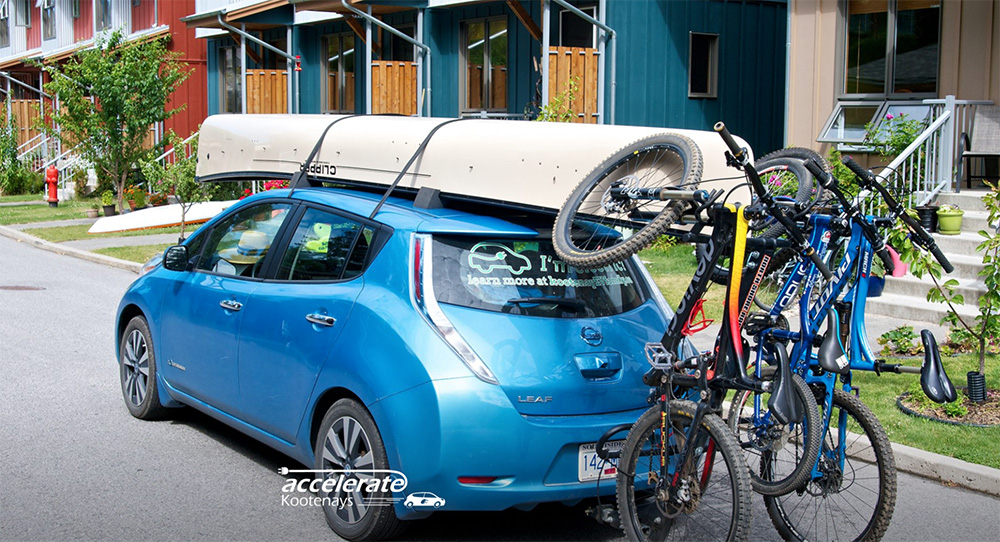 The Kootenays are quickly becoming one of the most connected rural regions in Canada for electric vehicle (EV) travel. With leadership from the Regional District of Kootenay Boundary, the Regional District of Central Kootenay, and the Regional District of East Kootenay, the Community Energy Association (CEA) received a $1 million investment through Natural Resources Canada's (NRCan) Zero Emission Vehicle Implementation Program (ZEVIP) to support the installation of up to 90 EV chargers across the region.
The funds will be used to expand the places and spaces EV drivers can find convenient charging stations. This new investment builds off the award winning Accelerate Kootenays charging network – a $1.5 million initiative completed in 2018 that became Canada's first community-driven strategy to build a clean transportation network – and will diversify the types of locations where EV drivers will be able to find charge. Because this funding is anchored by the initial Accelerate Kootenays locations, it is being called Accelerate Kootenays 2.0.
Since the original EV charging network was completed in 2018, EV ownership by Kootenay residents, and visits to the region by EV tourists, has dramatically increased. Provincial statistics show that the Kootenay region had one of the largest increases in new EV sales in BC; the number of EVs registered to Kootenay residents in fact grew 421% between 2018 and 2021.
Given the success of Accelerate Kootenays, the growth of EV travel and a strong history of successful collaboration, the three regional governments again came together to advance opportunities for Kootenay residents and communities. In this case, NRCan's investment will maintain the momentum of EV adoption in the region by supporting businesses, hoteliers, organizations and non-profits to install charging stations for clients, customers and residents alike.
"We're making electric vehicles more affordable and charging more accessible for Canadians from coast to coast to coast. Investing in more EV chargers, like the ones announced today in British Columbia, will put more Canadians in the driver's seat on the road to a net-zero future, and help achieve our climate goals", said the Honourable Jonathan Wilkinson, Canada's Minister of Natural Resources.
"As regional governments we know we have a role to play to make EV charging more accessible in our communities. The RDCK is committed to sustainability and helping to build a clean transportation network by adding more charging options, including at Selkirk College in Castlegar which will be a tremendous asset for students, faculty and the public, especially those who can't charge their EV at home", said Rick Smith, Area 'J' Director for the Regional District of the Central Kootenay.
"The RDKB has been leading the way forwards in the shift to electric mobility and will continue to expand its EV fleet to support low carbon transportation across the region for staff based in Trail and Grand Forks," says Linda Worley, chair of the Regional District of Kootenay Boundary's board of directors.
Worley further noted that since both the Government of Canada and the Province of BC have said that after 2035 all new passenger vehicle sales will be electric, "It's really important that we stay ahead of the curve in terms of EV infrastructure and adoption, especially with the opportunities that current funding presents. Our region stands to realize tremendous environmental and economic benefits by being prepared for the boom of EVs on BC roads. And not just BC drivers; adding convenient charging options will make it easy for tourists from neighbouring regions and even the USA to visit our communities."
The Accelerate Kootenays 2.0 funding program is facilitated by the non-profit organization, Community Energy Association (CEA). For more information about the program and to access funding to install charging stations, visit acceleratekootenays.ca/2-0. Funding applications are being accepted until June 1, 2022. For questions about installing a charger at your location, please emailaccelerate@communityenergy.bc.ca