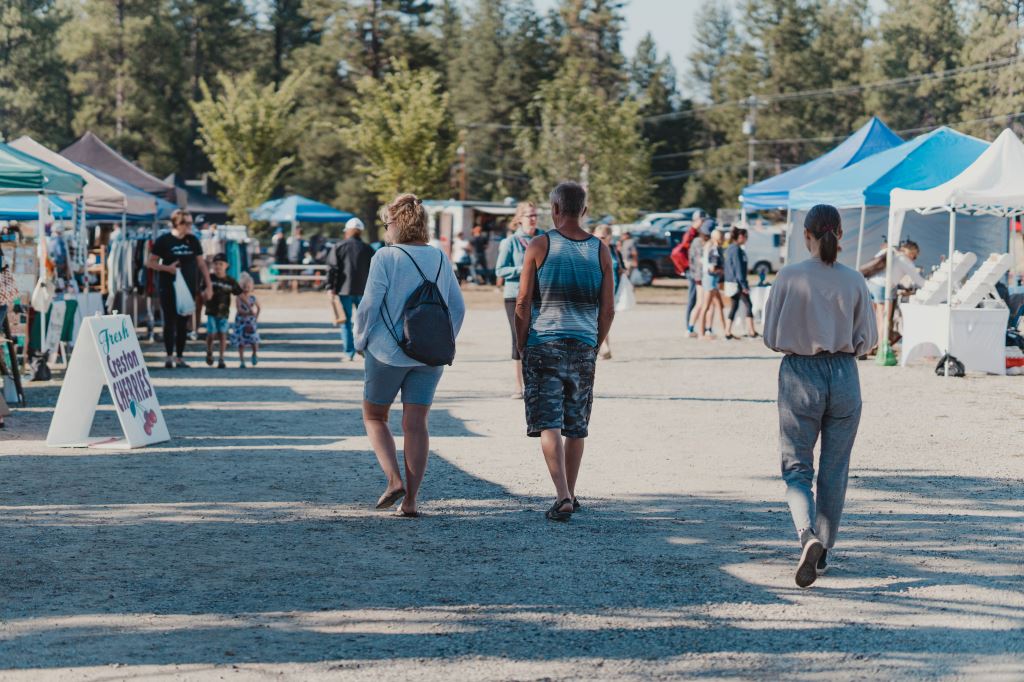 Baynes Lake is a rural community on the shores of Lake Koocanusa. On Saturday mornings, its community hall and the surrounding outdoor space transform into a bustling and vibrant epicenter. Locals and tourists alike gather to socialize and shop at the widely known and celebrated Jaffray-Baynes Lake Farmers Market.
The market coincides with a weekly pancake breakfast at the hall, hosted by the Baynes Lake Community Society and is always well attended—and it's long been the community's biggest fundraiser.
But this year, thanks to additional funding from a Columbia Basin Trust grant, the Jaffray-Baynes Lake Farmers Market is getting a series of much-needed improvements. In 2021, 13 farmers' markets received Trust support to help them respond to the demand for local food.
Treanne and Shaun See are the market managers, a role the husband-and-wife team (and long-time market patron) has held for two years. "The most impactful change this year is the addition of 25 new trees on the open market grounds that will mature over the years," the Sees say. "It gets very hot in the summer, and the new shade is something both vendors and patrons will appreciate."
Funding from Columbia Basin Trust also refurbished an outdoor public bathroom facility and has begun to add improved signage, several park benches and wildlife-proof garbage bins to the grounds.
A portion of the grant is dedicated to hiring a consultant to develop a long-term strategic plan, which will help Jaffray-Baynes Lake residents implement some of their bigger visions for this community centerpiece. The Sees say, "We'd also like to create more of a park scene, with a gazebo for live performances, and a PA system." These enhancements will be implemented gradually over the coming years.
"Our demographic is changing, with a lot of young families moving here," the Sees explain, noting how new entrepreneurs can benefit from the market. "Now is a great time for these changes." The changes, it turns out, will benefit the community for decades to come.