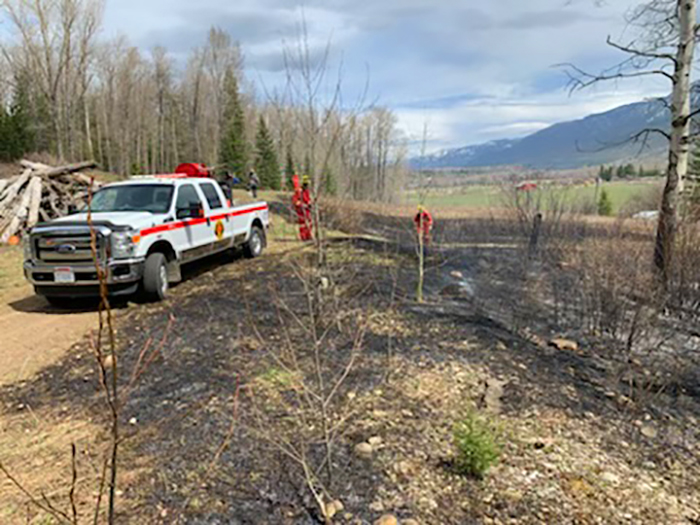 Members of the Hosmer Fire Department responded to a quickly spreading grass fire in the Hosmer area this afternoon, a day before National Wildfire Community Preparedness Day tomorrow. This is a
"When we arrived on scene, the fire had spread from a burn pit into the grass and was being driven by strong winds. Our crew did an excellent job of getting it contained before it spread any further," says Elk Valley & South Country Rural Fire & Rescue Services Chief Dave Boreen. A total of six firefighters responded to the call and no structures were impacted by the fire.
While open burning is permitted at this time, Boreen says today is a reminder of how quickly things can change and why it's essential to have every safety precaution in place. "Conditions are very dry right now. Before doing any burning, people should check with the BC Wildfire Service ensure there are no restrictions in place; monitor the weather and avoid burning if there is wind in the forecast; have a good water source and the proper tools on hand; monitor the fire at all times, ensuring it is not left unattended; and, fully extinguish it so that it is cool to touch before leaving the site."
Saturday, May 1st is Wildfire Community Preparedness Day and residents across the East Kootenay are being urged to spend some time tomorrow thinking about how they can help protect their homes and properties from the risk of wildfire.
"Whether you live in a municipality or in a rural area, there are a variety of actions each of us can take to reduce the number of wildfire hazards on our properties. From bigger actions like reducing fuel sources around your residence, to small ones like clearing eaves of dead, dry leaves and debris, there are numerous options to explore," explains RDEK Wildfire Resilience Supervisor.
While no formal community-wide events are planned for May 1st this year due to the pandemic, the RDEK is encouraging residents to make wildfire preparedness a priority at home. "It would be great to see people taking actions at home to remove potential hazards, create a plan for themselves and their families, or make a plan for steps they can take over the coming weeks to help protect their properties and be wildfire-ready," adds Balan.
The RDEK will soon be embarking on an education campaign to help encourage and support residents and communities in becoming FireSmart. Residents can access preparedness guides, homeowner's manuals, landscaping guides and more at firesmartbc.ca.
"While May 1st is officially Community Preparedness Day, we know the importance of wildfire preparedness all year round. Our goal is to support residents and communities in reducing the wildfire risks around their homes and properties, making us all collectively more resilient to wildfire," adds Balan. The RDEK's FireSmart education program is expected to launch by mid-May.
A big thank you to the members of the Hosmer Fire Department who sprung into action today and quickly contained a wind-driven grassfire. We are so lucky to have such dedicated firefighters in our communities and today's incident is a great reminder to be ready for the possibility of wildfires.