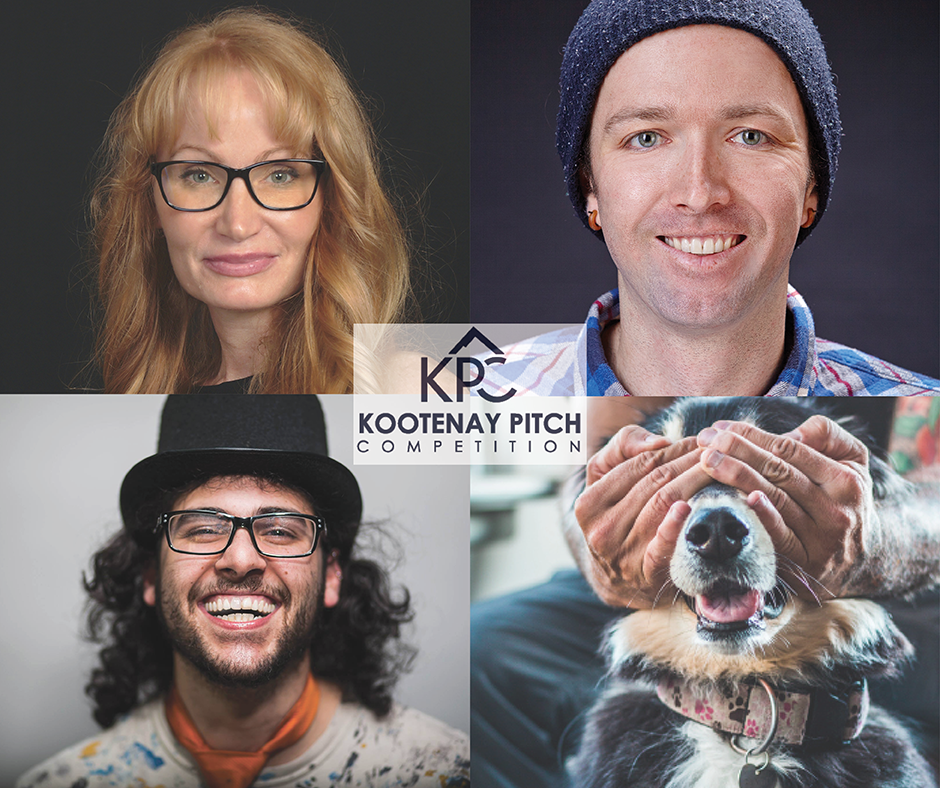 Over the last 12 months, nine startups and entrepreneurs from across the Kootenay region have competed in the first ever Kootenay Pitch Competition, put on by the Kootenay Association for Science & Technology (KAST). KAST, along with their partners, helped these businesses with one-on-one pitch coaching, networking opportunities and support to become investor-ready and take their businesses to the next level. On November 4, 2021, at 7pm PST, viewers from across the province and beyond can tune in to watch the grand finale event.
The Kootenay Pitch Competition is made up of three qualifying pitch events with a grand finale pitch event where the winners battle it out for the grand prize.
Thousands of viewers from across the province cheered loud and proud as these entrepreneurs and startups from across the Kootenays braved the virtual stage to pitch their businesses to the world:
– Sami Majadla, CertiCraft, Nelson (competing in the grand finale)
– Adele Hills, Sacral Solutions, Creston (competing in the grand finale)
– Kyle Hamilton, Sucre Interactive Technologies, Fernie (competing in the grand finale)
– Cam Shute, Dark Horse Innovations, Nelson
– Myles Peterson, Terracore Plastic Company, Castlegar
– Dusty Geyer, Continuity Craftworks, Nelson
– Wesley Fakrogha, Stuuli, Castlegar
– Terry Van Horn, SMRT1 Technologies, Nelson
– Sarah Hobbs, Karma Well, Kimberley
"I found the Kootenay Pitch Competition to be super helpful for myself and my business. Not only did it offer me the opportunity to concisely explain what Terracore is trying to do, but it also helped get more reach. Since the competition, Terracore has had multiple people reach out to us inquiring about our products, and when we would be able to have them manufactured by!"
-Myles Peterson, Terracore Plastic Company
The grand finale event on November 4 will see Sami Majadla from CertiCraft, Adele Hills from Sacral Solutions and Kyle Hamilton from Sucre Interactive Technologies compete for the grand prize:
– $2,500 cash
– 3 months of free entry into KAST's Venture Acceleration Program ($600 value)
– 5 hours at the Selkirk Technology Access Centre ($1,000 value)
– $500 to host a celebration party with their team
Each entrepreneur has 10 minutes to pitch their business, followed by a Q and A session with the judges who include investors, technology experts, funding agencies and experienced entrepreneurs who have global connections to both markets and investment capital. The event will be streamed on KAST's Facebook and YouTube channels from the Nelson Innovation Centre.
"I really enjoyed the entire process of participating in the first ever Kootenay Pitch Competition. It forced me to make some time to figure out how to communicate about my venture in a way that would matter to a potential investor or commercialization partner. The pitch coaching and webinar were definitely worth the cost of the entry fee, and the IRAP support led to a no cost consultation with a NRC scientist to help with a problem we need to solve. All in all it took a lot of effort to participate in it, but it was all worth it for the experience, exposure and knowledge I gained from participating."
-Cam Shute, Dark Horse Innovations
KAST is working diligently to build and develop a healthy and thriving technology ecosystem that supports the broader business network in the region. The winners of each pitch event were fast-tracked into the Venture Acceleration Program which provides further customized 1:1 business coaching with an experienced mentor to help tech start-ups scale and grow. They also got their entrance fee waived for the New Ventures BC competition which gave them the opportunity to compete on a larger stage, courtesy of New Ventures BC.
"I am thrilled to be a part of this incredible event," said Melanie Fontaine, Manager at KAST. "We have some amazing and talented competitors from across the Kootenay region and we are all so proud of them for having the courage to pitch their ideas. The last year has brought many challenges and along with it opportunities to innovate and change the way we move forward. The region has a hard-working, thriving technology sector and we are ready to get out from our pandemic hiding places and show the communities what we've been working on."
To learn more and get a FREE ticket to the Grand Finale on November 4 of the Kootenay Pitch Competition, click here.
The Kootenay Pitch Competition is generously sponsored by: Nelson & District Credit Union, New Ventures BC, Traction on Demand, Volition Advisors, Selkirk Technology Access Centre, Green Light Solutions, Rice & Co Chartered Professional Accountants, Kootenay Coop, Columbia Lake Technology Centre and Columbia Basin Trust.