On Monday May 14, 2018 numerous friends and council members and staff gathered at City Hall to witness a presentation to one of Fernie's finest citizens.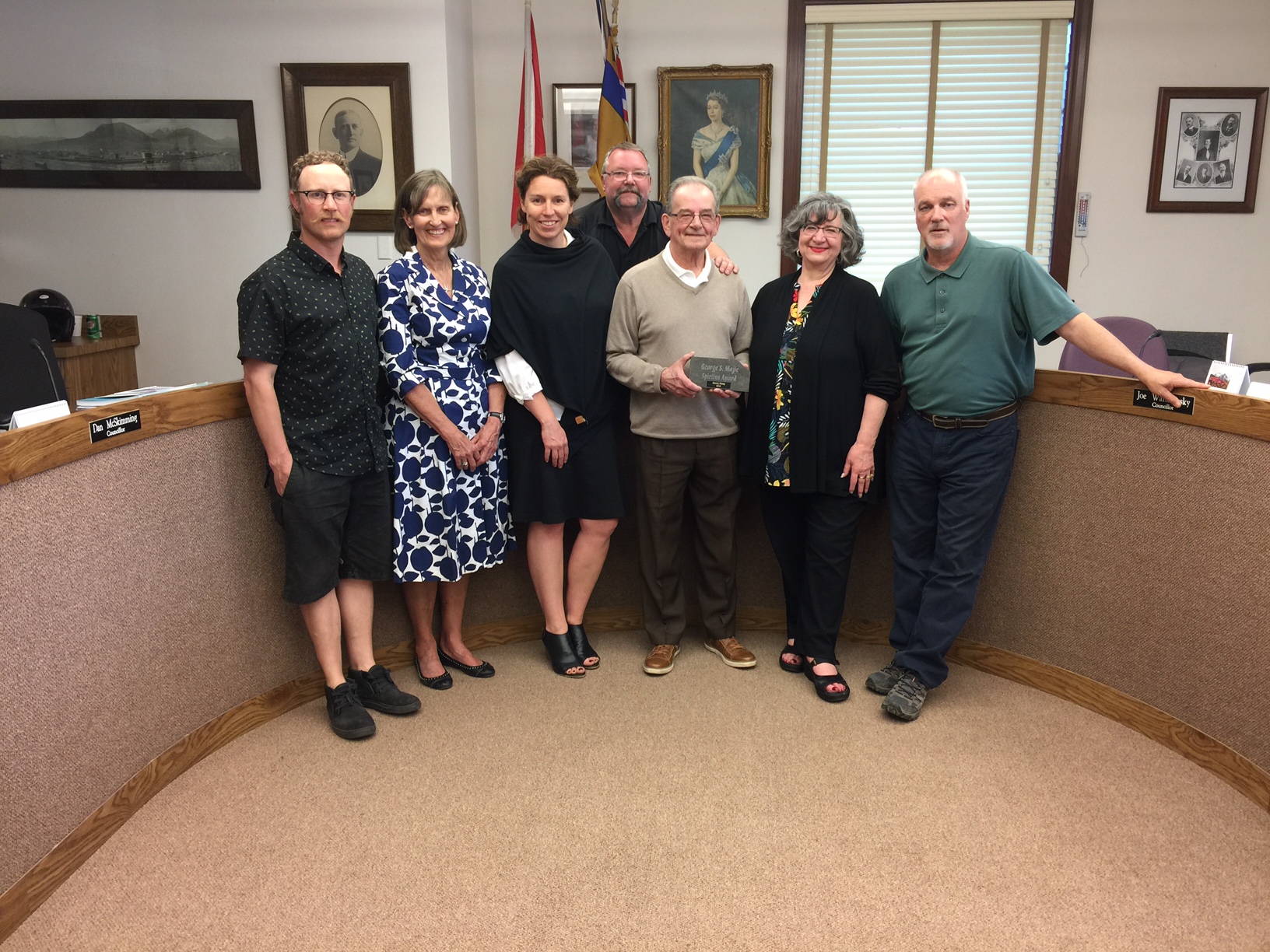 City of Fernie Council bestowed the George Majic Spiritus award to local resident Gerry Pang. Gerry is a very deserving individual who exemplifies the spirit of the award very closely. He has worked volunteering all his life quietly and steadily and without fanfare.
He is the person that organizations and individuals can always count on to assist because regardless of what was going on in his personal life Gerry was always there to help.
.
And certainly Gerry has lived life with love and passion for many things. He spent nine years serving in the army where he got blown up, he played professional baseball with Air Canada Fastball Association, and turned down an opportunity to play pro- ball in the US, he played hockey and coached youth both male and female in the sport in various levels for decades.
There is much more that Gerry has done that could be listed however it suffices to say that he is an exceptional man and Council is grateful for allowing us the privilege of bestowing the award to him. I had the distinct pleasure as mayor to present him with the river stone keeper award and to say a few words of congratulations. Councillor Phil Iddon, a friend of Gerry's delivered a glowing speech in regards to all the volunteer work Gerry has done with hockey youth in Fernie, saying he would never forget his kindness and wise words of wisdom. Anne Majic gave a brief history of how the award came about. George Majic was a well- known attorney in Fernie who was originally from Sault Saint Marie, Ontario. He was a City councillor and avid volunteer. He passed away suddenly due to a heart attack and afterwards his friend from Ontario sent a letter to Council expressing a request for us to have an annual award in George's memory. George was the first recipient of the a Spiritus award in his home community and that is what they thought would be a perfect honour for people who were volunteers, unsung heroes who put much time and effort into the community without wanting any acknowledgement. A large trophy sits on the landing of the Heritage Library with names of recipients in the past ten years. This trophy was made from granite from Ontario as were the small keeper trophies. After those were given out Anne Majic had a local artisan make up new ones from local river rock to continue the tradition.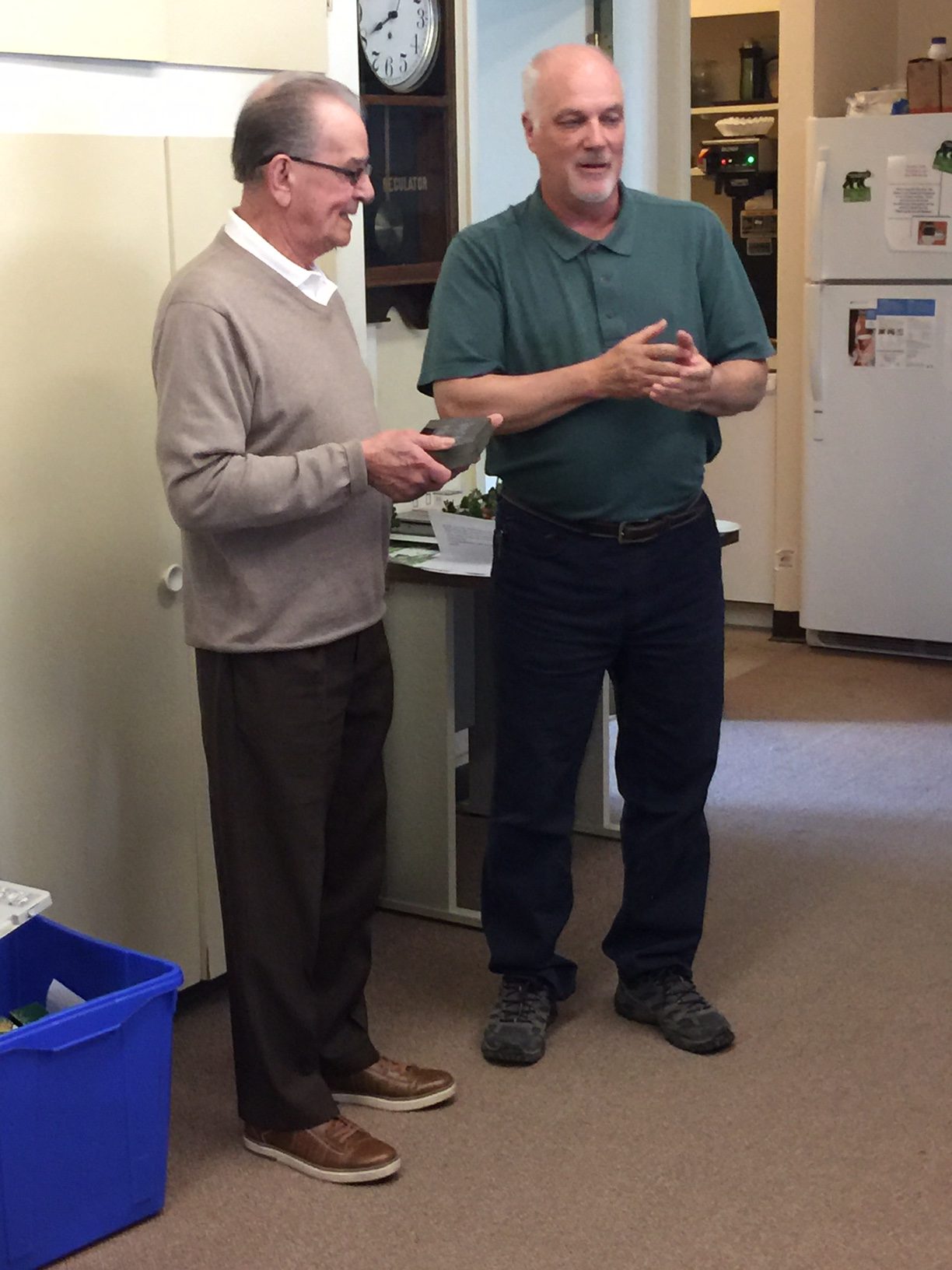 Councillor Dan McSkimming, also a friend of Gerry's rounded out the speeches with more words of praise for his work and constant giving of his time and knowledge to the community.
After being handed his trophy Gerry was asked to say a few words. A very eloquent man he spoke of how he came to Fernie from Montreal expecting to stay a year and instead has stayed for nearly 30. He spoke about the Bladerunner female hockey team and how great they were and also of the many years with the Ghostrider teams and how much he has enjoyed working with them.
The City of Fernie extends Congratulations to Gerry and thanks him sincerely to the many decades of volunteerism in our community.