A group of passionate and dedicated mountain bike instructors have joined together as Ridetheory, a company bringing a new dimension to mountain biking in Fernie through lessons and tours. They plan to operate at the local dirt jumps and on classic singletrack trails that have been featured in races such as the Trans BC Enduro and TransRockies. Ridetheory is now taking bookings online for the upcoming summer and is kicking off their season on May 29, 2021.
Identifying limited options to learn or improve mountain bike skills in Fernie, owner Christine Ma is addressing the gap: "Knowing I had experience coaching elsewhere, parents kept coming up to me and asking if I could coach their kids. That's when I started digging around and realized that there were only a small number of trail courses for women and youth, and no existing dirt jump programs in Fernie."
With a professional background in both the outdoor adventure tourism and mountain bike industries around Canada and New Zealand since 2013, Christine set out to build on this. "Having co-created one of the first women's only programs in Nelson, NZ, I understand the mental and physical challenges that present themselves in a male dominated sport. I wanted to offer safe, inclusive and fun lessons with the aim of growing and inspiring the existing mountain bike community."
Christine feels the same potential growth can be found with youth: "I've also seen so much natural talent in local youth and believe that with proper instruction, we can grow the competitive mountain bike scene to match or surpass the level that already exists with skiing in this town."
Along with dedicated women's only and youth programs, Christine wanted to be able to offer an even greater variety of programs this summer so she hired 3 advanced coaches living in the Elk Valley. The team includes: Reid Westren, former freestyle head coach at B-Line Bike Park and pro downhill racer, Jena Greaser, EWS qualifier & XC racer and Early Childhood Educator assistant, and Jeff Steiert, local guide and bike park coach. Together the 4 riders are able to offer courses covering a wide spectrum.
Youth Programs and Camps
Catering to the up and coming generations, weekly lessons are available to multiple age groups from 5-14, focused on either dirt jumps or trail riding. Ridetheory is also running week-long kids camps over July and August.
Women's Only Programs
Ridetheory offers weekly beginner and intermediate lessons as well as single day skill clinics. Women will get the chance to progress their skills through a series of courses over the summer.
Co-Ed Adult Courses
For the many Fernie locals who are already experienced riders, Ridetheory is offering intermediate and advanced lessons with one of their PMBIA Level 2 certified expert coaches. Topics include cornering, jumping or technical riding skills as single day courses.
Private Lessons
Ridetheory has private lessons available for customers who want to build their own group, learn a specific topic, or receive a bit more personalized instruction.
Guided Tours
If one just wants to ride in Fernie but have someone else choose the trails based on their level and interests, Ridetheory offers 3-hour guided tours. Whether beginner or advanced, participants will be immersed in nature, stop at iconic viewpoints, and ride some classic Fernie trails.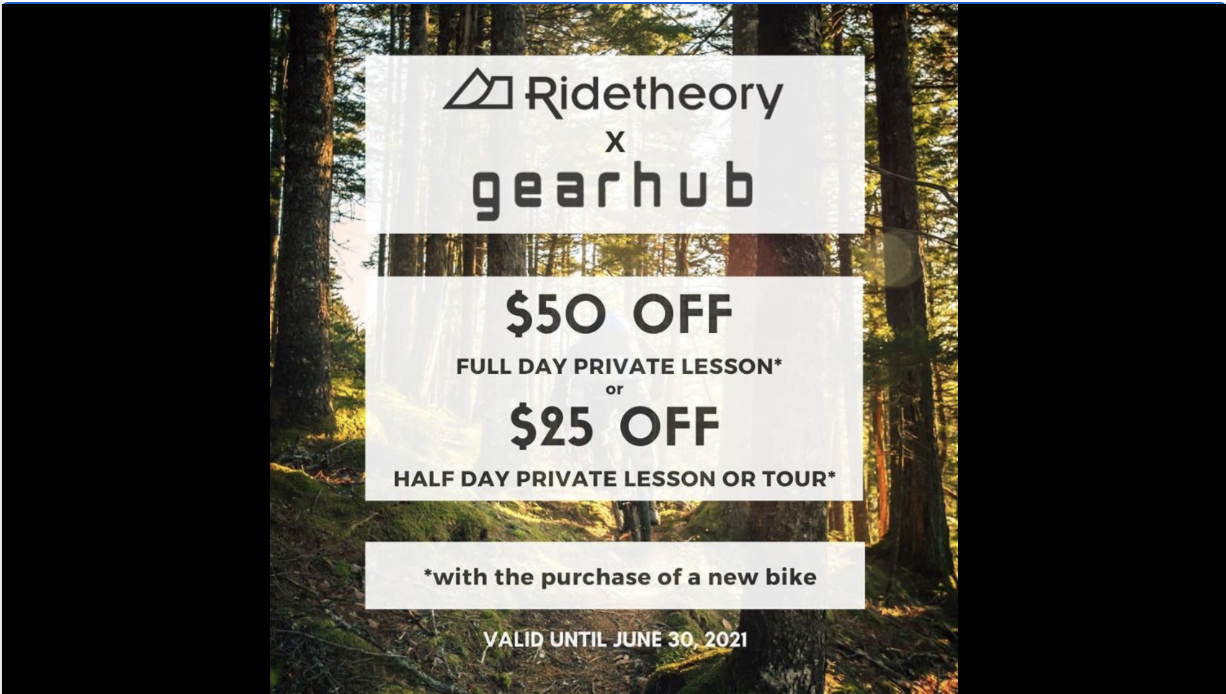 Ridetheory has teamed up with Gearhub Sports to get you set up with all your bike needs this summer. If you've been thinking about getting a new bike this year, head over to the store to check out their new selection of Devinci, Rocky Mountain and Yeti bikes. 20% off accessories AND get $50 off a Ridetheory private lesson while you're at it! .
Simply put, the team at Ridetheory loves mountain biking. To find out more, they can be reached at www.ridetheory.ca, by email info@ridetheory.ca, or by phone (250) 278-9300.
Photos supplied.