The Ambassador program was conceived from a group of Fernie Chamber of Commerce members gathered in fall 2015. Volunteers from College of the Rockies, EK Employment, Park Vacation Management, Fernie Lodging Company, and Grow Children's Boutique came together to develop a plan for delivering a customer service program that included teaching participants about Fernie.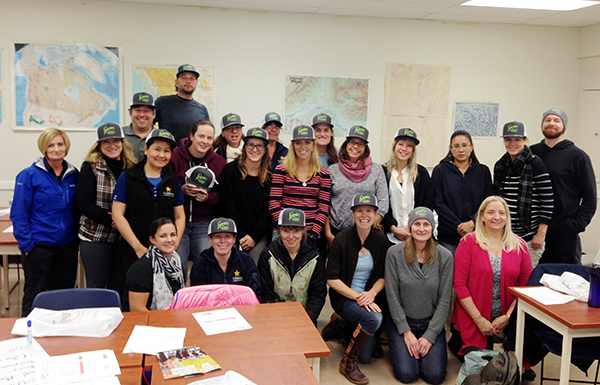 The group set out with a couple of simple goals: One–teach residents and employees how to be visitor information specialists and two–educating people with customer service skills. Combined, these two goals would ensure visitors to Fernie would have a superior guest experience.
The Ambassador Program has a four-hour All Things Fernie course which covers local Fernie knowledge on trails, history, and what-to-do. Also included in the workshop is a section on customer service skills.
Course facilitator Christine Grimble reviews tips and tools that help Ambassadors provide an excellent customer experience to any guest. The program recently celebrated its first anniversary. In the past year there have been 11 All Things Fernie courses training 151 Fernie Ambassadors. We anticipate training another 100 in preparation for the winter season.
"It is imperative my staff is knowledgeable in what Fernie has to offer. The Ambassador Program equipped my team with destination knowledge and customer service skills to be able to go above and beyond for our guest. Improving the visitor experience is beneficial to everyone and this program is doing exactly that," said Marina Pauw, Owner/Operator Fernie Super 8.
fernie-ambassadors-urban-settler"The business support to the program has been great," said Patty Vadnais, chamber executive director. From the beginning, businesses like Super 8 Fernie, Fernie Lodging Company and the Grow Children's Boutique have sent their entire staff, and send new staff as they are hired. Along with the profit driven motives of providing a better service, businesses owners are using the program as a team building experience. Momentum is starting to build for the program as more business owners understand what it is and how it can help their business.
"The Ambassador program was extremely motivating for the Fernie Hotel staff. It provided us with a wide range of knowledge about Fernie that has helped us engage and inspire our customers. Attending the course as a team encouraged us as Ambassador's to elevate the service we provide," said Alicia Denis, General Manager of The Fernie Hotel.
Along with the great training, participants also get access to discounts around Fernie. The volunteers creating the program noted that it can be expensive to try all the things in Fernie you want. Through the discount program, Ambassadors can experience more of Fernie for less. There are currently 15 businesses offering discounts and this list is growing.
Ambassadors access the discounts through the Fernie Ambassador Pass which is a mobile app available on iOS and Android.
The program has come a long way in the first year. The All Things Fernie and Customer Service session developed in partnership with the College of the Rockies, the development of a mobile app to give Ambassadors discounts around Fernie, and training 151 Fernie Ambassadors. The chamber looks forward to developing more offerings for the course in the future.
As we look around at other communities offering similar training programs, Whistler stands out among the rest. The Whistler Experience was showcased in Forbes magazine as a town that approaches customer service from a community level rather than on a business-by-business level. The article references Ben Franklin's notion that all merchants and shops are connected. One shop owner maintaining her storefront would not be enough to entice shoppers to come in. Rather, businesses need to work together to present a clean street and not just a clean section. It is with this in mind, to raise the level of service across the community, that the Ambassador Program was designed.
Borrowing from the Whistler Experience, the chamber will be hosting Dr. Mark Colgate of Gustavson School of Business in January. The Whistler Chamber built the Whistler Experience in conjunction with the Gustavson School of Business. Using academic research on customer service excellence, Whistler and Gustavson created a training program that delivers.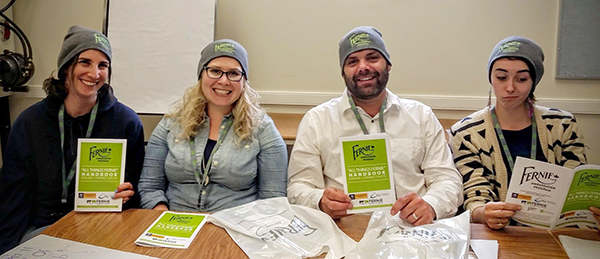 The Fernie Chamber of Commerce is excited to announce that it will be hosting Dr. Colgate for a Moments of Power 1-4 session on January 18. Colgate's expertise is in service excellence and coaching. He has taught many courses at undergraduate, postgraduate and executive levels in Victoria/BC, China, Australia, New Zealand and Ireland. He was previously the GM of Customer Satisfaction with the Commonwealth Bank of Australia, Colgate is known for his down-to-earth presentation style. He has also consulted for many companies such as Toyota, TELUS, Whistler Blackcomb, Four Seasons Hotels & Resorts, Sony, Schneider Electric, Kiwi Experience Tourism Bus Company and the BC Government.
"The Fernie Chamber of Commerce works to bring in quality sessions for our members. Getting Dr. Colgate into Fernie allows us to take advantage of education course typically only offered in larger centres," said Vadnais. "I have had the chance to attend a session facilitated by Mark and can tell you that you do not want to miss this session. The content and his delivery style will improve your work efforts no matter your role in your organization."
The session will be held January 18. More details at ferniechamber.com
The Fernie Chamber of Commerce represents over 265 business in Fernie and the Elk Valley. Its mission is to strengthen commerce in the Fernie area and is guided by principles of membership, integrity, best- practices, business excellence, and non-partisanship. The Fernie Chamber of Commerce is 'The Voice of Business in Fernie.'