It's been a very unfortunate week for the the community of Fernie. Three workers died at the Fernie Memorial Arena as a result of an ammonia leak. Two of the workers were City of Fernie staff and the third was one of Calgary's CIMCO Refrigeration employees. This horrific tragedy unfolded on a day when Fernie experienced strong winds that damaged property and caused power outages. The news became worse as the afternoon passed with the latest report from the City of Fernie confirming the deaths.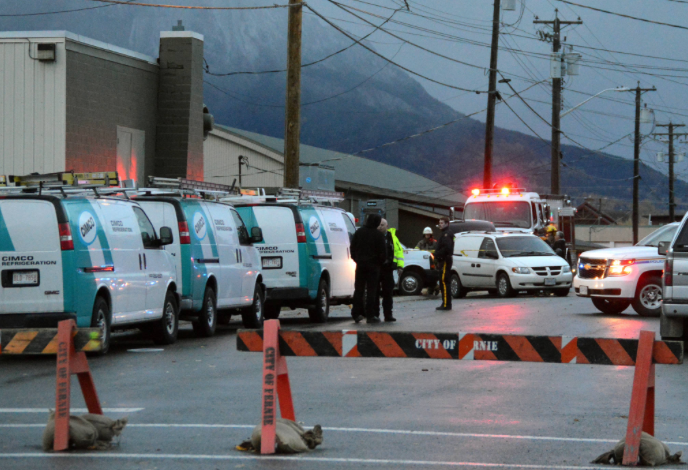 October 19 Press Conference Update
City of Fernie emergency responders were able to enter the Memorial Arena early this morning to recover the remaining two workers who died earlier this week as a result of an ammonia leak in the facility.
"Ventilation continued throughout the night and we reached a point at approximately 11PM where we determined recovery could commence. A trial run was completed to ensure no barriers would hamper the recovery and that the response team would not be put in any further danger. Once this was confirmed, we were able to recover the victims," explains Fernie Fire and Rescue Chief Ted Ruiter.
"Getting the evacuated residents home remains our priority however we need to make sure we get them home safely," adds Ruiter. "The first step will be getting a good understanding of what we're dealing with. Once that piece is in place we will have a better idea of a time line on the evacuation order." Work continues this afternoon to stabilize the situation to allow for safe access to the arena. At this time, the evacuation order remains in effect.
The Reception Centre remains open at the Senior Citizens Drop-In Centre and accommodations are being provided at a local hotel for the approximately 95 residents, who have been evacuated from their homes since Tuesday.
The City of Fernie met with its employees yesterday and is offering a number of support services. An Employee Family Assistance Program has been established to provide long term support for those who need it and a specialized team of Provincial grief counsellors is enroute to Fernie to provide support services to not only City of Fernie staff, but to any resident needing support during this difficult time. More details will be provided on how to access these resources once the team arrives.
The City has announced it will be closing all of its operations tomorrow, including City Hall, and they will remain closed through the weekend.
An information line with a recorded message detailing the latest information has been set up at 1-855-346-2188
October 17th Declaration of State of Local Emergency
ORDER
WHEREAS a hazardous materials release is occurring in the City of Fernie; AND WHEREAS a hazardous materials release is threatening the properties in the City of Fernie.
AND WHEREAS this hazardous materials release requires prompt coordination of action or special regulation of persons or property to protect the health, safety or welfare of people or to limit damage to property;
NOW THEREFORE:
IT IS HEREBY ORDERED pursuant to Section 12 (1) of the Emergency Program Act (RS, 1996, Chap 111) that due to a hazardous materials release threat to property and life, a state of local emergency exists in the City of Fernie;
IT IS FURTHER ORDERED THAT the City of Fernie, its employees, servants and agents are empowered pursuant to Section 13 (1) of the Emergency Program Act to do all acts and implement all procedures that are considered necessary to prevent or to alleviate the effects of the emergency.
ORDERED by Mayor Giuliano this date October 17, 2017 to remain in force for seven days until October 24, 2017 at midnight unless cancelled by order of the City of Fernie or the Minister responsible.
October 16th City News:
"Emergency crews remain on scene responding to an ammonia leak at Fernie Memorial Arena. The site has been secured, however crews are still unable to safely enter the facility.
At this time, three fatalities have been confirmed. No further details are available pending identification and notification of next of kin.
CIMCO Refrigeration is on scene assisting City crews and the City is working to acquire additional specialized resources to deal with the hazardous situation.
The evacuation will continue for residents in the evacuation area until the City is able to contain the leak.
All homes between 9th Street and 13th Street and Highway 3 and 6th Ave have been evacuated. Red Apple, 7-Eleven, and Trinity Lodge are included in the evacuation.
Streets surrounding the Arena are closed:
• 9th Street from Highway 3 to 6th Ave
• 6th Ave from 9th Street to 11th Street
• 11th Street between Highway 3 and 6th Ave.
Highway 3 remains open to traffic.
The public is asked to avoid the area while crews deal with the situation.
More details will be provided as they become available."
Ammonia is a compound of nitrogen and hydrogen with the formula NH3. Although common in nature and in wide use, ammonia is both caustic and hazardous in its concentrated form and is classified as an extremely hazardous substance. The Canadian Recreation Facilities Council reported that there are more than 2,450 arenas and 1,300 curling rinks in Canada and most of them are municipally owned. 65% of ice arenas use ammonia as a refrigerant, 25% use hydrochlorofluorocarbons (HCFCs) (mainly R22), and 10% have natural ice.
CIMCO Refrigeration is Canada's largest industrial refrigeration organization and the NHL's preferred supplier of ice rink equipment, serving North America and International markets.
Our condolences to the families and all those involved in this unfortunate accident.