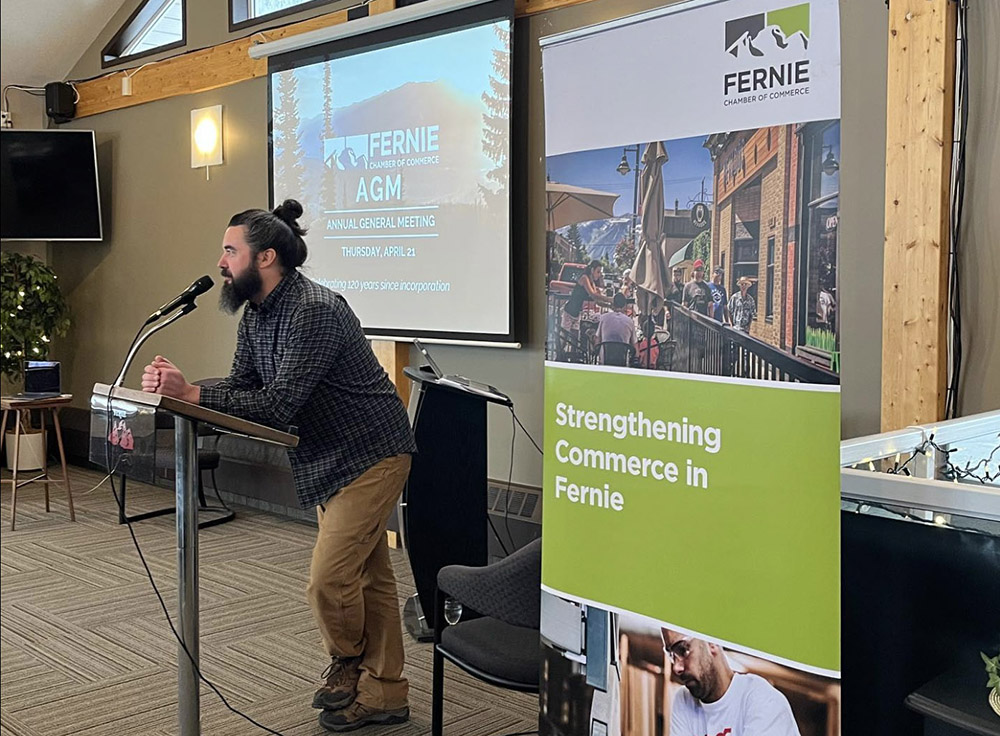 The Fernie Chamber of Commerce held their annual general meeting on Thursday, April 21,2022 at the Fernie Golf Club Cast Iron Grill restaurant.
The event attracted a full house of attendees that were treated to a breakfast of hot entrees, fresh fruit, juice, and coffee. Networking began at eight with the formal meeting following at 9:00am.
Norm Fraser, Chamber Board president was an excellent host and after welcoming those present thanked the Board of Directors for their "dedication, hard work and commitment to the mission and goals of the Chamber". He went on to thank the staff "especially Executive Director Brad Parsell, Jesse Ross, Kalina Whitelaw, and Sandra Robertson". He also spoke about how staff had to adapt to the changes created by the Pandemic but somehow managed to connect and deliver support to local businesses. The businesses were also thanked for reaching out to the chamber and providing insights and stories regarding their challenges because their responses were instrumental to the assisting the Chamber when they reached out to the various levels of government for assistance.
Fraser also mentioned initiatives that included the opening of a co-working space, producing the largest survey of business in the Elk Valley and hiring a contract position for an Elk Valley Economic Recovery Advisor (Taylor Jenkins).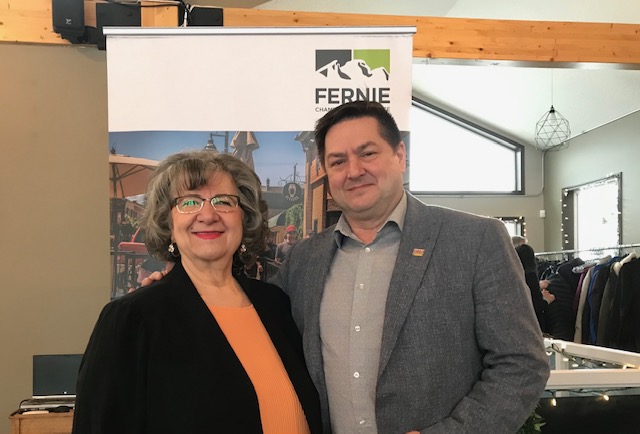 MLA Tom Shypitka was introduced and commented that it was great to see people gathering together instead of doing everything by zoom. He hoped that the world was at the end of the divisive Covid 19 and said how sad that so many business were lost, many losing their livelihood and recognized those that did survive. "This community is very resilient but we're not out of this just yet, there are housing issues, supply issues, it's all thanks to the businesses because we're here to work, to make dreams come true".
Mayor Ange Qualizza spoke mentioning concern about the safety of Council members because of the pandemic and stated that; "You can't complain on facebook, call me to give me your concerns or to ask for information, Call me." She went on to list the grants that the City was able to secure that will bring new projects on board and said that "We need to celebrate our success".
The Fernie Chamber is celebrating 120 years of incorporation. And as part of their strategic plan they included workforce housing as a priority in 2021 "recognizing the importance of this issue to workforce attraction and retention efforts for our members. The chamber continues to work this file by engaging governments at all levels as well as other stakeholders locally and provincially," it says in the annual report. It also states that they will continue "to build out and promote the www.workinfernie.com workforce attraction website and job board which had its first full year of operation in 2021, after launching in 2020. We worked with Tourism Fernie on digital marketing of the website and received a grant from Community Futures East Kootenay to support those efforts. 414 unique jobs were advertised on the site in 2021 and 192 businesses had an active account. The industry that posted the most job vacancies in 2021 was Food and Beverage. The website had 67,654 views in 2021. Data from the project is being used in our advocacy efforts for streamlined immigration programs to resort communities like Fernie, to boost our workforce."
2021 was quite successful despite Covid 19 restrictions as a popular but modified Griz Days was organized. Business Excellence Awards were held in October by holding two groups of 50 people for snacks and drinks to celebrate the business community and the largest and most successful Holiday Kick to date had the addition of a "Spend it in Fernie campaign".
Several professional development workshops and information sessions were held for members and the Fernie Ambassador Program was delivered in conjunction with College of the Rockies and Tourism Fernie with funding from the BC Resort Municipality Program.
A new board was elected and sponsors thanked. The morning ended with zoom presentations from Community Futures Revelstoke, Ian Scott from the Tofino Housing Corporation, Pete Bourke and Theresa Wood from the Columbia Valley Chamber, Derrick Murphy (Fairley and Blakeley) and Gayle Vallance from Fernie Family Housing Society who all spoke in regards to housing availability and ensuing difficulties with lack of funding, "the market will not solve the problem of housing, contrary to what is believed", was stated.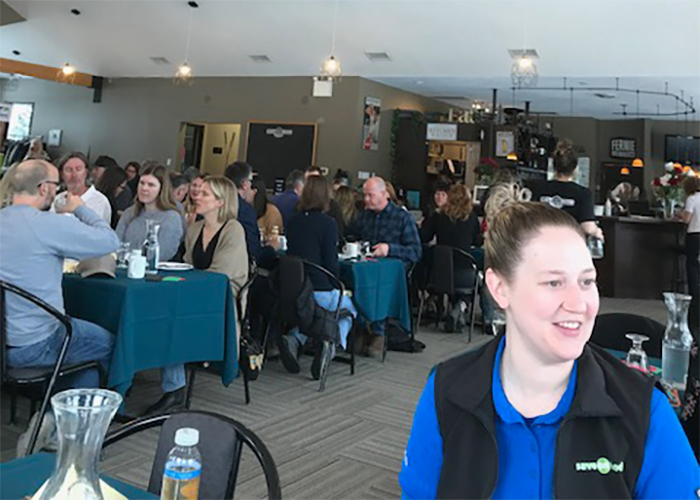 I met a lovely woman who is the new manager of Fernie's Save On Foods. Stephanie Ames comes to Fernie from Kimberly where she was a manager for seven years.
Brad Parsell closed the meeting by thanking everyone for attending.