Reports are confirmed of an extremely large avalanche in Cabin Bowl at Island Lake Lodge(ILL). The avalanche happened sometime Tuesday evening and devastated Cabin Bowl. Professional bservations indicate it was a Class 4 avalanche that ran through mature 200 year old growth cedar trees and up the side of the valley and crossed the an access road. The Thunder Meadows ski touring cabin, nested just above Cabin Bowl and the namesake, had no visitors and nobody was injured in the incident.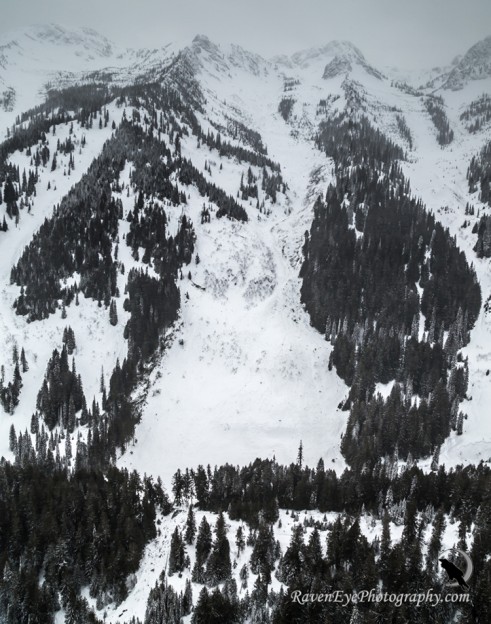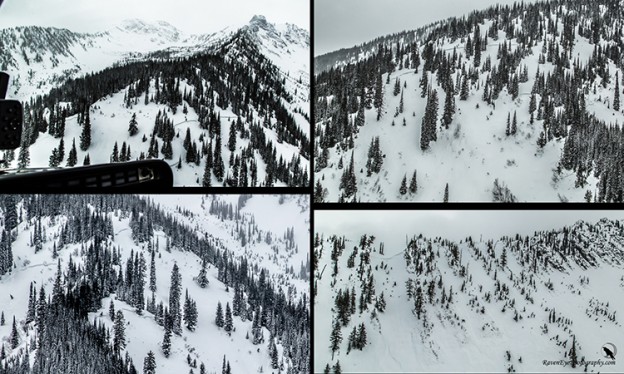 The avalanche danger had been rated as High for several days with over 120cm's of new snow falling in the past week. The danger is High, High and High!
The Southern Rockies field team observations of the slide:

Karl Klassen, forecaster from the Canadian Avalanche Centre reports:
We have been seeing a gradual increase in cohesion in the storm snow over the last few days while the layer below that's creating such havoc throughout western Canada remains relatively weak with poor bonds to the snow above. In my experience this is the first indication of a classic shift from high frequency but smaller storm related avalanches to a persistent avalanche problem that will produce fewer but increasingly large avalanches over an extended period of time.
This is a situation that often catches people by surprise; the reduced frequency gives the impression that things are getting better when in fact, it's just changing from the storm snow avalanche phase of a cycle to a persistent avalanche phase, which is a much more complex problem and one that's much harder to deal with in terms of risk management and decision making.
In my opinion, this event near Fernie is indicative of evolving conditions throughout the western Canadian ranges and it's probable that we'll see this kind of occurrence in all regions in the coming days.