The South Rockies Field Team is three avalanche technicians who travel through the region on snowmobile and skis collecting weather, snowpack and avalanche observation data. This information helps Avalanche Canada produce daily forecasts for the Southern Rockies, which spans the border between B.C. and Alberta.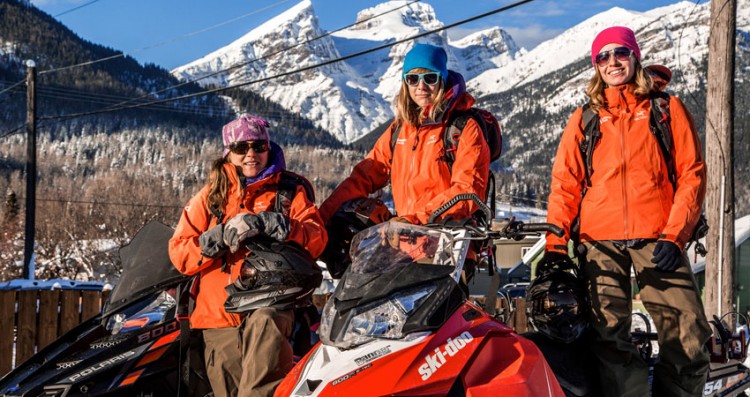 From parking lots to mountain tops, the South Rockies Field Team builds relationships with local riders and skiers and helps to build a strong culture of avalanche awareness and safety. Another way the team reaches people is through their popular regular blog featuring videos. The South Rockies Field Observer Program has proven highly effective for promoting backcountry safety in the local community. For local observations you can also visit their Facebook page.
Without this team of professionals, Avalanche Canada's local forecasting would only include the Lizard Range and these observations are area specific and don't always reflect the conditions in Harvey Pass, Corbin, Crowsnest, and the Three Sisters to name a few. The Lizard Range observations come from the professionals at Fernie Alpine Resort and Island Lake Lodge plus backcountry user information.
The Mountain Information Network (MIN) is how local backcountry users can share their observations for others benefit. Sharing your information helps create an informed mountain community. After your day of riding you can go to avalanche.ca to create a MIN.
Teck has been sponsoring Avalanche Canada's South Rockies Field Observer Program since 2012. "We are very proud that Teck is one of our founding partners," says Gilles Valade, Executive Director of Avalanche Canada. "Since the beginning of our relationship, Teck has demonstrated a tremendous commitment to public avalanche safety. This is a highly successful collaboration and Teck is our standard for how to best engage with private industry."
Another local business, Savage Marketing, has been working with Avalanche Canada for several years and has developed a widget to connect website visitors with the current avalanche forecast. Website developers copy the widget code by region and embed the html code on their website. The widget updates hourly offering real time avalanche conditions by region and links to Avalanche Canada's bulletins. This service is also available for Digital Signage.
"The widget has provided a great entry point to our bulletins, which is our most important tool for helping people manage avalanche risk in the backcountry." says Gilles Valade. The widget can be downloaded at powdercanada.com.
Managing avalanche risk in the backcountry involves using the provided information and knowing when and how to travel safely. Avalanche courses are the first step in understanding safe backcountry travel and are available in the Elk Valley throughout the season. For several years the Fernie Trails & Ski touring Club has been offering a bursary program for those pursuing avalanche education.
Sign up for an avalanche course today and be safe!