Monday May 22, saw the first Fernie Miner's Memorial Service held on the grounds of City Hall.
The organizing group of this special event included Museum Curator Ron Ulrich and Reverend Andrea Brennan of Christ Church Anglican with Father David John of Holy Family Parish involved in the program delivery.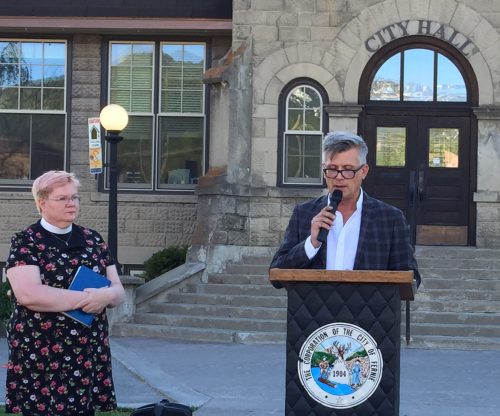 It began with the beautiful sounds of the church bells ringing from Holy Family Parish and then a welcome and opening prayer delivered by Reverend Brennan. Ron Ulrich provided an informative address to the crowd that gathered. Ulrich said, "shortly before 7:30 pm on May 22nd 1902, the communities of Fernie and Coal Creek and surrounding area were devastated when a gas and coal dust explosion killed at least 128 men in the NO. 2 and NO. 3 mines of Coal Creek."
Ron provided more history and after finishing he accompanied me to the Miners face exhibit where tripods had been placed to lay fresh flower wreaths and also to display two large posters of mining scenes. I laid a wreath on behalf of the City of Fernie, Ron then accompanied Nic Milligan to lay one on behalf of Teck Coal, and Laura Nelson who laid a wreath on behalf of the families of miners that perished.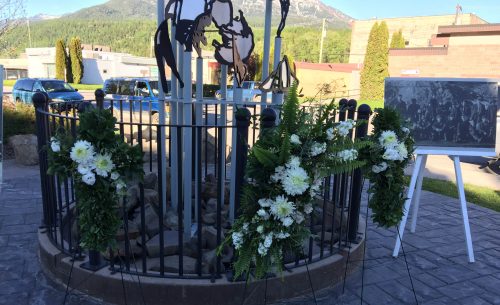 Reverend Brennan and Father David John then led the singing of Amazing Grace followed by a moment of silence. Prayers and Benedictions were said by Father David John as well as a moving speech on appreciating each other as life is tenuous and we never know when we're at the end of life. It was a lovely service that was meaningful and touching and ended with the church bells ringing again. A reception at the Museum followed.
This tragedy left families without husbands, fathers and sons and without any source of income. It also left other miners without work as the mines had to recover the bodies of those lost and then much repair had to be accomplished before reopening.
In 2011 the Miners Walk was finished and the names of those killed in 1902 were placed on the bricks as a way to acknowledge the second largest mine disaster in BC and the third largest in Canada. We were provided with 133 names that are listed but no one is absolutely certain of the number, the list could be as high as 135 names. Regardless, this is the worst disaster to happen in our area.
The disaster resulted in numerous families being left without their only source of income. Community support and assistance from the Crow's Nest Pass Coal Company payed for funerals and allowing widows and families to live rent free in company houses. This helped some of the families to continue living here. The impact on the community was devastating in so many ways. These lives lost were part of Fernie's past and they will never be forgotten.
Fernie is a resilient community that has survived floods, fires and mine disasters and it will continue to survive. Special thanks to the organizing committee for this special service that honored those that died and to remind us how precious life is.