Posted by admin in : News ,

add a comment
Monday May 22, saw the first Fernie Miner's Memorial Service held on the grounds of City Hall.
The organizing group of this special event included Museum Curator Ron Ulrich and Reverend Andrea Brennan of Christ Church Anglican with Father David John of Holy Family Parish involved in the program delivery.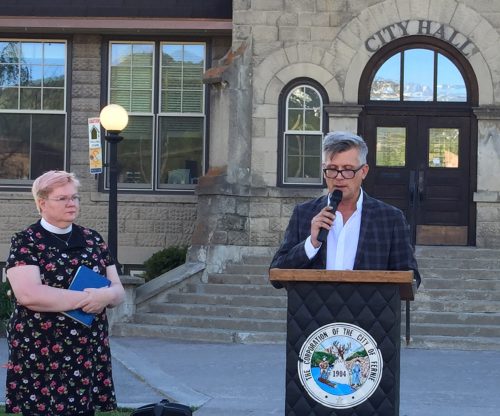 It began with the beautiful sounds of the church bells ringing from Holy Family Parish and then a welcome and opening prayer delivered by Reverend Brennan. Ron Ulrich provided an informative address to the crowd that gathered. Ulrich said, "shortly before 7:30 pm on May 22nd 1902, the communities of Fernie and Coal Creek and surrounding area were devastated when a gas and coal dust explosion killed at least 128 men in the NO. 2 and NO. 3 mines of Coal Creek."
Ron provided more history and after finishing he accompanied me to the Miners face exhibit where tripods had been placed to lay fresh flower wreaths and also to display two large posters of mining scenes. I laid a wreath on behalf of the City of Fernie, Ron then accompanied Nic Milligan to lay one on behalf of Teck Coal, and Laura Nelson who laid a wreath on behalf of the families of miners that perished.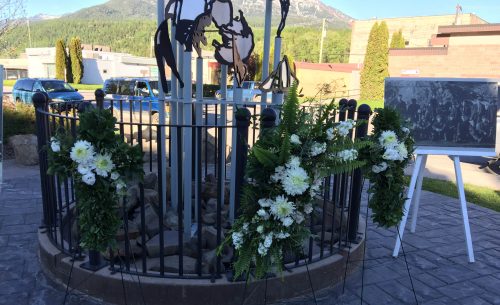 Reverend Brennan and Father David John then led the singing of Amazing Grace followed by a moment of silence. Prayers and Benedictions were said by Father David John as well as a moving speech on appreciating each other as life is tenuous and we never know when we're at the end of life. It was a lovely service that was meaningful and touching and ended with the church bells ringing again. A reception at the Museum followed.
This tragedy left families without husbands, fathers and sons and without any source of income. It also left other miners without work as the mines had to recover the bodies of those lost and then much repair had to be accomplished before reopening.
In 2011 the Miners Walk was finished and the names of those killed in 1902 were placed on the bricks as a way to acknowledge the second largest mine disaster in BC and the third largest in Canada. We were provided with 133 names that are listed but no one is absolutely certain of the number, the list could be as high as 135 names. Regardless, this is the worst disaster to happen in our area.
The disaster resulted in numerous families being left without their only source of income. Community support and assistance from the Crow's Nest Pass Coal Company payed for funerals and allowing widows and families to live rent free in company houses. This helped some of the families to continue living here. The impact on the community was devastating in so many ways. These lives lost were part of Fernie's past and they will never be forgotten.
Fernie is a resilient community that has survived floods, fires and mine disasters and it will continue to survive. Special thanks to the organizing committee for this special service that honored those that died and to remind us how precious life is.
Posted by admin in : News ,

add a comment
I first saw Bill Bennett when he walked through the door of Fernie City chambers nearly sixteen years ago. I had been recently elected as councillor and meeting an MLA was so impressive that I barely uttered a word.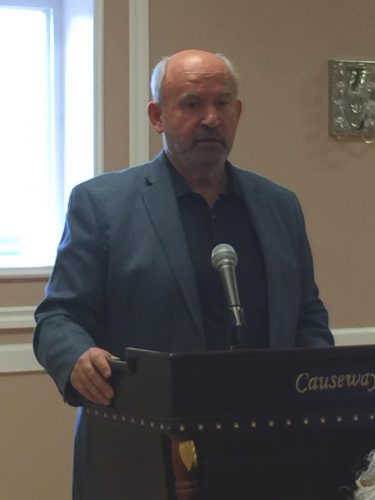 On Friday, March 24, Bennett delivered his last address as MLA and Mining Minister to a large group of people in the Emerald room of the Causeway Bay Hotel. Sparwood Chamber manager Norma McDougall organized the event and served as emcee.
Mayor Cal McDougall welcomed everyone and thanked Teck Coal for the expansion at Elkview-Baldy Ridge saying "we wouldn't be here if it wasn't for coal" and also thanked Minister Bennett for all the support he has provided over the years.
Teck's Senior Vice President Coal, Robin Sheremeta spoke next saying that no one had been a more tireless supporter of mining than Bill Bennett. He touched on the extensive measurers Teck has taken to support the environment. He said they were very pleased to proceed with the Baldy Ridge project, that he has raised his family here and this project would contribute to having other families raise theirs for generations to come.
Marjorie Templin, Sparwood chamber president thanked Bennett of behalf of the community for all of the support he has provided in so many ways in past years, saying "Bill has given 16 years, to this community to provide schools, bridges, roads and also as a great champion for the coal industry."
She thanked Teck and announced that Norma was retiring as chamber manager. "She has been involved for fifteen years with the chamber and three times stepped in as manager. She has done a terrific job, we are losing a great ambassador, she is a great promoter of Sparwood all the time."
Bennett addressed the crowd next, saying that as he looked around the room he knew about 80/90% of the people present, then joked that " most are even happy to see me. I had lots to learn and prove when I was first elected, I had to show I cared about the Elk Valley, I'm grateful, I made lots of friends, I took the ideas, suggestions and criticisms and did something with them. Now we are here to celebrate the expansion of Elkview Baldy Ridge, this is a big deal, 30 years ago this would have been big news, many well-paying jobs, Teck's contribution to the economy, locally, provincially and to Canada's economy is huge. This announcement means you will continue to have the best community to raise kids."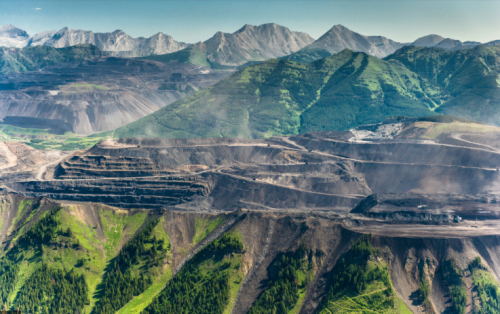 Bennet then told the "back story of the approval of Baldy Ridge".
He said that selenium and other bad things from the legacy operations came as a big surprise to government, scientists and the company. It was wondered how they could permit a new operation, would they expand or close mines? The issue was very technical and broad in scope that would need to have inclusion of Teck, Provincial, Federal, local governments, First Nations and environmental groups from the US and Canada to get public support and confidence. His Ministry took the lead, formed a committee and created a path forward that ended up with 700 technical recommendations and value wide approval on the entire valley to address context of the entire watershed.
Bennet added that this really was a celebration, not only for the workers but for mine suppliers and small businesses that depend on the coal industry.
In closing he said mining is very healthy in BC, the future is bright, there are five new mines, two more including Brucejack and Silver Tip, are in the works offering 1100 jobs. He said it has been an honour to be the MLA representing our communities, adding that it takes a "community to make a community, and that the three communities make a strong Elk Valley, thanking Teck and Robin Sheremeta for the great lifestyle. The crowd gave Bennett a standing ovation as he finished.
Thanks goes to Minister Bennett for the past 16 years of service and also to his wife Beth Bennett as it always takes much support from a spouse/partner for anyone to serve in politics at any level. Congratulations on your retirement Minister Bennett and Good Luck to you in the future.
Congratulations to Norma McDougall on her retirement and congratulations to Teck Coal for the expansion of Baldy Ridge as this means jobs in the Elk Valley will continue for many more years to come.
Sixteen years ago when I met Bill Bennett I could never have imagined how much support he could have provided me and our community. Party politics aside whether you supported him or not as an MLA and Minister he has contributed greatly to this community, to our Valley and to this province and he will be missed.
Posted by admin in : News ,

add a comment
There are some great teachers in our schools and one of those is grade nine class teacher Roxane Esch of Fernie Secondary School. Roxane is a lovely woman who cares deeply about her students. Part of her curriculum includes inviting Council members to her class for the annual presentation of Energy systems.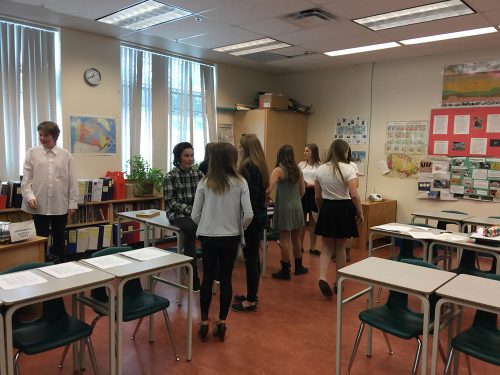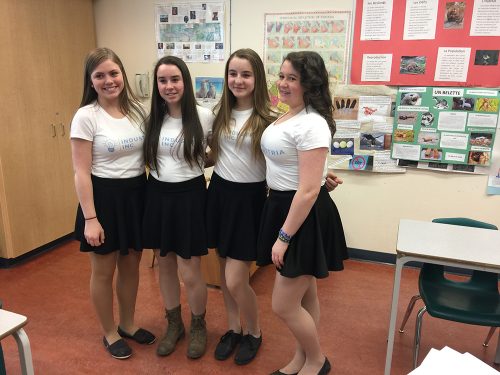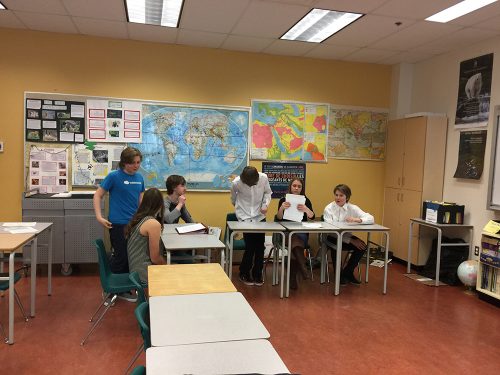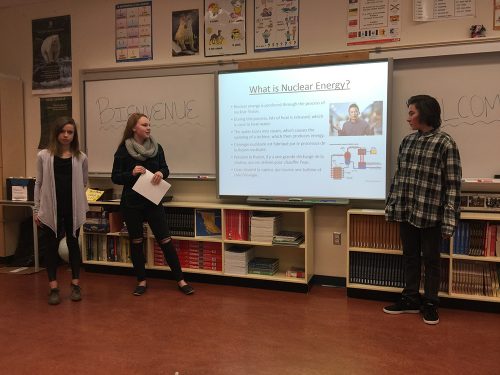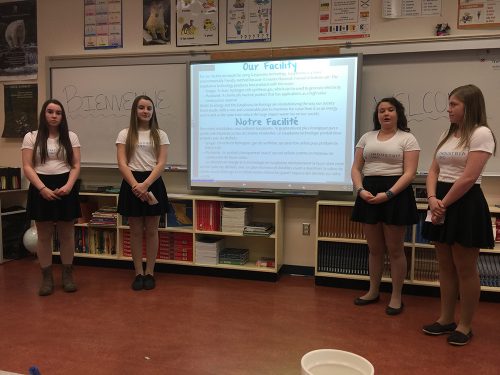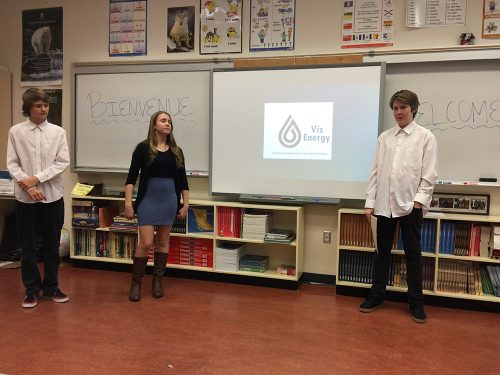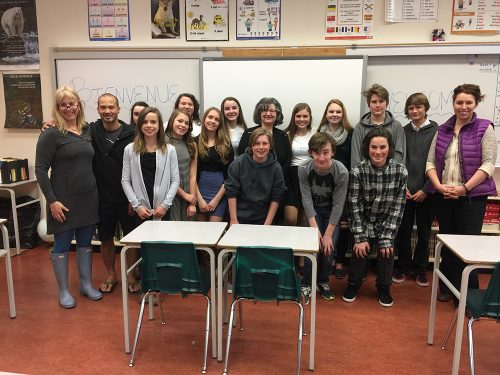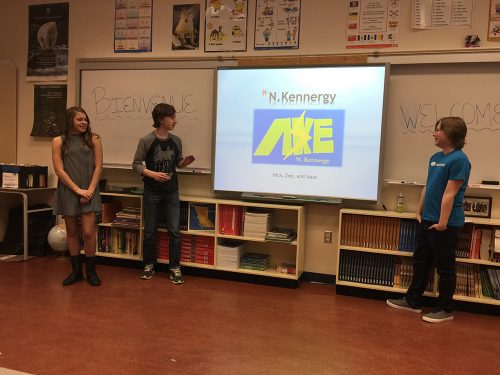 The premise of the presentation is that the students are pitching their idea to sell, contract or partner with the City of Fernie local government. The class is split into four groups, each one has to choose a type of Energy production, research and then showcase their company to us. We listen to the presentation and then ask inquisitive questions. The students have no idea of what will be asked and responses are marked on a variety of indicators such as eye contact, strong response, behaviour, knowledge, content, power point presentation content, and confidence displayed.
These are grade nine students and they are all quite impressive. I found all quick on their feet to making up responses to the questions. Councillor Levesque and Qualizza and I were very tough with enquiries that I was sure would stump them however they responded quickly with phrases and solutions that sounded plausible.
VIZ Energy had Dawson, Brendan and Simon who spoke about their acquisition of the Elko Dam from BC Hydro and their plans to produce energy and sell it back to Hydro to go on the grid. They presented drawings of the site and spoke on how this would be accomplished.
N Kenergy was Isaac, Zoe and Nick with their presentation of Solar Energy. Their idea was to provide solar panels for individual homes. When asked if they had considered that the Elko Dam project would be huge competition they replied that basically they could handle that.
Totally Nucleur had Emma, Sam and Paige. They idea was to turn waste to energy and feel this is the wave of the future as it would reduce waste, provide energy and reduce the size of landfills.
Industria Inc, had Kate, Layne, Hailey and Jaime talking about reducing emissions, removing metals and minerals and producing energy that would be positive in every way.
Environmentally friendly, ecology, reducing the financial impact on families, were some of the phrases heard from each group who also presented letters from different government approval agencies for their projects. One also had cards made up with name of the company, all had reached out to companies like Kimberly's Sun Mine to learn actual information on their project.
It was obvious that the students had put serious thought into each presentation and although at times there were hints of nervousness for the most part they were well dressed, held correct posture, spoke clearly and made eye contact.
What is so important about this excise is not the content because with today's technology information is at the students fingertips, what is significant is the student's ability to take that information and deliver it in a self-confident way .
Dress, posture, eye contact, strong voice is what has to be projected, when these young teens are ready to score the job of their dreams what they have learned in this grade nine class will serve them well. These are tremendous skills to possess because it's what can catapult the student into the future they desire.
Thank you Mme Esch, for caring, you are the teacher your students will always remember.
Posted by admin in : News ,

add a comment
One of the most relaxing half hours of life is when I sit down to watch the weekly Rick Mercer Report on television.
I enjoy this program greatly for a couple of reasons, one being its Canadian content and the other being Mercer himself. That impish grin, that look that tells you he is up to something and his rants that showcase thought-provoking opinions will always hold interest.
Several years ago I found his email address, penned a letter describing Griz Days and asked him to consider coming here to check out our festival.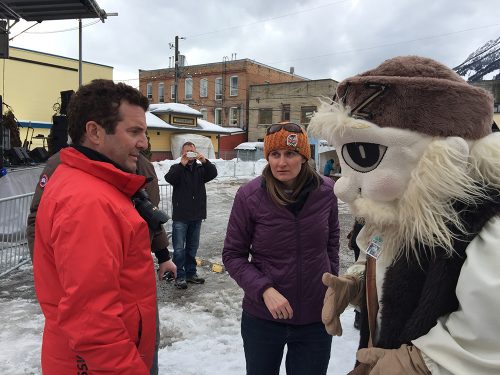 I never heard back and so put it out of my mind. So when I received an email from Chamber manager Patty Vadnais asking that I call her because she had some good news regarding this year's Griz Days the last thing I expected to hear was what she told me. "Rick Mercer is coming tomorrow to Griz Days", to which I immediately replied, that is great, I wrote to him years ago and he never responded. Patty laughed and said, "Well, you must have done something because he said he had heard about this."
It takes a lot to get me excited these days as we meet many remarkable people with the work council does however the thought idea of meeting Rick Mercer and having a photo opportunity was exciting.
On Saturday, I was called to appear and although in the middle of a conversation with my family I swiftly grabbed my cell phone, a couple of Fernie books to present to Mercer, threw on my coat and scarf, and sped off.
When I got to Station Square there he was, Patty introduced me and as I put out my hand I gushed "Rick Mercer, you are the only celebrity I have ever wanted to meet".(very true) and without missing a beat, he shook my hand with that familiar impish look stated " and you are the only mayor I have ever wanted to meet".
It's startling that when I meet someone that impresses me I turn from an adult into a child. And so I handed over the Fernie books and made a ridiculous statement.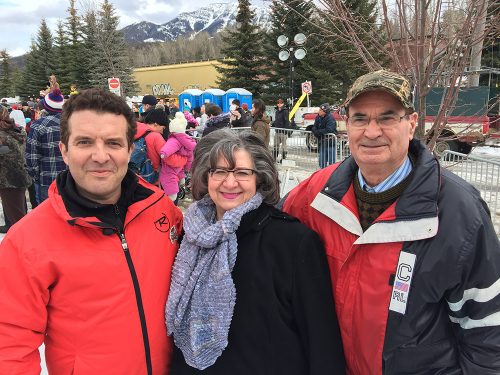 "There is nothing really for free so now I will need payment, I will have to have a photo with you". Mercer was very gracious, he responded by saying I would have that and more. I didn't realize that what he meant was that he would be conducting an interview with me. But that is what he did, I don't believe much of it will get into his program but it was fun and it lasted a while, I was captivated by his manner and friendliness to people that came and spoke to us while filming, he stopped to speak to children and have his photo taken several times. He was animated, funny and very charming. So much so that I hardly noticed the large crowd that had gathered around to watch. He was genuinely interested in our Griz lore, the Ghostrider legend and knowing a little about the history of Fernie.
In past years I have interviewed provincial premiers, members of the federal parliament and the provincial legislature from various parties. I have interviewed the ambassador of Costa Rica, mega hockey star Scott Niedermyer and Juno award winning gospel singer Kelita as well as many local people and visitors. Most sat in my kitchen and enjoyed coffee and conversation.
With more than thirty years of writing profiles for the local paper, online and the TV interviews seen on the local cable channel and accessible online I directed hundreds of dialogues but I must admit being on the opposite end is a different experience. It was very pleasant to have a celebrity like Mercer visit Fernie, for me it will be unforgettable!
Thank you Patty and chamber organizers for this lovely experience and thank you Rick Mercer, Michal and John for coming to Fernie.
Posted by admin in : News ,

add a comment
An event titled "Annual Appreciation Dinner" was held by the local Fernie Lions Club as an expression of gratitude to their volunteers this past Saturday, February 25, 2017 at the Legion Hall.
Members from Fernie and Sparwood gathered to enjoy a delicious meal prepared by the Earl McPeek and his crew. But this was no simple meal, It included a huge assortment of salads, fresh and pickled vegetables, fruit trays, devilled eggs, mashed potoatoes, roast beef and chicken cordon bleu, with all the fixings, and a wonderful cake smothered with blue berry compote and fresh cream for dessert.
Long-time member Rick Ganter, a recipient of the Fernie Citizen of the Year award a couple of years ago for the many hours of dedicated service to this community helped to organize the event along with Tom Murdoch, Paul Storey and Chuck Shoesmith, also strong volunteers and long- time members.
President Ted Shoesmith introduced the head table with Majors David and Edith Dean of the Salvation Army, Mayor Mary Giuliano and husband Nick and himself. Corinne Hoetmer was unable to attend this year but has retained the position of secretary, Lions treasurer is Rick Ganter with Ted Shoesmith remaining as president.
The Fernie Lions have been a supportive club for this area fundraising to help the hearing impaired and those with special needs. They are identified with and well known for the hugely popular Demolition Derby event that they organize each year on Labour Day that attracts thousands of people from surrounding areas to view the exciting competition.
Members present from Sparwood included longest member Ron Linkert (44 years).
This year local author Keith Liggett attended and brought along a box of his books "Fernie Originals" to gift to all the attendees which was a lovely surprise for everyone. Ted said Keith is very much an appreciated volunteer for the Lions Club.
In my role as Mayor, I thanked the Lions and all the volunteers on behalf of Council and the City of Fernie, saying "Congratulations for all the enthusiasm and diligence you show year after year and for all that you accomplish. Volunteers like you are the heart and soul of our communities; without you the clubs wouldn't survive and events such as the Demo Derby wouldn't exist. Council is fully aware of the important contributions all of you, our most valued volunteers make towards making life easier for citizens and for the communities as a whole and we are grateful and thank you for what you do."
The Lions Club is always willing to assist other groups in need, the members do a lot of things together as a collective aside from the work they do on their own. Members help with the Salvation Army Kettle campaign in December as well as donate hampers to those in need. They serve treats at the senior homes like Rocky Mountain Village and Tom Uphill Manor and provide funding to Girl Guides, Brownies, the junior golf program and the junior Ghostriders hockey team.
They tend bar at social events, and perform security at the figure skating events and hockey games, they donate to Stars, to seniors cribbage and tournaments, to the Ghostrider team, and they have purchased kids golf team jerseys. These are only some of what this group does to assist the communities in the area.
The Club is always looking for new members, if you enjoy being part of a group that accomplishes so much for your community please get in touch with any Lions member for information to join.
To end the evening Ted Shoesmith thanked all the volunteers for coming and those that prepared the meal.
It bears repeating that volunteers are special people, this community wouldn't be what it is without the efforts of volunteers. We can't thank those that give of themselves enough for all that they contribute.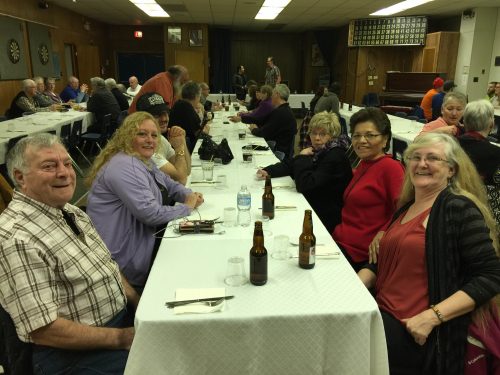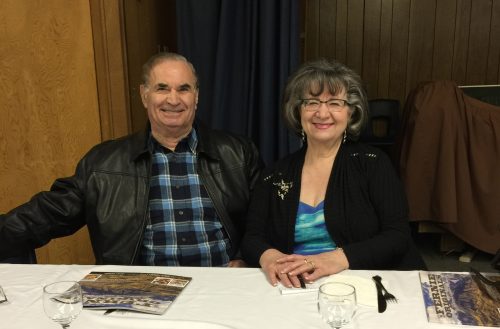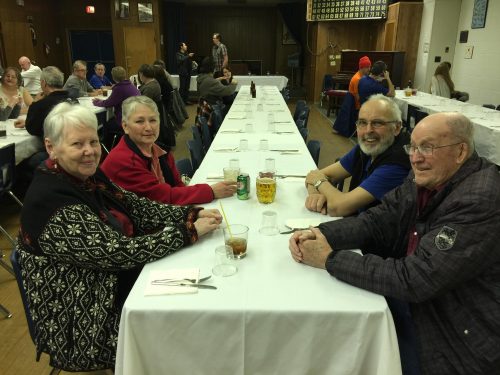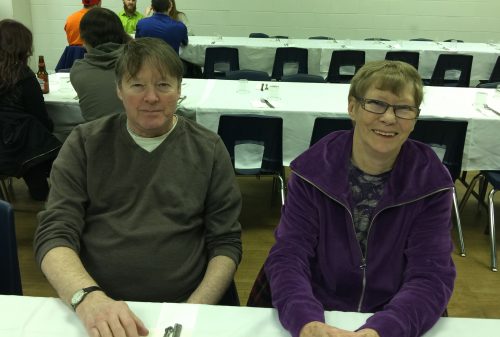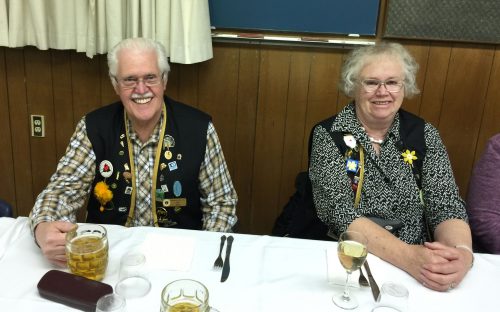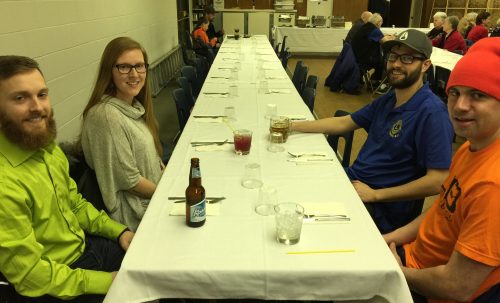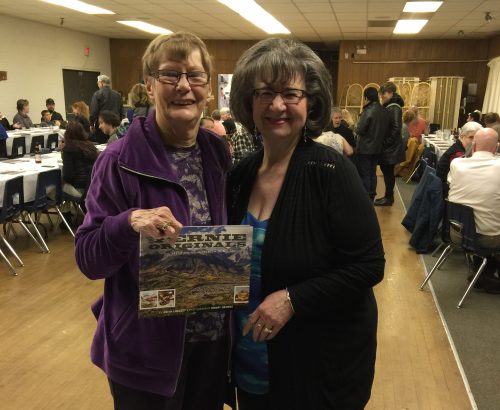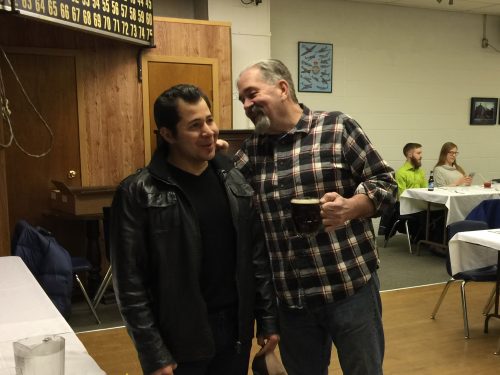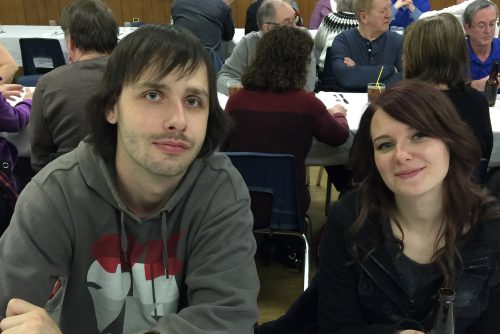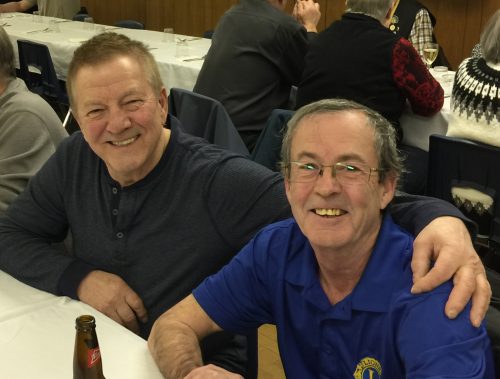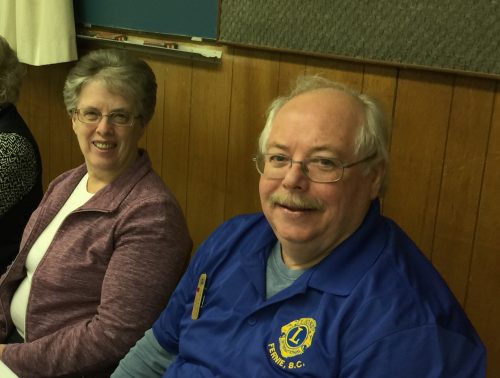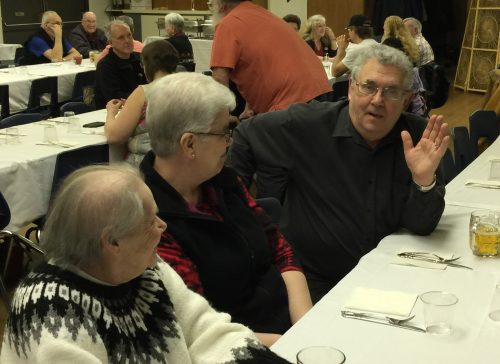 Posted by admin in : News ,

add a comment
It's always a pleasure to present Fernie employees with long service awards especially when the individual is well known for his generosity of spirit and time.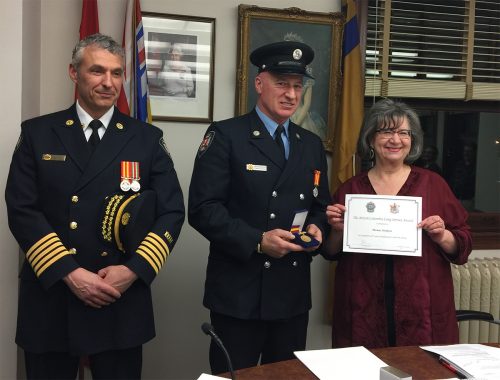 It was apt that on Valentine's Day, Tuesday February 14, the prestigious long service award gold medal and certificate was presented to firefighter Lieutenant Tom Hopkins of the Fernie Fire Rescue Department during the regular Council meeting.
Tom began his long service as an auxiliary fire fighter with the Department on March of 1989.
At this time he was still working a full time job with the Green Hills Mine and deeply involved with Mine Rescue.
In February of 1999 Tom was hired as a Career Fire Fighter for the Department.
Tom is very passionate about the work he does for Fire Rescue and the community.
Aside from being a fantastic member of the department team he assists with running the PARTY Program, is a member of both Search & Rescue and Critical Incident Stress teams and helps out wherever he can when other volunteer opportunities arise within and outside of the department. He can be seen flipping pancakes at the Tom Uphill Manor or grilling hamburgers at fundraisers or even going to someone's home to provide some much needed emotional support.
Tom says he is very fortunate to have an understanding, beautiful wife and two loving children who are his "backbone of support". Council thanks Tom's wife Kim and their children for their great support but most of all we thank and congratulate Tom on 25 Years of service to this community and look forward to many more years of contribution.
Congratulations Tom!
Posted by admin in : News ,

add a comment
Growing up in Fernie was a great experience. There was a lot of freedom for kids to roam around freely and we did. We ran up and down the hill where Ridgemont is now, ran to the Cribbin'to pick buckets of Saskatoon berries and dip our feet in the river, ran along the north end of the tracks banking the golf course to pick pussy willow stems in the spring and wild strawberries in summer and where the recycling depot is and all along that area we played ball and hide and seek and looked for four leaf clovers because back then it was a beautiful field of green.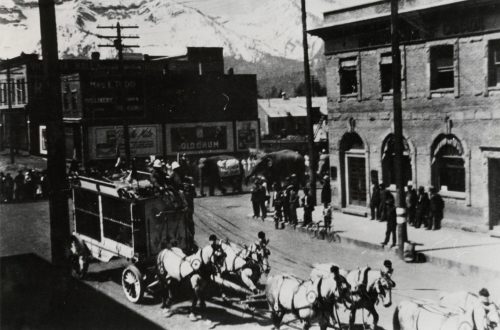 It was almost idyllic back then perhaps because of the simplicity of life here. Fernie at the time was mostly a resource town, mining and forestry were the main drivers, however there were also many government offices providing services and lots of shops on Main Street.
Still the feeling of the town was different, homes were smaller, families were stronger, hundreds of people attended church on Sundays, not everyone owned a car and many like my father rode his bicycles to work while the rest of us walked everywhere.
And there were family owned shops like MC Cash, Fiorillo's, Guzzi's, Minifie's and of course the barber shop with long time barbers Patsy Caravetta and Doug Turner.
Despite the easiness of life or perhaps because of it, children raised in this small town ended up being high achievers.
Attending a multi-year class reunion a couple of years ago I noticed how successful class mates were. Some are living in exotic places; there are diverse careers such as the entertainment business, law, accounting, education, science, some are pilots, politicians and all were pretty happy to be back in Fernie. It seems that once you have been raised in Fernie although moved away Fernie is still always considered home. I completely understand, I hold a love for this town that will keep me here always.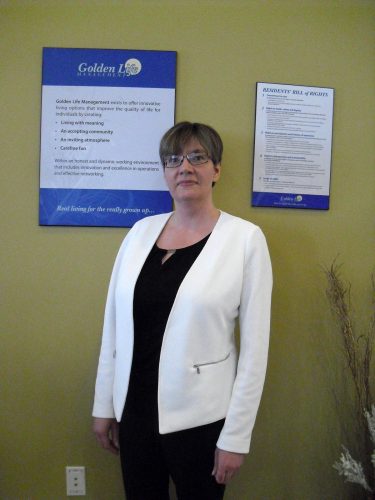 So for me it's always a pleasure when I meet someone raised here who still has this community in heart and mind. And recently I met up with Joyce Turner, the daughter of barber Doug Turner and Inga Turner. Born and raised in Fernie, Joyce is the East Kootenay Regional Manager with Golden Life Management. Joyce has a distinguished career both in nursing and long term care management. Having spent some time working in a couple of other provinces she saw the opportunity to move back when this position opened at Golden Life and although based in Cranbrook Rocky Mountain Village is also under her management. It was wonderful to see Joyce again and see how another Fernie kid has achieved.
When Joyce and I spoke we realized that sometimes people who need services have no idea of how to access or look for that information so we thought it would be a good idea to let people know what is available, for instance for people who find themselves as caregivers there is a "Supporting Primary Caregivers Respite Series: Adult Day Services".
Joyce says "Families often take great pride in caring for their loved one at home. However, the physical, emotional and financial consequences can be overwhelming without some support, such as respite. Caregivers can become preoccupied with the tasks of caregiving and may overlook the benefits that respite and adult day services can provide. Seeking support and maintaining one's own health are key to avoiding caregiver burnout.
She then addressed the Benefits of Adult Day Services. "Respite is short term assistance provided to individuals who are caring for a loved one at home. There are many benefits to respite care that include having: Leisure time – Take a walk, read a book, listen to music – whatever brings you rest and relaxation. A change of venue – Escaping routine caregiving can help you relax, bring you a new perspective. Socialization – Prevent isolation or feeling alone. Take time to engage with friends, family, and co-workers by sharing meals, conversation, and experiences. Subsidy – Costs associated with adult day services are usually subsidized making the service affordable. Adult day services are one example of respite that is available in our community. Adult day services offer a range of health, personal, social and recreational activities in a safe, caring environment with a goal of providing much needed support to caregivers that will enable the senior to remain at home.
Maintaining a healthy relationship between the caregiver and senior is vital, caregivers may access respite services in order to maintain their ability to be effective in their role. Caregivers can have peace of mind, knowing that their loved one is receiving the care they need while enjoying the socialization and recreation respite stays can provide. Speak with your healthcare provider or doctor for more information."
Posted by admin in : News ,

add a comment
One of the more exciting tasks of performing my mayoral duties is meeting fascinating people.
The weekend of January 20-22 was the 9th Annual Reel Canadian Film Festival organized by the committee of Kevin, Keya, Suzanne, Deborah, Brennan, Guylaine, Debbie, Louise and Cory aka the Festival Committee.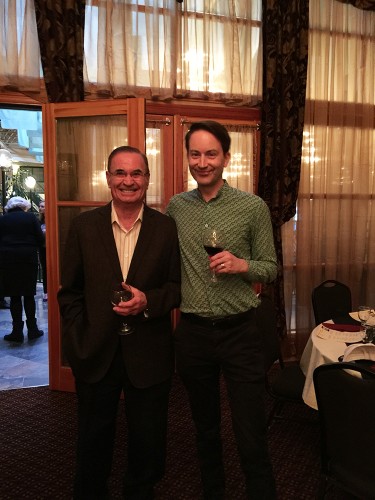 This small group of amazing volunteers planned three great days of feature films, Shorts and Kids programming, opening and closing receptions and of course special guests while also acquiring great sponsorship for the event.
This year I attended the opening of the festival with the Friday feature film "Grand Unified Theory" and gave a welcome to Fernie to the director and two actors and to the sold out crowd in the Vogue Theatre.
But thanks to Gordon Sombrowski I also attended the pre-opening dinner so along with sponsors and volunteers I got to meet the special guests.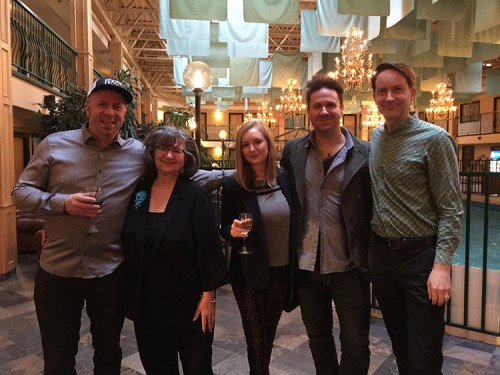 This provided an opportunity to extend a more personal welcome to writer, director/producer David Ray and two of the lead actors in the film Emma Grabinsky and Andrew McNee.
Grand Unified Theory was shot completely in BC in 12 days. It had its premiere in Beijing and its Canadian premiere just last month at the Whistler Film Festival that programs more Canadian films than any other international festival winning the award of "Most Popular Canadian film".
David Ray, is a most passionate writer, director and producer with an obvious love of all detail so as to create something spectacular.
He has written screenplays, wrote and co-produced films that premiered at the Toronto International Film Festival, and has works that are shown on Showtime and Netflix, as well as working animation on APTN and Bron Studios.
Sitting next to Ray I was able to have a real conversation with him and found him amazingly friendly and open.
Ray has roots in the Valley as he has an uncle and cousins that live in Sparwood. He is a man with a profound interest in science and Faith. Holds a keen interest in politics campaigning door to door for the MP candidate in his riding and knows what's happening politically in the world. But it wasn't until I viewed his movie that I realized just how truly gifted Ray is in his field. He has tremendous insight into people's psyche and knows how to interpret that in words and on the screen. This is exposed clearly in the characters in his movie that is insightful, funny, educational and entertaining. I would encourage everyone to see it if you have the opportunity.
Emma Grabinsky, a petite, lovely, twenty year old is presently in her third year of studies at the University of Victoria. She has had interest in theatre since the age of six and is known for roles in Supernatural, The Haunting Hour and The Gordie Howe Story. She began her career in theatre where she received a Jessie nomination for her role as Helen Keller in the Miracle Worker at the Vancouver Playhouse. She is bound to get recognition in this film as well.
Andrew McNee is an actor known for work in film, TV and theatre, who has worked across Canada and Europe. Andrew has been nominated for awards many times and has won the Jessie award twice.
Josh Epstein, last year's feature film director /producer told me that Andrew is the most talented and funniest actor he knows and is appearing in his next film. Andrew is phenomenal in this film. He really is funny and so good, I must say although I had spent time with him at dinner and found him very charming his movie character had me completely enthralled, which proves a great ability to transform into character.
I am always a bit star struck when I meet people that perform work that I don't do, or should I say that have talents I don't have but after years of having the privilege of meeting so many people with diverse and unique interests and abilities I'm just grateful for the opportunity to speak with them as its usually a good learning experience and most of all it's always a pleasure.
.
Posted by admin in : News ,

add a comment
December is a month of joy. Joy brought about by the promise of the Christmas season and all that it involves.
Carols wafting over the house as we decorate the Christmas tree, prepare special foods and bake traditional treats.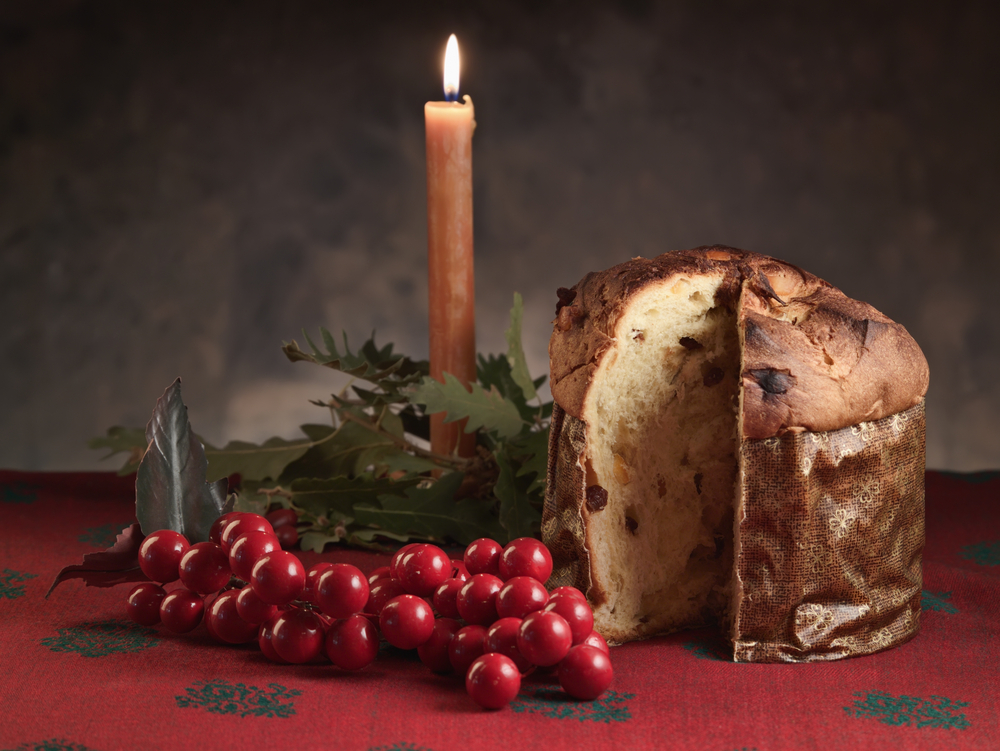 But this time also brings sadness as loved ones pass away suddenly or just remembering the people in our lives that are no longer with us.
I find December to be a time of reflection, a bit of brooding over memories and regret over what I think I could have done better in my life.
This month is always so very busy with events, when the children were young it was school and church concerts, dinners with friends and family and work parties.
Today it's filled with community events, work and preparing for Christmas dinner for my family.
I keep the tradition of the southern Italian Christmas Eve fish meal consisting of dried salt codfish baked with potatoes and onions and also rolled in a coating of flower and breadcrumbs and then fried, a clam sauce served with linguini pasta, and many green vegetables both cooked and fresh. Sometimes I will cook prawns, stir fry savoy cabbage in lots of olive oil and garlic, deep fry cauliflower, steam broccoli, as well as green salad, a tomato and green pepper one and stir fried coloured peppers.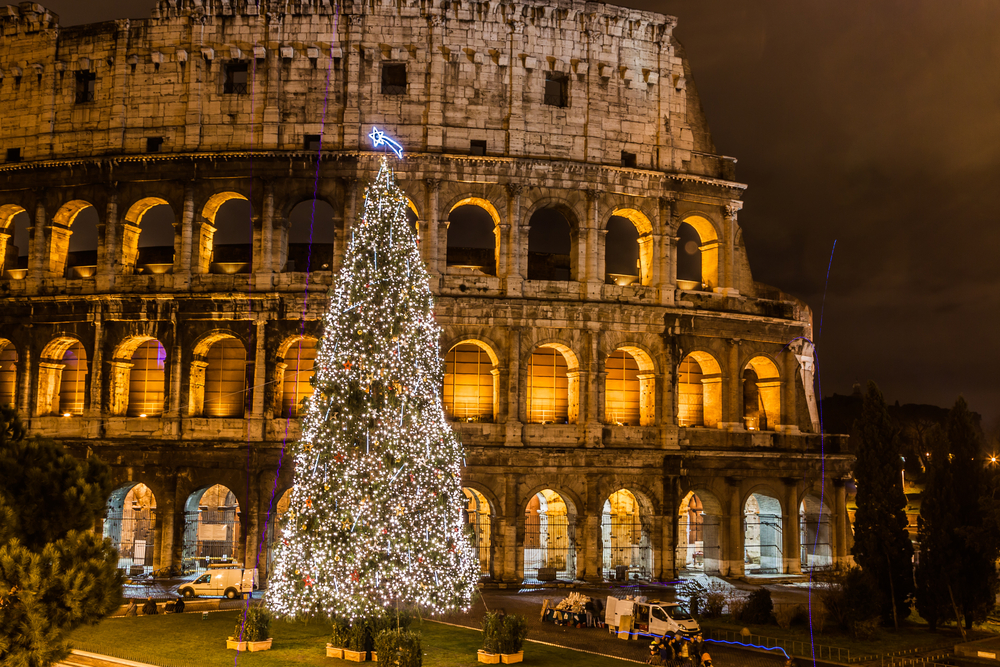 I try to recreate the flavours of my mother's cooking because then I can almost feel her presence.
Christmas Eve was most important when I was a child in Italy. Thirteen dishes were cooked to signify Jesus and his twelve apostles at the last supper. The food was left out so that if someone came by they could partake of the feast.
Sweet treats such as the pitta, thin layers of dough filled with almonds, raisins and walnuts drenched with honey, turdilli- round balls of dough deep fried, scalines, braids of sweet dough fried and covered in honey, mustazuolo, a honey loaf filled with chocolate and almonds and of course bowls of mixed nuts and fruits were also served.
After dinner everyone headed out to the town piazza to stand around the huge bonfire before entering the church for midnight mass.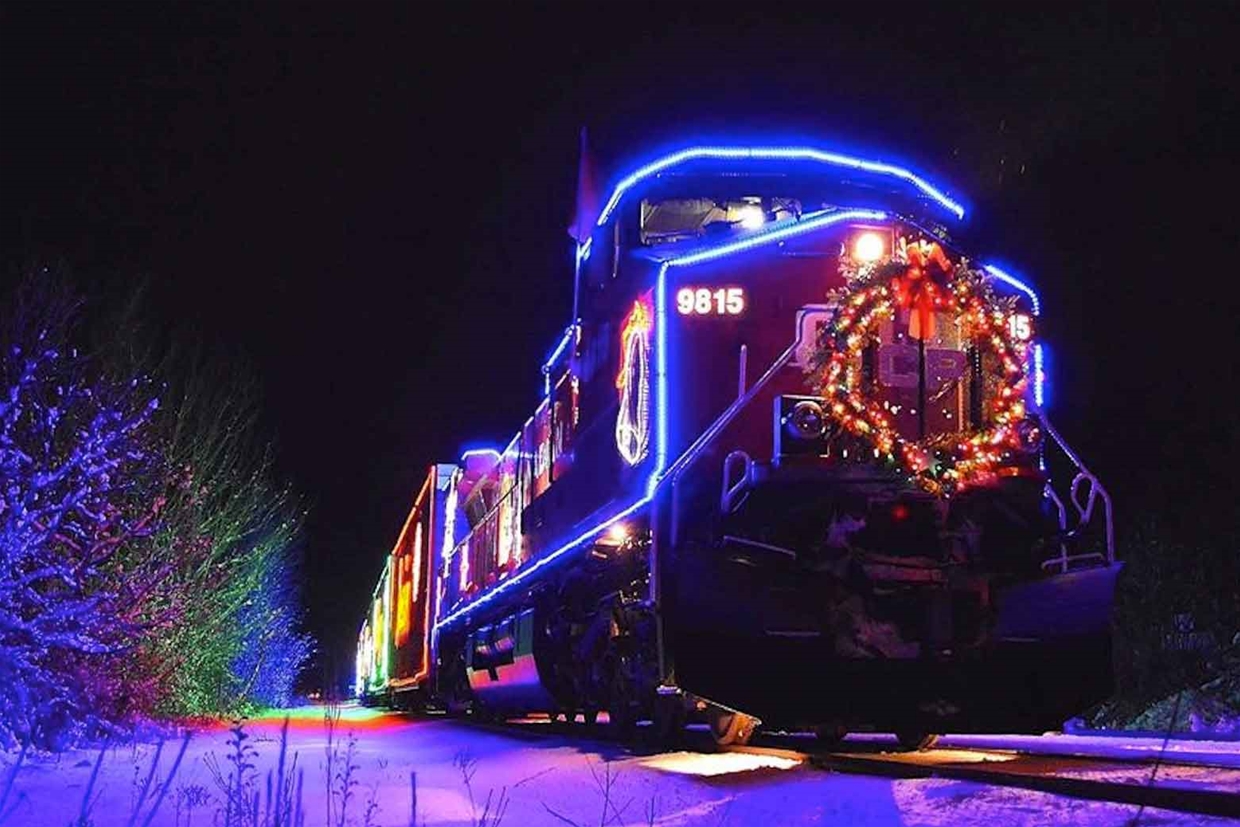 In Fernie there was no bonfire but the meals were the same and friends would come over and everyone would sing and eat. We went to midnight mass and sang in the choir and loved it when people called out Merry Christmas as they shook hands and hugged.
A prime surprise to those lucky enough to live to be considered seniors is how quickly time flies by.
When young there isn't much thought to being older. Yes, when a friend passes unexpectedly you think of how we need to appreciate life more, but in a day or two those thoughts are forgotten in the busyness of work and kids and other activities.
I read somewhere that "youth is wasted on the young". Whoever wrote that understood what it meant. When young there is no time to think about being young, we think about what we want or need. We look at what our friends are doing; we worry about not having the right clothes, the right toys or the right friends. We look at material things and think of how to acquire them. There is no time to appreciate the subtler and more simple things such as life itself. We're too busy with our ambitions, we want to be admired for what we perceive to be important, being considered smart, beautiful and maybe, just maybe a touch better than the next person.
Most people spend their lives searching for something, they think it's achievement, appearance, or money.
In reality all of us are searching for acceptance and love. We do that in different ways and sometimes we spend our lives trying so very hard and not even noticing when it has been achieved because we've become too busy to notice.
I want to say to each one of you reading this to look into your heart and notice how much you are loved by family and friends. How truly appreciated for being just who you are, you don't have to be someone better or smarter or thinner, or making more money, you just have to be you, the person born in this world at the right time for the right reason. You are meant to be here perfect in who you are. You are important to us, to your family and friends, to your work, to your community and most important to yourself.
Merry Christmas to you, Happy Holidays–May the Universe provide you with a Blessed and Most Happy and Prosperous New Year and the knowledge that you are loved and perfect because you are You.
Posted by admin in : News ,

add a comment
On Monday December 12, 2016 invited guests, staff and council members gathered at City hall to witness the presentation of the George Majic Spiritus award to the late Heiko Socher. Heiko's wife Linda accepted the award on his behalf saying she was honored to do so. I was proud to hand over the small trophy to Linda and tell her that Heiko's name would also be engraved on the large trophy that sits in the Library. Anne Majic was present to say a few words about how the award came about and Randy Gliege gave a short speech of remembrance about the man he had known so well for a long time.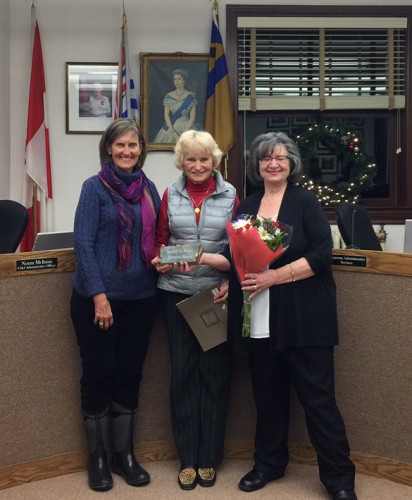 Heiko was the son of an engineer in eastern Germany whose older sister immigrated to Canada and then sponsored him here. He studied forestry at the University of British Columbia but wanted to be close to the mountains and on finding a job in Fernie he saw an opportunity to acquire a 30 per cent share of the ski hill and went on to become general manager and majority owner.
Fernie Snow Valley grew slowly and surely under the steady management hand of Heiko. With forestry knowledge, Heiko made money selling trees cut from the ski hill using large equipment. He began to market the skihill and in the beginning attracted many skiers from Alberta and Saskatchewan.
Alongside every successful man there is an ambitious, active woman and in this case while Heiko worked on the ski hill and base lodge, and Linda ran the ski school and ski shop and took care of many other tasks.
Heiko continued to cut trails and more lifts were added to add to the skiing experience.
Even after retirement Heiko spent a lot of time building and maintaining trails.
The iconic mental image of Heiko in his pickup truck with his chainsaw ready to cut trails is etched in all who knew him and is one that will never be forgotten.
It's difficult to say goodbye to someone who has contributed so much for so long to our town. I am reminded of something Heiko said to me last year, and that was, "I wish I had more time because there is so much more I want to do for Fernie."
Heiko did have more plans for this small town, Heavens Gate. He wanted to see a gondola running from Second Avenue to a proposed new area for skiing and hiking that would be available for family members of all ages. He was a man of vision that turned a small hill into an international renowned one, who paved the way for new ideas and who was generous, quiet and very unassuming and most of all who worked tirelessly to the end. He really was one of a kind, caring and thoughtful of his community, of people, someone who has made a huge impact that won't be soon forgotten.