Posted by admin in : News ,

add a comment
It's said "You can't go home again", yet this past Saturday evening well- known entertainer Kenny Hess proved you can come home again and perform for old friends and school buddies.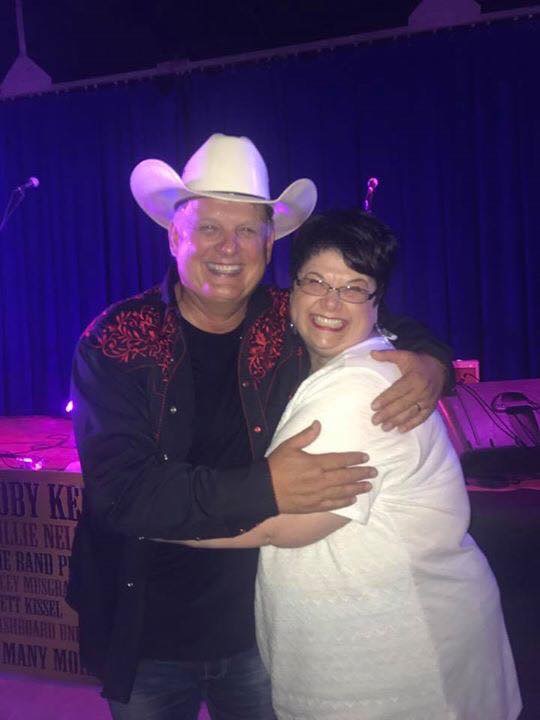 Kenny was well received by a crowd that had people who had only just heard of him and those he has known most of his life and those were obviously thrilled to gaze upon one of their own up on the stage belting out some familiar tunes as well as some of his own melodic, original songs.
Slated to begin at 9:00pm most of the crowd arrived well before that to look over and bid on silent action items, check out the cd selection and enjoy a cool drink.
When Kenny and his band walked on stage loud cheers emanated from the audience who were very eager to hear him perform and dance the night away to his pleasant, country sound.
A couple of months ago I found a message from Kenny asking me to call back. I did and in the conversation found that he wanted to come to Fernie, the place he regards as his home town, and do a charity event. He asked me for some ideas on what non-profits in town were in need and on mentioning Tom Uphill Manor he relayed a story to me that I found quite poignant. He said as a child of 12 or 13 he and a friend stole a fishing pole from a neighbour. They were found out and ordered to do community service.
"One of the hardest things I ever had to do was tell my dad what I had done," Kenny said. He said he saw the pain of deep disappointment oh his dad's face at his action and determined he wouldn't ever do anything like that again.
He was sent to the Tom Uphill Home to fulfill his community service and while doing so sang, something he enjoyed doing since a small child. But on being heard he was soon recruited by a resident to sing for all of the people in the Home, something he ended up doing until his time was over and continued to do so periodically.
Although moved away years ago to pursue a musical career Kenny has never forgotten his time in Fernie. He has serious heart for this town and the people he knows, the ones he went to school with, the people he worked with and even those that were acquaintances.
He's been pretty successful with his career winning several provincial country music awards for artist and song of the year, nominations to the Canadian Country Music awards, a prestigious Juno and this year he has received a nomination to the Canadian Country Music Awards for his annual Rockin' River Festival held in Merritt in August that will feature Toby Keith, The Band Perry, Kacey Musgraves, Brett Kissel and the legendary Willie Nelson as well as many other well-known musicians.
Saturday evening during intermission seemed a grand reunion. People came from out of province to hear him perform and to have an opportunity to give him a hug and pose for a photo. A highlight of the evening was having Kenny and his daughter Becca who is a fabulous singer in her own right do a duet. The music went on well past the midnight hour as no one wanted the evening to end.
All proceeds will go towards the Tom Uphill Manor much needed renovations and the Hospital Foundation. If this proves successful Kenny hopes to do this on an annual basis.
Here is someone who doesn't have to come back and do anything for the place he left behind but Kenny is one special person, he loves his family, his friends and this town, he still feels this is home and wants to contribute and those of us that know him love him for it and appreciate it greatly.
Thank you Kenny, you gave us a great evening of music, thank you to Sharon Ashmore, the Lions Club, and all of the people that volunteered that evening in so many ways. You are all so great, you make this town the wonderful place that it is, the place that Kenny wants to keep coming home to and that all people who have lived here for any period of time will always have a heart connection to.
Posted by admin in : News ,

add a comment
Most recently I was introduced to someone I think to be very courageous. I know very little about this man yet I've determined I don't need to know any more information about this person.
It all began when my husband Nick found a message from Chuck Leishman inviting us to a party. On the return call Chuck told Nick that he was holding a "wake" for himself. We took it as a joke and on arrival at his home noticed there was quite a festive air.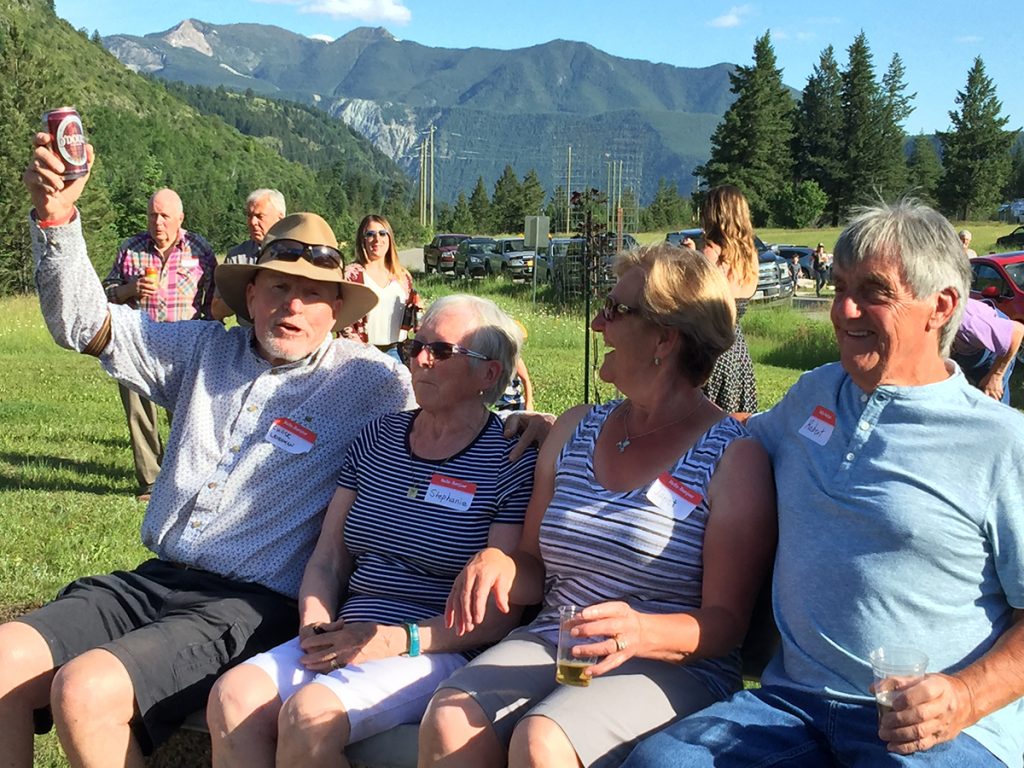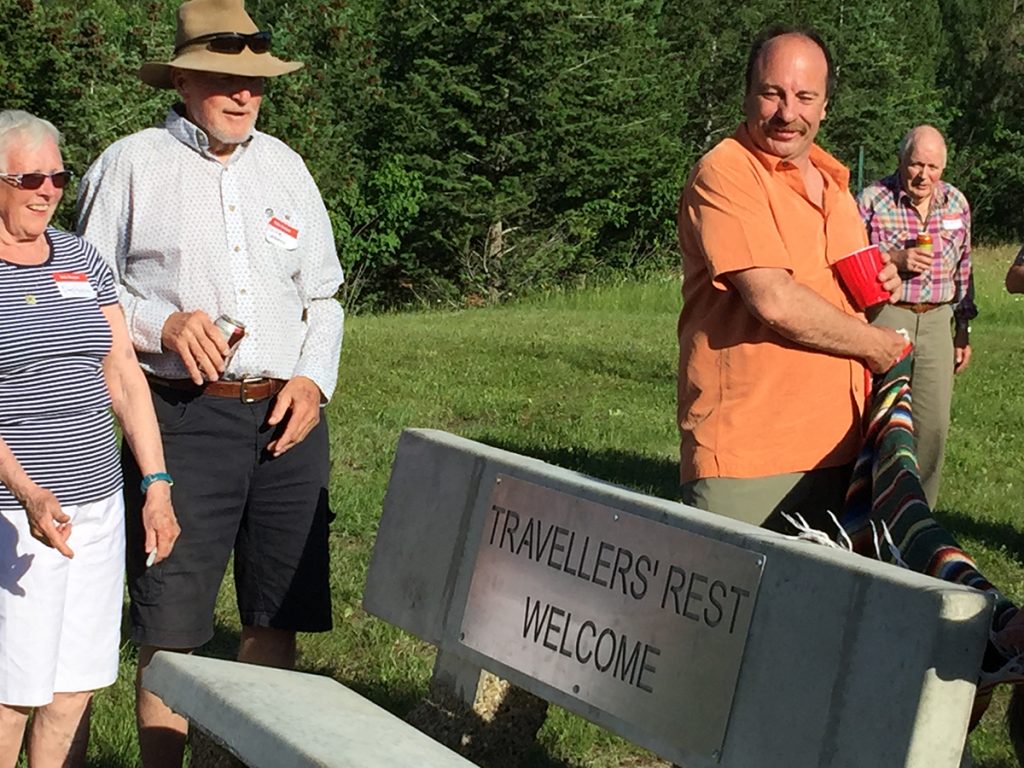 A huge bouncy castle for kids of all ages, an amphitheatre of chairs set up for a live band concert, a barbecue holding several plump chickens giving off a delicious aroma, platters of ribs, large containers of salads, corn on the cobb, bags of huge buns, on one table sat an array of appetizers, on another a huge bowl of sliced watermelon, and right next to that was the bar.
Chuck met us and shaking my hand firmly he brought us into the music area and put our names on a name tag as there were many people who didn't know each other.
Chuck is tall and slim with rugged good looks, he is wearing black Bermuda shorts, a pale blue shirt, sandals and a cool hat that gives me an image of an Australian in the outback.
There are nearly a hundred guests all clamoring for his attention and he acknowledges everyone with a smile and a word while still providing Nick and I attention. He then hands Nick a drink and tells us to enjoy the festivities.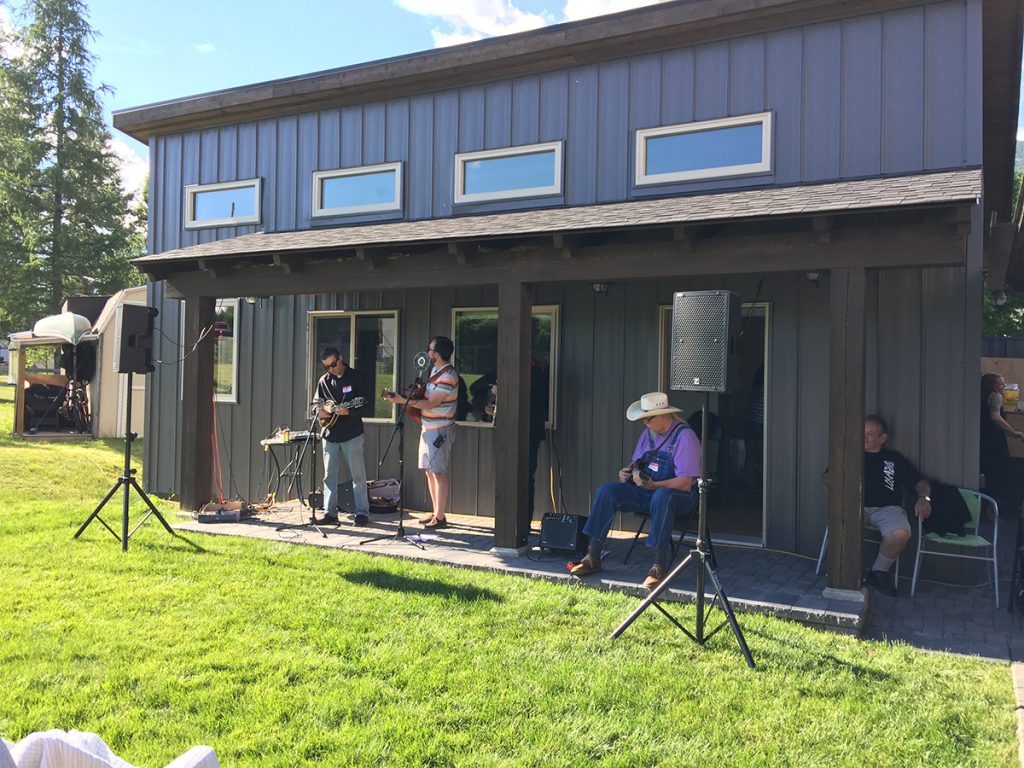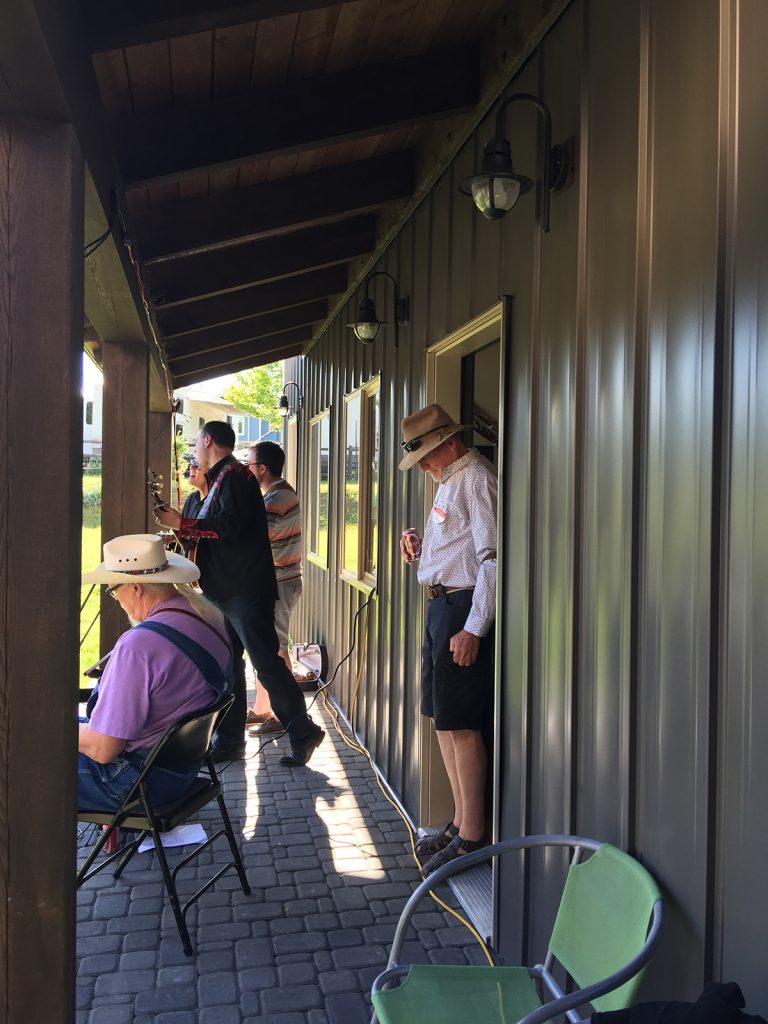 The live band starts to play and as I look around I notice a number of people I recognize, Linda, a mutual friend says in awe, "Can you believe this? He has so many friends, so many people here, I have six for dinner and it seems a lot. I respond by saying, he must be a very caring man to have so many people show up to this party. The band stops playing and Chuck moves to the microphone. He extends a warm welcome and thanks the guests saying everyone knows he has been battling cancer the past couple of years. He's spent time in hospitals and thanks close friends for surprising him with visits while in Kelowna. He drew a laugh on saying that initially the party was to be a wake but now he feels better and joked the date chosen for the party came about because it was the only day the band was available. He then asked everyone to grab a drink and walk with him to where a small park had been built so they could do an unveiling. The park was down the road and so we all followed him to gather around a bench that was covered and upon ceremoniously pulling off the covering were the words "Traveller's Rest Welcome". "This bench and park was built without a penny of tax payers' dollars", said Chuck. I didn't get details but it seems Chuck and wife Stephanie and neighbours, Janet and Robert, are responsible for this amenity that overlooks a breathtaking view of the gorge and river below. After some photo ops we all walked back to the house that is as unique as its owner.
In the middle of the Canadian Rockies in Elko BC is a most beautiful Spanish style home that boggles the mind and confuses the senses because this is not where you expect to find this house. Inside and out it makes one feel that you are on a Spanish hacienda.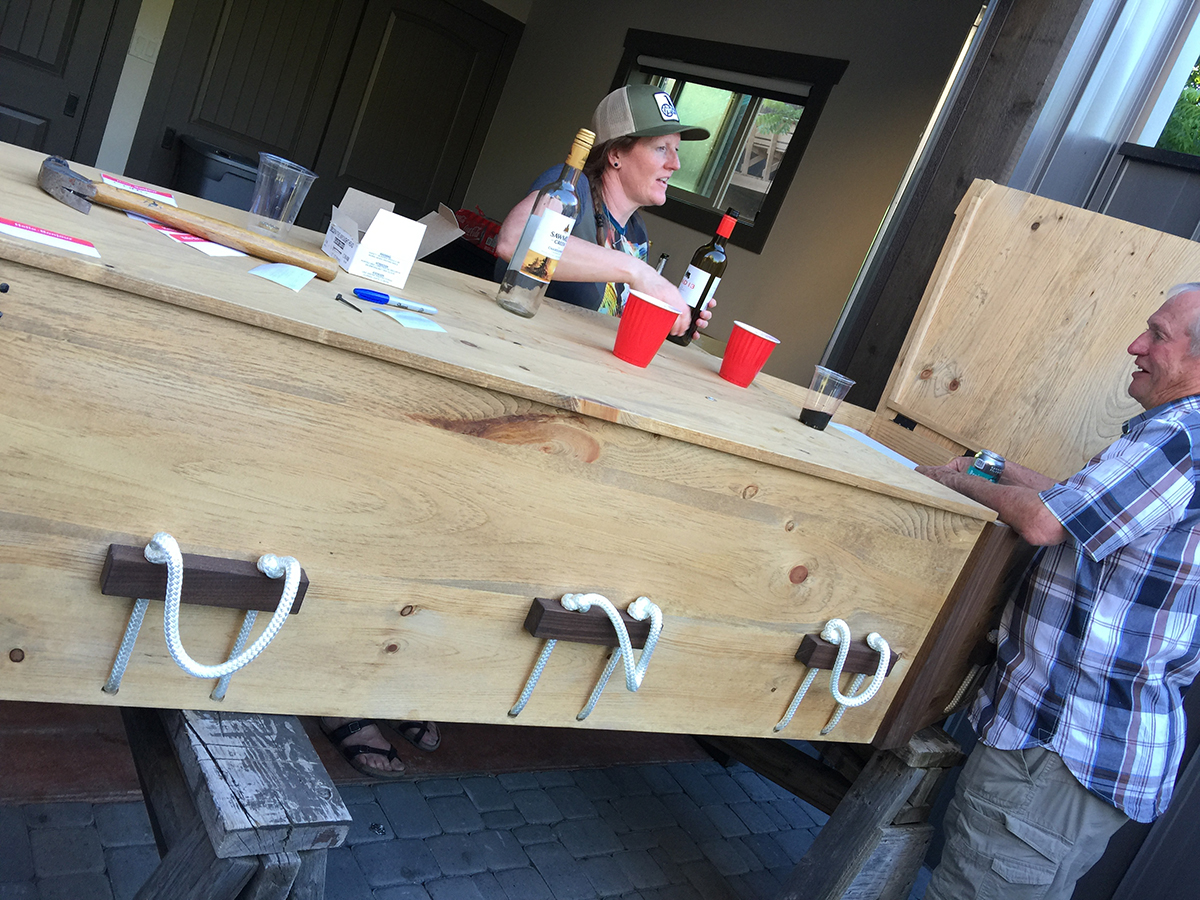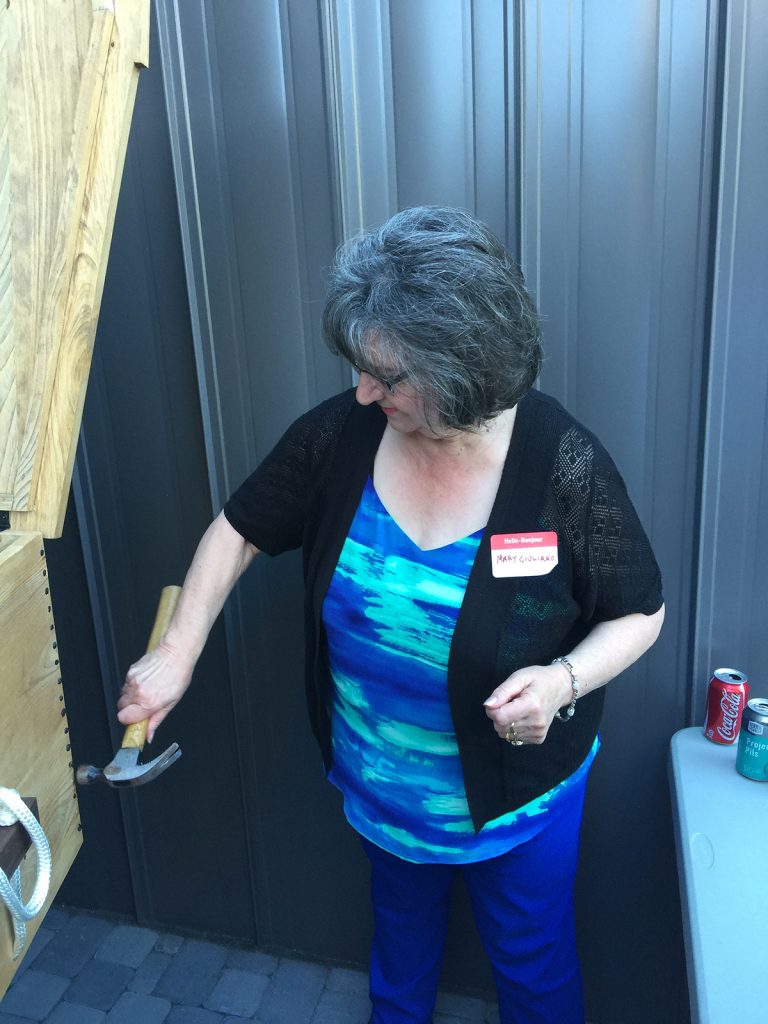 The chef has chicken ready, the pulled pork is on a platter and now it's time to eat. As we line up I meet Cathy and Stephen Larsen who along with Chuck built and designed the Spanish house. Stephen points to the bar and I notice for the first time that it is a coffin. Stephen says he built it and wasn't sure if it would be ready for today's event. We walk over to it and I make a comment that of course it makes for an interesting bar. To which he responds no it is the actual coffin that will hold Chuck at some point. Suddenly someone hands me a hammer so I can hit a nail in the bottom right side. I'm surprised by my reaction as I take the hammer and do just that, and I realize that by this action I have faced the fear of my own mortality, the fear of leaving this world and the people I love.
500″ height="1024″ class="aligncenter size-large wp-image-1576″ />
What is courage you might ask, well courage is Chuck. Courage is what allowed him to organize a wonderful party with food, music and friends. Friends who showed much love and who don't want to face that life will one day end for Chuck and for each one of us.
We know that death follows birth but the journey in between sometimes has us believing this will never happen.
We have spouses, children, family and friends; we have homes and material possessions. In the daily grind of life we forget that time is limited, if the thought surfaces we push it aside.
Chuck is a man with a heart and soul that is open and bold. I have no doubt that this courage will be what sustains him and keeps him going for many more days. Chuck is a hero, heroes are not perfect people but they are brave and genuine and loving and they have determination.
In life there is probably only one thing that is expected of us and that is to be courageous. Courage explains all other human behavior.
Chuck, I've only just met you but you have impacted my thinking and in doing so impacted my life. There is nothing better in this world than to influence someone on such a high level. I thank you for being the person you are, for showing how adversity can be met without bitterness. You are someone special and I'm happy to know you. And Chuck, you sure do know how to throw one heck of a great party.
Posted by admin in : News ,

add a comment
Friday evening had the Fireside room at the Park Place Lodge full of medical people gathered to pay tribute to one of their own who certainly deserves all accolades. I was honored to be invited as I have always had a deep appreciation for the person being singled out on this occasion.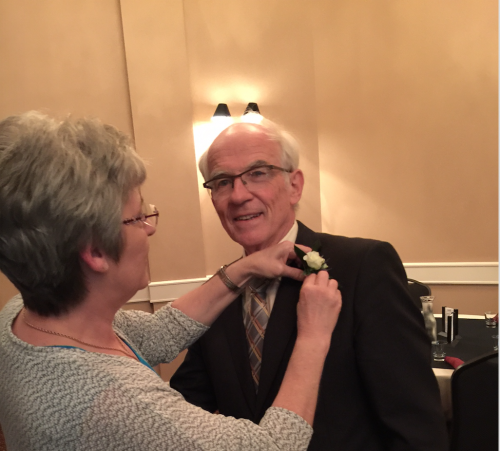 Dr. Colm Nally came to Fernie from Ireland over thirty years ago. He told a story of seeing an advertisement for Fernie needing a surgeon for over a year wondering where this Fernie was and one day checked out a map. When he showed an interest Dr. Graham and Dr. Clark immediately contacted him. When Dr. Graham was visiting Ireland he and Dr. Nally met. That was a time without the technology of today so the story of the meeting and how an Overwaitea bag full of brochures describing Fernie was presented to him was comical. It did pique his interest, he and Alice came for a visit and a year later they immigrated.
Sixteen years ago changes to provincial government brought about many changes to the health care system, not all of them positive and if it wasn't for Dr. Nally our local hospital would not have been able to offer the services it did. At a time when provincial government closed hospitals and downgraded others it was his tenacity in wanting to keep OR services in the Elk Valley available that resulted in the hospital doing so. This issue was one where everyone in the area was united. It was understood that with five mines, a ski hill, multiple visitors and for general needs closing down OR services was detrimental to our Valley. Cranbrook hospital has become the central regional one for services but there are times and many reason when it's difficult for people to get there. And this was clearly visible this past winter when roads were closed in both directions for a period of time. Residents and medical workers were diligent in keeping as much as possible in the local hospital; this couldn't have happened had Dr. Nally and the other doctors not had the tenacity to push back to IH when they wanted changes. But most of all it was his refusal to move to another hospital whenever it was brought up that kept what the services we had.
This community and the entire Valley owes a great deal to this soft spoken, gentle man who cared and still feels so deeply about this area and the people.
Dr. Ron Clark emcee'd the evening that heard several of the doctors speak about his generosity in mentoring them and how much they had learned from him. Pat Moore thanked him on behalf of nurses saying that no matter how many times he was called in the middle of nights he was always polite, never rude when responding and she and other nurses truly appreciated that.
Shirley Mercier said on behalf of Interior Health that they appreciated and thanked Dr. Nally for the "Tireless support and commitment to the Elk Valley providing surgical care, emergency surgical skill and many hours of on call. On behalf of Interior Health I would like to acknowledge your significant contribution over the years and can't overstate our gratitude for the excellent care you've provided, I wish you and your family health and happiness for your future and to know that you will certainly be missed."
Shirley then read out a poem she had written.
Days go by so very fast
It's hard to believe
It's time for your retirement
Time to be free
You've worked so very hard
Been on call daily that's true
And no one deserves time off now
Any more than you
You've had some rough times
Made special connections with all
You made the best of what life brings
And today you stand tall
I wish you days of happiness
Not filled with any strife
I hope that your retirement years
Are the best years of your life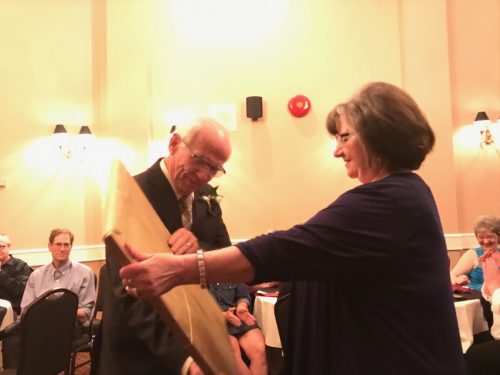 I presented Dr. Nally with a framed image from the Arts Co-op depicting a fishing scene on behalf of Council and the City in appreciation of his dedicated years of service and told him that I could speak for the entire Valley when I said Thank you and that he would be greatly missed. The evening was truly an acknowledgment to a man who is appreciated so warmly not only by the communities he served but also by the people he served with.
Many spoke and the theme was recurring; deep appreciation for a person who is caring and good at what he does and sincere regret at not seeing him there any longer.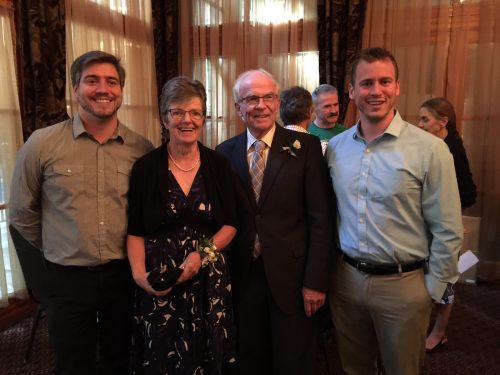 Dr. Nally thanked his wife Alice, and his two sons who live on in Toronto and Vancouver, who came especially to be present for the evening.
I took the opportunity to thank and tell the doctors, nurses and other medical people how very fortunate this Valley is to have them in our midst. As Mayor, I'm very conscious of what a great group of people we have serving the medical needs of residents.
Dr. Nally, congratulations and the very best wishes for a long and happy retirement and thank you so much for the many dedicated years of service to the Elk Valley.
Posted by admin in : News ,

add a comment
On Thursday, June 15, 2017 several City of Fernie employees were recognized with long service awards by Mayor and Councilors of the city.
The presentations were held at the City yards during lunch hour as staff and union members take a turn each year hosting the occasion by cooking up the burgers and hot dogs. This year it was great to see our Fire Chief Ted Ruiter donning an apron with the capable assistance of CAO Norm McInnis, Director of Leisure Services Lloyd Smith and Public Superintendent Dustin Haeusler.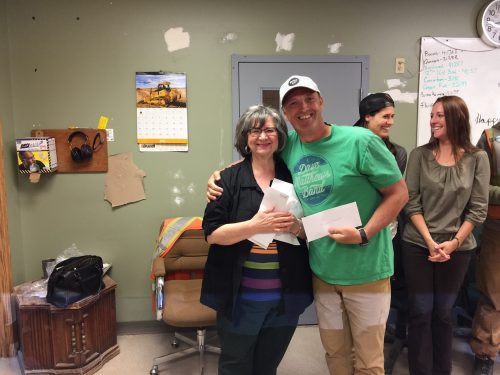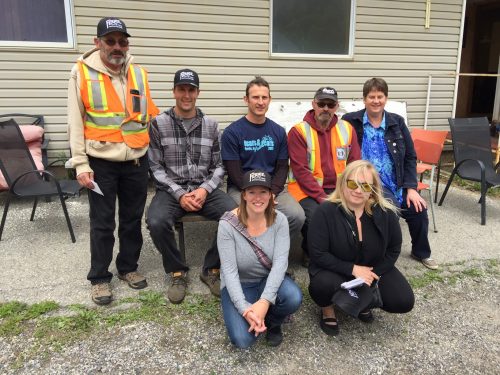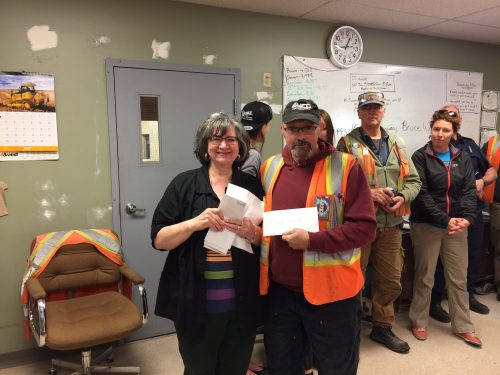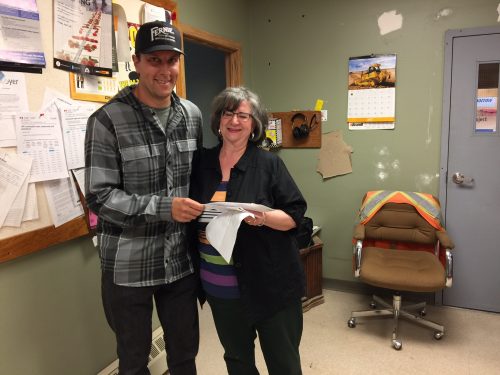 This small event is a good way for workers from all departments to get together in order to recognize and acknowledge fellow employees that not only have been with the City for many years but also for their excellent service to our community.
I was pleased to present ten year awards to Amber Christenson, Derek Cimolini, Suzanne Garand, Frank Gimard, and Bruce Nelson.
The 15 year award went to Justine Holder, Brendan Morgan and Bruce Westhaver. 20 year awards were passed out to Nicole Friesen, Wayne Gowanlock, Adam McNaughton, and Carole Peterson.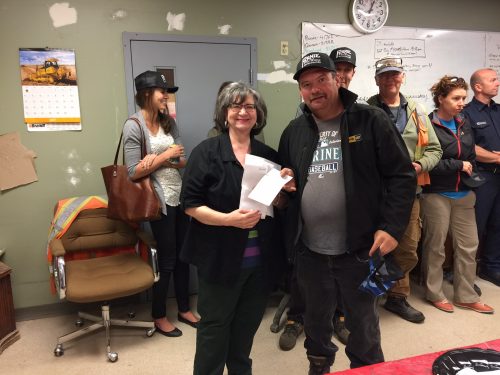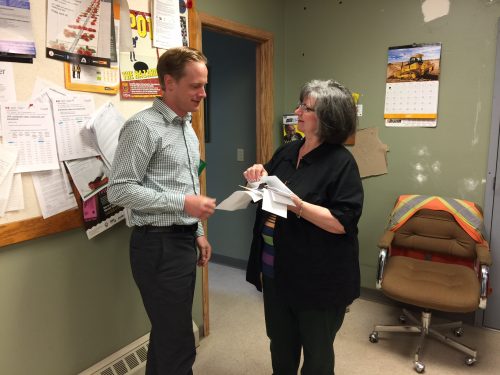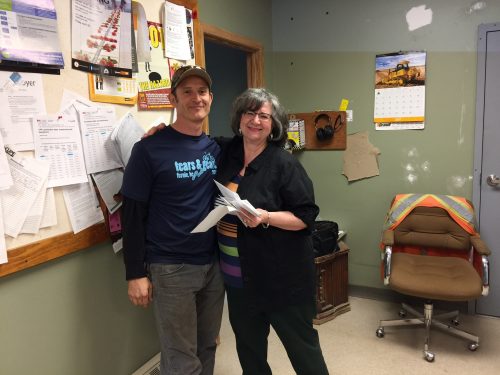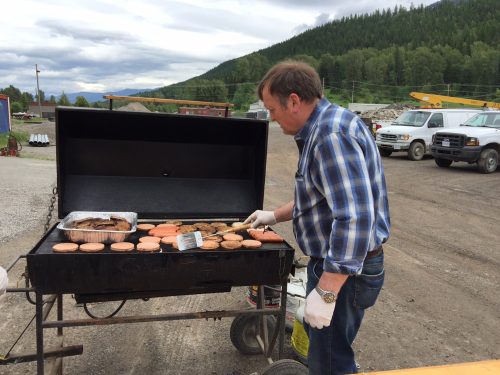 Wayne Hornquist receives a 25 year pin and earlier this year a 35 year pin was given to Director of Public Works Dave Cockwell.
Terry Nelson had nearly 26 years with the City before he retired just a few weeks ago. Congratulations everyone. Your dedication and hard work is noted and very much appreciated. Congratulations Terry on your retirement. We extend best wishes for a long and happy retirement doing all of the wonderful things that you didn't have time for before and thank you for your decades of dedicated volunteer work with trail building, something I am sure will continue.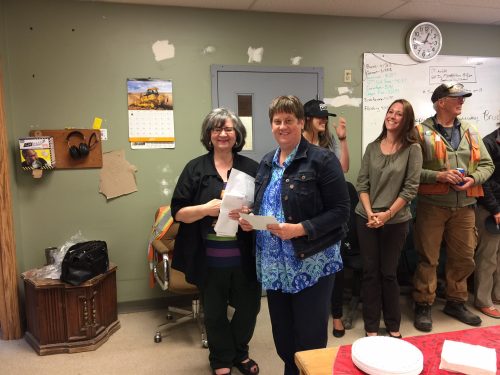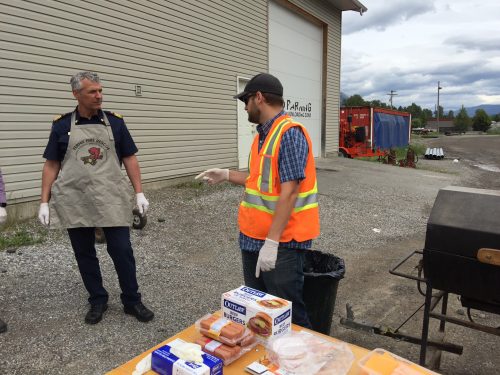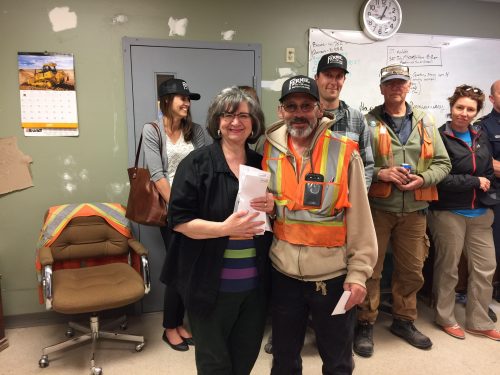 I would like to take this opportunity to also acknowledge someone that isn't an employee but a contractor who has many years of service providing the gorgeous flowers we enjoy on our streets every year. Thank you Pam McSkimming for your talents and care in the floral beauty you provide to residents and visitors. Thank you all for your years of excellent contribution to our town.
Posted by admin in : News ,

add a comment
The Fernie Arts Station launched their 2017 Banner program this past Thursday. A packed gallery listened to a couple of speeches by organizer Donna Miller and myself on behalf of Council before I was given the privilege of opening the doors to the theatre where the new banners were hanging.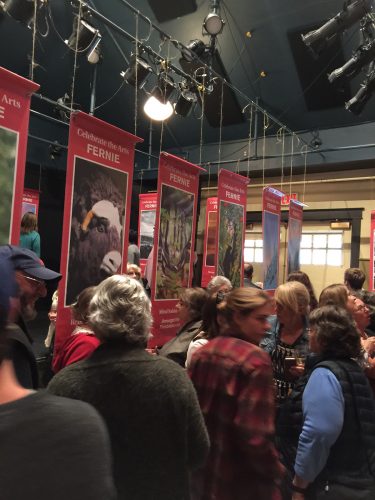 It's always a thrill to throw the doors wide open to show the elegant colourful banners hanging from the ceiling and filling up the room. There's always a lot of anticipation on seeing the new background colours and seeing the applicant's images displayed so wonderfully on the banners.
Original banners were introduced by the City of Fernie in 1999 and in 2003 the Arts Council asked to be involved with the program and so a partnership began.
Local resident Linda Hide initiated the idea of having images from local artists placed on the hangings. The Arts Station puts out the call for applications and adjudicate the works and Terry Nelson from the City worked on the project, choosing the background colours and making sure the images ended up as spectacular banners. Since Terry retired this year Vanessa Croome was commissioned to do this work. Vanessa is a board member and long-time volunteer at the Arts Station.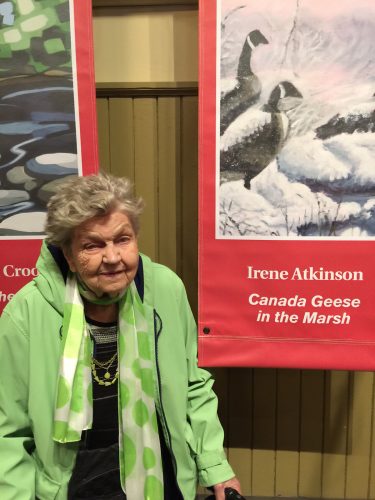 Donna Miller has been leading the project in recent years. Donna is one of Fernie's generous volunteers as she is a long time Art Station board member having served on the executive many times and also as a volunteer with other organizations including presently sitting on the Senior's Centre board.
This year there was a total of 100 entries 67 of which were artists, some were children, and some were submissions from the schools, with 39 chosen to become banners. The oldest entrant is Irene Atkinson at 95 years young. Irene is a wonderful artist that has entered previously and who paints weekly. One of her paintings, a lovely tranquil scene of a mother and child looking out over calm waters hangs in the Hospice Room at Elk Valley Hospital, donated in memory of Pietro Aiello by his family. Andrea Horton entered her late mother's painting, that of Joyce Mckay who passed away in 2010 but who was a Fernie resident for many years and was also a wonderful writer submitting poetry that was published often in the Free Press. Entries came from the South Country, Fernie, Sparwood and Elkford.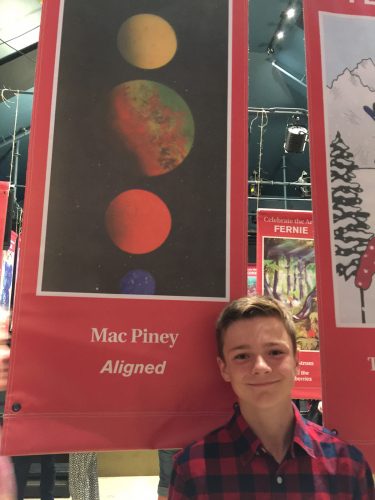 On behalf of Council and the City of Fernie I expressed sincere gratitude and Thanks to Donna, Terry, Vanessa, Station Administrators past and present, adjudication committee and all of the many volunteers and artists that keep this program flourishing.
This program is unique and has proven so popular that other communities have copied it. It not only decorates City streets beautifully but it allows for artists and artisans that are from this town to display their talent. It is especially heartening to have younger children and teens submit their art and a real confidence booster when chosen to be made into a banner.
I also thanked the Arts Station Board, City workers, volunteers, musicians, photographers, potters, crafters, artisans and everyone that supports the Arts Station in whatever way because it is all of the people that continue to keep the building not just a structure but a place that is vibrant with Arts and Culture programs and events. This participation is what has given Fernie a reputation for being a very progressive arts and culture community. Congratulations to the individuals that entered and those that were chosen.
The Banner Project is a fantastic collaboration between the City, The Arts station and the regional arts community.
For this reason I want to say again, thank you and congratulations on another successful year!
Posted by admin in : News ,

1 comment so far
Not so long ago I read that Fernie now has a Pride Society organization. The news was unexpected and yet not so. Surprising because it showed me how far this town has matured in sentiment and knowledge and yet not so because over the years I have seen acceptance of diversity becoming more commonplace for people.
When Fernie Secondary School (FSS) students and their teacher came to a Council meeting to request allowing the painting of rainbow crosswalks in town and by the School I didn't hesitate for a minute to show support. I felt this was a huge move for the school and for the students.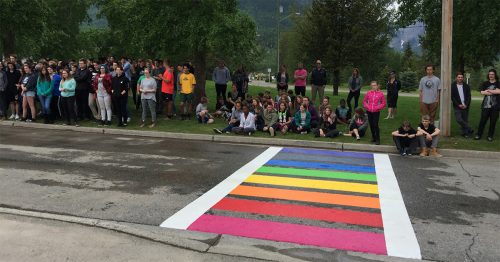 Having raised five children in the school system and having attended FSS myself I know only too well how difficult life during the school years can be for some children. A lot of discrimination goes on during this time. For some kids the negative feelings associated by this treatment never quite go away. Regardless of how successful one becomes in adulthood the damaging action of your peers towards you is never truly forgotten. Discrimination takes many forms, it's the way the popular group ostracises and makes fun of you when you walk by, it's the insidious whispering as you move into the classroom, it's the way you are ignored by teachers or made fun of in gym class by instructors and other students, it's about the clothes you wear, the style of your hair, whether you are overweight or too thin. The bullying by class mates and the mental and physical beatings from other students who find you fair game never entirely disappears. I live only two blocks from IDES and half a block from the High School before it became 901. For years I wondered why one of my sons took half an hour to get home for lunch, most of the time my other children and their friends who also came over would have finished and been on their way before he arrived. It was only a couple of years ago that they told me the reason. Apparently there was a group of boys that would wait for him so they could beat him up so to avoid them he would run all the way to the Annex and find alternate routes to come home so he didn't get that beating. Why, you might ask? Well at the time this son was small and very thin, you could count the ribs on him. He was an easy target for bullies. I have heard many stories from individuals that have had bad experiences and none more so than the ones that were considered "different".
For gay individuals it was much worse. There seemed to be no understanding about this. It was considered a decision that a person made and so there wasn't much understanding, there was also a fear that if you hung around that person somehow that "condition" would rub off on you.
During the time my children were growing up the neighbourhood kids were always in my home, I loved having them here. Two of the boys were daily visitors and still friends of my children today. It wasn't until they had graduated and lived on their own that I realized that they were both gay, my daughters laughed at me and said, "mom, didn't you think it was strange that they both played Barbies with us?"
No, I didn't find it strange, possibly because I wasn't looking to find anything strange, there were kids like all the others, I knew their families and I accepted them for who they were. Lovely little kids who enjoyed being in my home as I enjoyed having them and the others here.
This is the message I wanted to convey to the students today when I attended the ceremony at FSS for the rainbow crosswalks that have been painted. When we fully accept an individual for who they are, for who they know they are, that is what we see, a wonderful human being who is as precious as every other.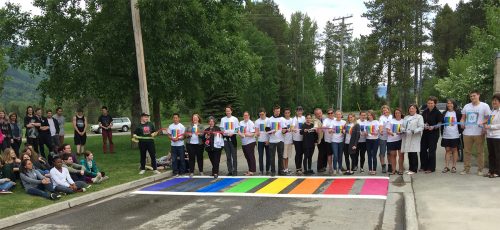 I want to thank teacher Janet Kuijt for inviting me to say a few words, the ceremony was lovely, speeches by dignitaries including School superintendent Lynn Hauptman and students wearing pride shirts as did many of the adults. The ribbon was cut over the crosswalk and a huge delicious rainbow cake was served. This is one of those happy moments that won't ever be replicated. Gordon Sombrowski who was present said to me that this year is his 40th anniversary of graduation, and 40 years ago if someone had said he would witness this day he wouldn't have believed it. I agree, forty years ago this seemed an impossibility but today is a new world. Lynn said that Fernie is the first in the school district to do this and she was very proud to be present for it.
Fernie is indeed a most marvelous place to live, most of the people are progressive and very open minded and for that as mayor, it makes me very proud, and as a citizen I am so very happy to call this town home. Below is what I said to the crowd. I hope some of the words made a small impact. But in my heart I know this group of students already know what my words meant.
Congratulations to the students, administrators and teachers of Fernie Secondary School. This is a great project for many reasons.
It signifies growth in this community–growth in the way we interact with one another.
Growth in the understanding that each person is as diverse as the colours of the rainbow and that this diversity requires acceptance.
The symbolism of this rainbow sidewalk will serve as a constant reminder that although we are created equal we are not created the same.
Each individual is unique and special and needs to be respected and shown consideration.
As Mayor, I am very proud that our school has brought this project forward.
My hope is that by this gesture students and adults will be open minded, kind and thoughtful to each other and to everyone because this is what will make this town and the world a much better place.
Again, congratulations and thank you.
Posted by admin in : News ,

add a comment
Monday May 22, saw the first Fernie Miner's Memorial Service held on the grounds of City Hall.
The organizing group of this special event included Museum Curator Ron Ulrich and Reverend Andrea Brennan of Christ Church Anglican with Father David John of Holy Family Parish involved in the program delivery.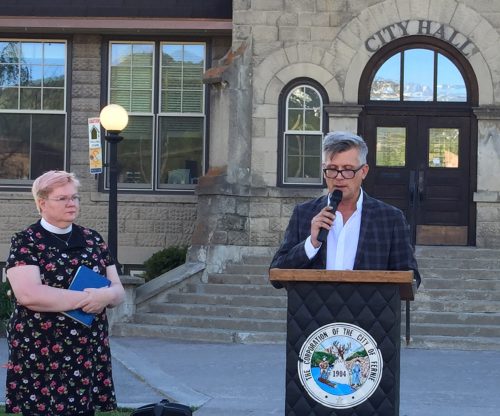 It began with the beautiful sounds of the church bells ringing from Holy Family Parish and then a welcome and opening prayer delivered by Reverend Brennan. Ron Ulrich provided an informative address to the crowd that gathered. Ulrich said, "shortly before 7:30 pm on May 22nd 1902, the communities of Fernie and Coal Creek and surrounding area were devastated when a gas and coal dust explosion killed at least 128 men in the NO. 2 and NO. 3 mines of Coal Creek."
Ron provided more history and after finishing he accompanied me to the Miners face exhibit where tripods had been placed to lay fresh flower wreaths and also to display two large posters of mining scenes. I laid a wreath on behalf of the City of Fernie, Ron then accompanied Nic Milligan to lay one on behalf of Teck Coal, and Laura Nelson who laid a wreath on behalf of the families of miners that perished.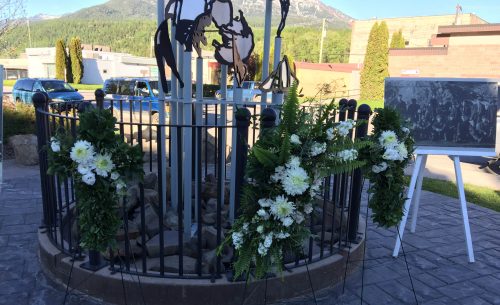 Reverend Brennan and Father David John then led the singing of Amazing Grace followed by a moment of silence. Prayers and Benedictions were said by Father David John as well as a moving speech on appreciating each other as life is tenuous and we never know when we're at the end of life. It was a lovely service that was meaningful and touching and ended with the church bells ringing again. A reception at the Museum followed.
This tragedy left families without husbands, fathers and sons and without any source of income. It also left other miners without work as the mines had to recover the bodies of those lost and then much repair had to be accomplished before reopening.
In 2011 the Miners Walk was finished and the names of those killed in 1902 were placed on the bricks as a way to acknowledge the second largest mine disaster in BC and the third largest in Canada. We were provided with 133 names that are listed but no one is absolutely certain of the number, the list could be as high as 135 names. Regardless, this is the worst disaster to happen in our area.
The disaster resulted in numerous families being left without their only source of income. Community support and assistance from the Crow's Nest Pass Coal Company payed for funerals and allowing widows and families to live rent free in company houses. This helped some of the families to continue living here. The impact on the community was devastating in so many ways. These lives lost were part of Fernie's past and they will never be forgotten.
Fernie is a resilient community that has survived floods, fires and mine disasters and it will continue to survive. Special thanks to the organizing committee for this special service that honored those that died and to remind us how precious life is.
Posted by admin in : News ,

add a comment
I first saw Bill Bennett when he walked through the door of Fernie City chambers nearly sixteen years ago. I had been recently elected as councillor and meeting an MLA was so impressive that I barely uttered a word.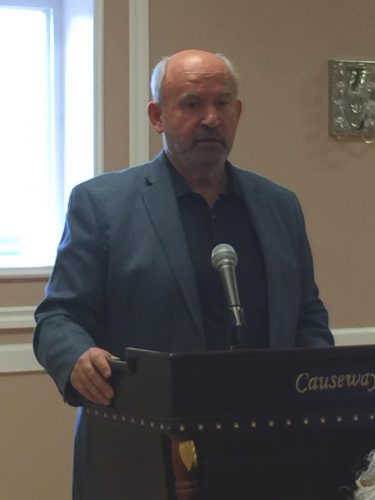 On Friday, March 24, Bennett delivered his last address as MLA and Mining Minister to a large group of people in the Emerald room of the Causeway Bay Hotel. Sparwood Chamber manager Norma McDougall organized the event and served as emcee.
Mayor Cal McDougall welcomed everyone and thanked Teck Coal for the expansion at Elkview-Baldy Ridge saying "we wouldn't be here if it wasn't for coal" and also thanked Minister Bennett for all the support he has provided over the years.
Teck's Senior Vice President Coal, Robin Sheremeta spoke next saying that no one had been a more tireless supporter of mining than Bill Bennett. He touched on the extensive measurers Teck has taken to support the environment. He said they were very pleased to proceed with the Baldy Ridge project, that he has raised his family here and this project would contribute to having other families raise theirs for generations to come.
Marjorie Templin, Sparwood chamber president thanked Bennett of behalf of the community for all of the support he has provided in so many ways in past years, saying "Bill has given 16 years, to this community to provide schools, bridges, roads and also as a great champion for the coal industry."
She thanked Teck and announced that Norma was retiring as chamber manager. "She has been involved for fifteen years with the chamber and three times stepped in as manager. She has done a terrific job, we are losing a great ambassador, she is a great promoter of Sparwood all the time."
Bennett addressed the crowd next, saying that as he looked around the room he knew about 80/90% of the people present, then joked that " most are even happy to see me. I had lots to learn and prove when I was first elected, I had to show I cared about the Elk Valley, I'm grateful, I made lots of friends, I took the ideas, suggestions and criticisms and did something with them. Now we are here to celebrate the expansion of Elkview Baldy Ridge, this is a big deal, 30 years ago this would have been big news, many well-paying jobs, Teck's contribution to the economy, locally, provincially and to Canada's economy is huge. This announcement means you will continue to have the best community to raise kids."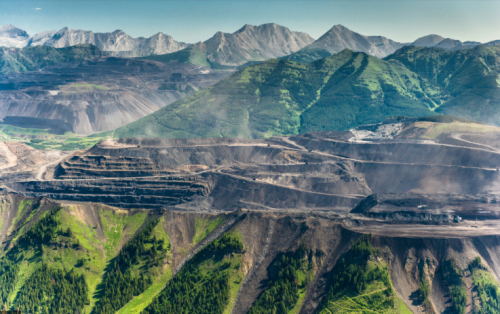 Bennet then told the "back story of the approval of Baldy Ridge".
He said that selenium and other bad things from the legacy operations came as a big surprise to government, scientists and the company. It was wondered how they could permit a new operation, would they expand or close mines? The issue was very technical and broad in scope that would need to have inclusion of Teck, Provincial, Federal, local governments, First Nations and environmental groups from the US and Canada to get public support and confidence. His Ministry took the lead, formed a committee and created a path forward that ended up with 700 technical recommendations and value wide approval on the entire valley to address context of the entire watershed.
Bennet added that this really was a celebration, not only for the workers but for mine suppliers and small businesses that depend on the coal industry.
In closing he said mining is very healthy in BC, the future is bright, there are five new mines, two more including Brucejack and Silver Tip, are in the works offering 1100 jobs. He said it has been an honour to be the MLA representing our communities, adding that it takes a "community to make a community, and that the three communities make a strong Elk Valley, thanking Teck and Robin Sheremeta for the great lifestyle. The crowd gave Bennett a standing ovation as he finished.
Thanks goes to Minister Bennett for the past 16 years of service and also to his wife Beth Bennett as it always takes much support from a spouse/partner for anyone to serve in politics at any level. Congratulations on your retirement Minister Bennett and Good Luck to you in the future.
Congratulations to Norma McDougall on her retirement and congratulations to Teck Coal for the expansion of Baldy Ridge as this means jobs in the Elk Valley will continue for many more years to come.
Sixteen years ago when I met Bill Bennett I could never have imagined how much support he could have provided me and our community. Party politics aside whether you supported him or not as an MLA and Minister he has contributed greatly to this community, to our Valley and to this province and he will be missed.
Posted by admin in : News ,

add a comment
There are some great teachers in our schools and one of those is grade nine class teacher Roxane Esch of Fernie Secondary School. Roxane is a lovely woman who cares deeply about her students. Part of her curriculum includes inviting Council members to her class for the annual presentation of Energy systems.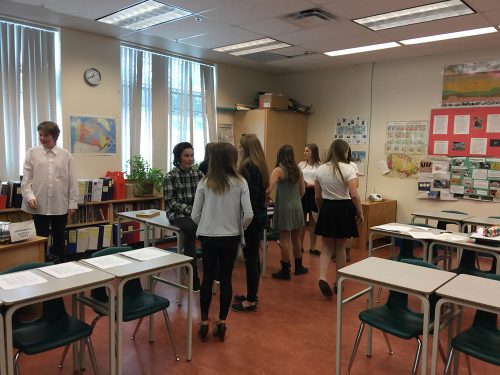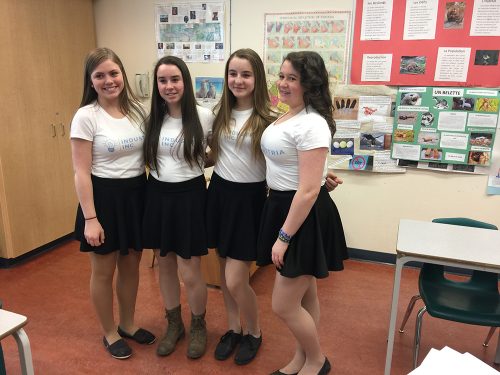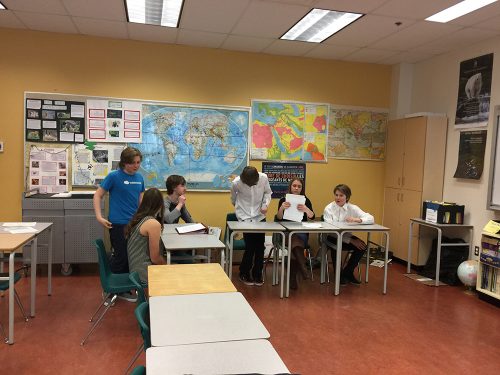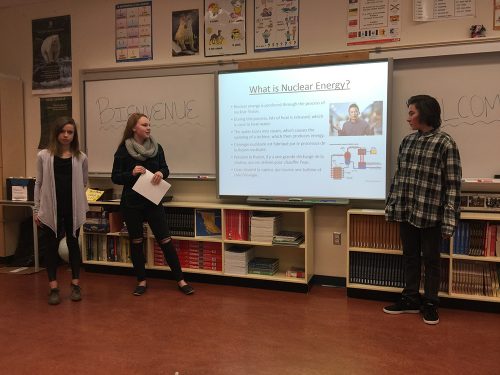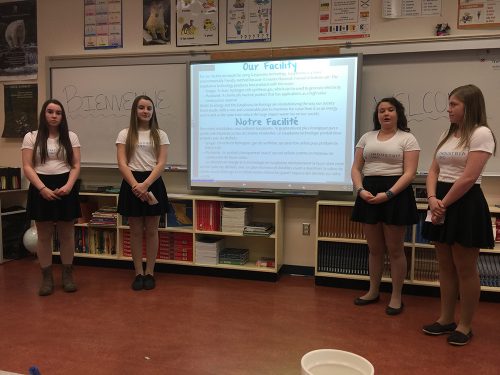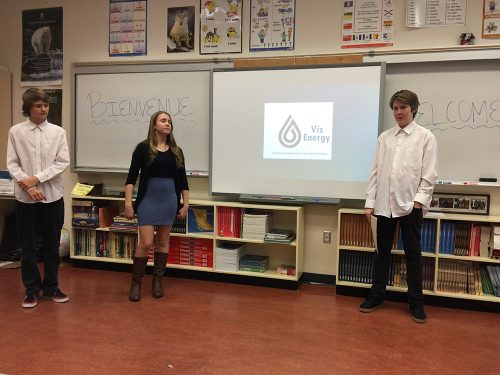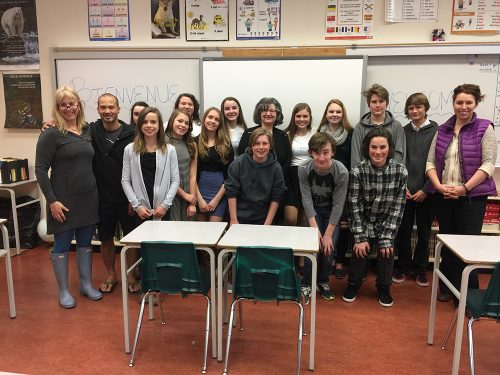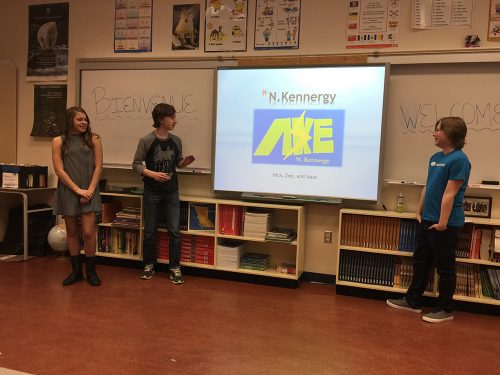 The premise of the presentation is that the students are pitching their idea to sell, contract or partner with the City of Fernie local government. The class is split into four groups, each one has to choose a type of Energy production, research and then showcase their company to us. We listen to the presentation and then ask inquisitive questions. The students have no idea of what will be asked and responses are marked on a variety of indicators such as eye contact, strong response, behaviour, knowledge, content, power point presentation content, and confidence displayed.
These are grade nine students and they are all quite impressive. I found all quick on their feet to making up responses to the questions. Councillor Levesque and Qualizza and I were very tough with enquiries that I was sure would stump them however they responded quickly with phrases and solutions that sounded plausible.
VIZ Energy had Dawson, Brendan and Simon who spoke about their acquisition of the Elko Dam from BC Hydro and their plans to produce energy and sell it back to Hydro to go on the grid. They presented drawings of the site and spoke on how this would be accomplished.
N Kenergy was Isaac, Zoe and Nick with their presentation of Solar Energy. Their idea was to provide solar panels for individual homes. When asked if they had considered that the Elko Dam project would be huge competition they replied that basically they could handle that.
Totally Nucleur had Emma, Sam and Paige. They idea was to turn waste to energy and feel this is the wave of the future as it would reduce waste, provide energy and reduce the size of landfills.
Industria Inc, had Kate, Layne, Hailey and Jaime talking about reducing emissions, removing metals and minerals and producing energy that would be positive in every way.
Environmentally friendly, ecology, reducing the financial impact on families, were some of the phrases heard from each group who also presented letters from different government approval agencies for their projects. One also had cards made up with name of the company, all had reached out to companies like Kimberly's Sun Mine to learn actual information on their project.
It was obvious that the students had put serious thought into each presentation and although at times there were hints of nervousness for the most part they were well dressed, held correct posture, spoke clearly and made eye contact.
What is so important about this excise is not the content because with today's technology information is at the students fingertips, what is significant is the student's ability to take that information and deliver it in a self-confident way .
Dress, posture, eye contact, strong voice is what has to be projected, when these young teens are ready to score the job of their dreams what they have learned in this grade nine class will serve them well. These are tremendous skills to possess because it's what can catapult the student into the future they desire.
Thank you Mme Esch, for caring, you are the teacher your students will always remember.
Posted by admin in : News ,

add a comment
One of the most relaxing half hours of life is when I sit down to watch the weekly Rick Mercer Report on television.
I enjoy this program greatly for a couple of reasons, one being its Canadian content and the other being Mercer himself. That impish grin, that look that tells you he is up to something and his rants that showcase thought-provoking opinions will always hold interest.
Several years ago I found his email address, penned a letter describing Griz Days and asked him to consider coming here to check out our festival.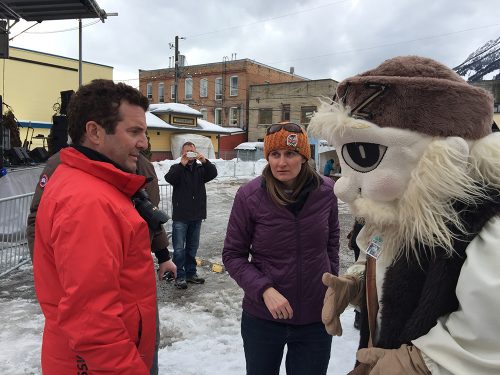 I never heard back and so put it out of my mind. So when I received an email from Chamber manager Patty Vadnais asking that I call her because she had some good news regarding this year's Griz Days the last thing I expected to hear was what she told me. "Rick Mercer is coming tomorrow to Griz Days", to which I immediately replied, that is great, I wrote to him years ago and he never responded. Patty laughed and said, "Well, you must have done something because he said he had heard about this."
It takes a lot to get me excited these days as we meet many remarkable people with the work council does however the thought idea of meeting Rick Mercer and having a photo opportunity was exciting.
On Saturday, I was called to appear and although in the middle of a conversation with my family I swiftly grabbed my cell phone, a couple of Fernie books to present to Mercer, threw on my coat and scarf, and sped off.
When I got to Station Square there he was, Patty introduced me and as I put out my hand I gushed "Rick Mercer, you are the only celebrity I have ever wanted to meet".(very true) and without missing a beat, he shook my hand with that familiar impish look stated " and you are the only mayor I have ever wanted to meet".
It's startling that when I meet someone that impresses me I turn from an adult into a child. And so I handed over the Fernie books and made a ridiculous statement.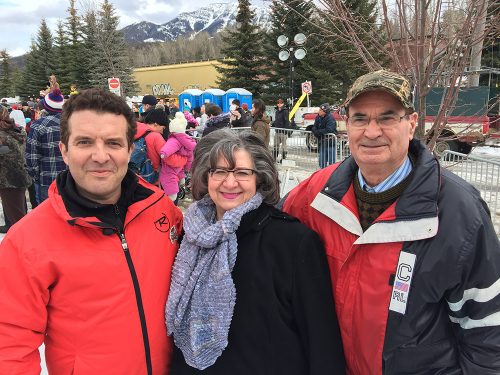 "There is nothing really for free so now I will need payment, I will have to have a photo with you". Mercer was very gracious, he responded by saying I would have that and more. I didn't realize that what he meant was that he would be conducting an interview with me. But that is what he did, I don't believe much of it will get into his program but it was fun and it lasted a while, I was captivated by his manner and friendliness to people that came and spoke to us while filming, he stopped to speak to children and have his photo taken several times. He was animated, funny and very charming. So much so that I hardly noticed the large crowd that had gathered around to watch. He was genuinely interested in our Griz lore, the Ghostrider legend and knowing a little about the history of Fernie.
In past years I have interviewed provincial premiers, members of the federal parliament and the provincial legislature from various parties. I have interviewed the ambassador of Costa Rica, mega hockey star Scott Niedermyer and Juno award winning gospel singer Kelita as well as many local people and visitors. Most sat in my kitchen and enjoyed coffee and conversation.
With more than thirty years of writing profiles for the local paper, online and the TV interviews seen on the local cable channel and accessible online I directed hundreds of dialogues but I must admit being on the opposite end is a different experience. It was very pleasant to have a celebrity like Mercer visit Fernie, for me it will be unforgettable!
Thank you Patty and chamber organizers for this lovely experience and thank you Rick Mercer, Michal and John for coming to Fernie.