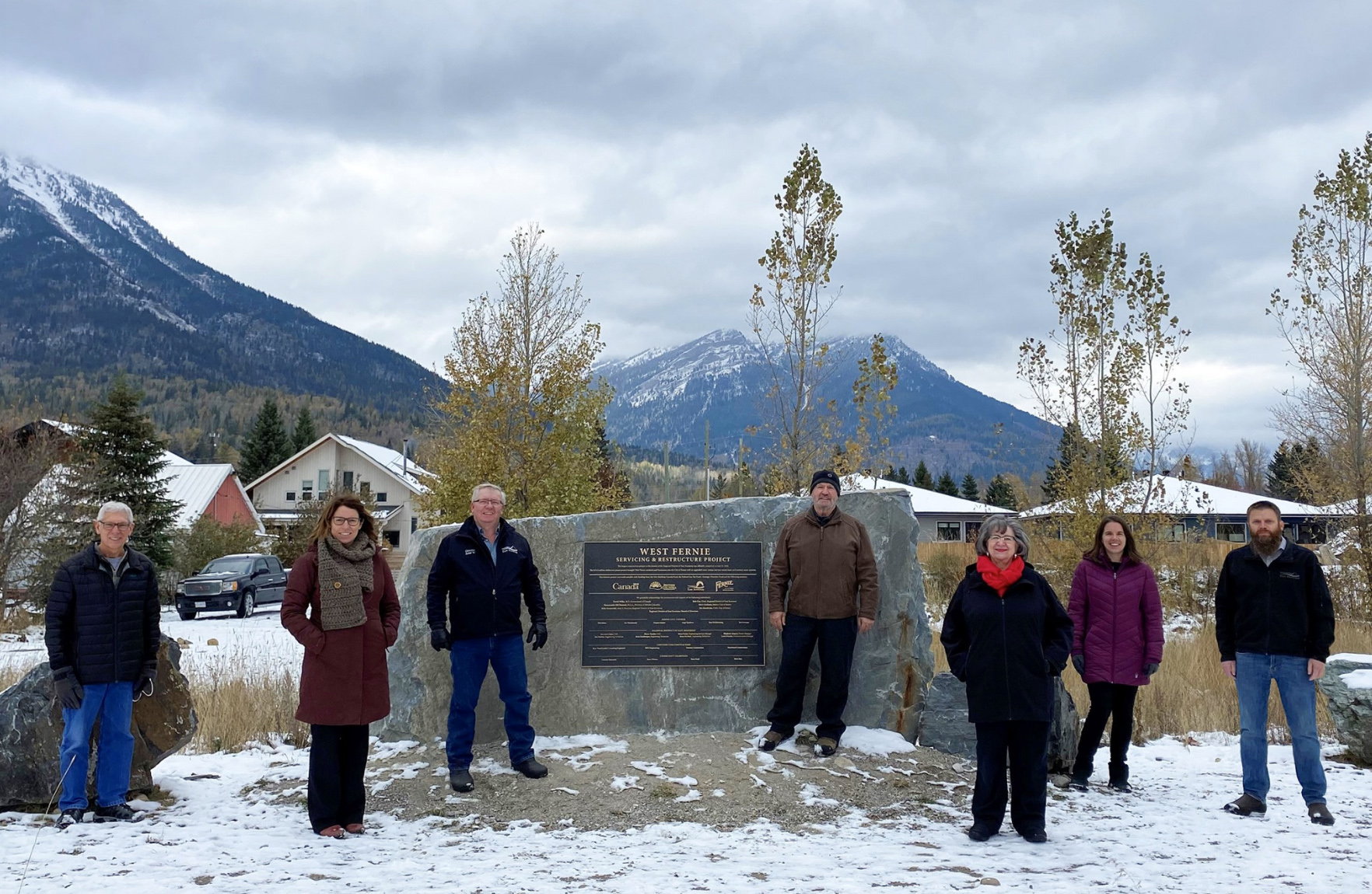 Electoral Area A Director Mike Sosnowski was joined by several of the key people involved in the West Fernie Servicing and Restructure Project today as he unveiled the plaque commemorating the project's successful completion.
Pictured from left to right: RDEK Board Chair Rob Gay, City of Fernie Mayor Ange Qualizza, RDEK Electoral Area A Director Mike Sosnowski, former Kootenay East MLA Bill Bennett, former Fernie Mayor Mary Giuliano, RDEK Project Supervisor Elizabeth Ahlgren and RDEK CAO Shawn Tomlin.
The servicing and restructure project of West Fernie eliminated a potential environmental and health crisis resulting from shallow wells and very old and poorly designed septic systems. This was the largest construction project in the history of the Regional District of East Kootenay and was officially celebrated in West Fernie in 2018.
Mike Sosnowski, Electoral Area A Director RDEK, is credited with having the fortitude and determination to make this project happen. The annexation was defeated several times prior to Sosnowski becoming a Director. Sosnowski commented, "The completion of this project is the result of the determination and cooperation of so many. We are grateful to the Provincial and Federal governments for providing critical funding for the project. I also want to thank the staff at the RDEK and City of Fernie who have worked tirelessly to get to this point; the engineers and construction contractors who've worked so hard with the community over the past two years; and, the community who have been so cooperative and understanding throughout the construction process."
Approved by West Fernie and City of Fernie residents in 2014, the West Fernie Servicing & Restructure project's first phase of construction started in the spring of 2016, while the second phase of construction got underway in the spring of 2017. Properties in each phase of the project became part of the City of Fernie upon substantial construction completion.
With $16.4 million in available funding, this project was an exceptional example of cooperation as multiple funding sources contributed to making the project happen and multiple agencies worked together to bring it to a successful completion. Funding for the two-phase project included:
• $5,000,000 General Strategic Priorities Fund (Phase 1)
• $1,000,000 Community Works Fund (Phase 1)
• $240,000 Ministry of Transportation and Infrastructure (Phase 1)
• $6,941,528 Building Canada Fund (Phase 2)
The remainder of the project costs were covered by borrowing and a contribution from the Electoral Area A portion of the Elk Valley Mine Tax Fund.
The plaque commemorating the project's successful completion is a nice touch for a project that took so many years and effort to complete.
Photo RDEK