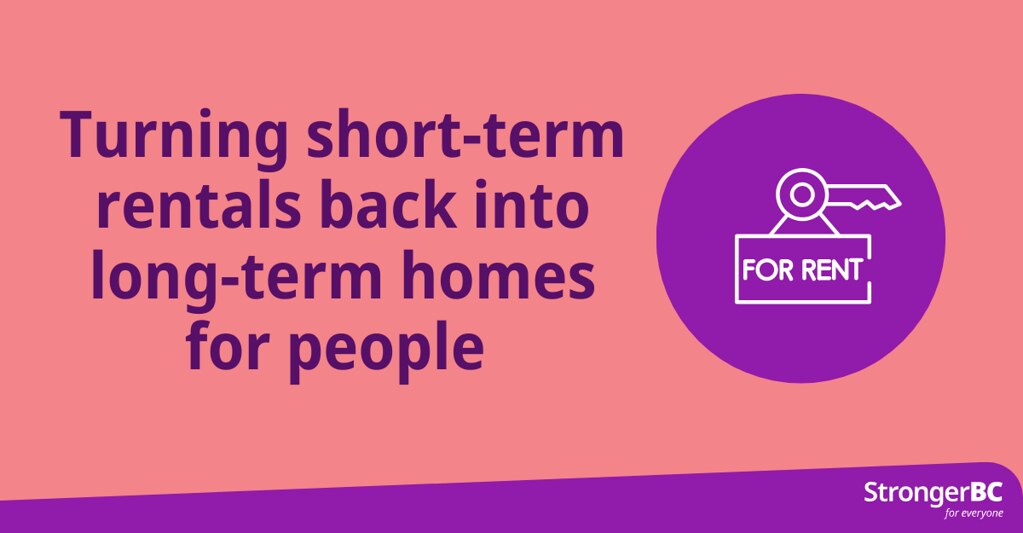 This week the British Columbia Government and the Regional District of the East Kootenay (RDEK) have implemented measures for a Short-term Rentals crackdown. Shortly after the B.C. announcement the government of Canada weighed in with their support.
The B.C. government introduced legislation on Oct. 16 that targets the expansion of short-term rentals (STR's) in the province saying that it would increase fines for rule-breaking owners on apps like Airbnb and VRBO. Premier David Eby says the legislation aims to increase the availability of long-term rental properties in the province through a new law that will only permit short-term rentals in homes where the owner is the principal resident.
Premier Eby said that "short-term rentals have gotten out of control" in B.C., estimating the proposed legislation could see 8,000 homes returned to the regular housing market out of the 28,000 that are currently listed. "The message is straightforward. For those who are operating multiple units, the rules are changing May 1 when this legislation passes and you should bring yourself up to speed," Mr. Eby said, suggesting they either sell or rent their properties long-term to permanent residents.
The new rules also do not immediately ban short-term rentals in smaller resort towns like Fernie that have seen a proliferation of them, although those municipalities can choose to opt into the provincial system.
Finance Minister Chrystia Freeland is applauding the B.C. government for going after short-term rentals and says the federal government is looking at what it can do on the issue as well.
The RDEK Board of Directors adopted a Short-Term Rental Temporary Use Permit Policy on July 14, 2023, which includes a maximum of 10 guest occupancy approvable by staff. On September 8, 2023, the Board adopted amendments to the RDEK Delegation Bylaw and Development Applications Bylaw allowing providing the necessary delegation of approval authority to staff, the procedures for application review, and setting the STR Temporary Use Permit (TUP) application fees at $1,000 for delegated STR TUPs and $2,000 for applications made to the Board. STR's with greater that 10 guest occupancy need to apply for approval. These regulations are in effect for the Electoral Areas (rural regions) of the RDEK and do not apply to incorporated municipalities.
You can view the RDEK policy here.
You can view the RDEK application procedures and form here.
The City of Fernie has a progressive STR policy in place and defines STR's as being the accommodation of guests in a residential home for a period of less than 30 days. Residents of Fernie must apply for a business license to operate a legal short-term rental in their primary residence.
Fernie properties that qualify for STR's include:
• A room or rooms in your primary residence.
• An apartment, or house that is your primary residence.
• Properties zoned as Condo/Hotels in the C-1, C-HWY, CD-2 and R3R zones, as outlined in the Zoning Bylaw No. 1750.
Which Fernie properties DO NOT qualify for a STR's?
• Secondary Suites (including basement suites)
• Attached and detached Garage Suites
• Garden Suites
• Secondary Homes
These STR policies should make a difference with long-term housing availability, better late than never.