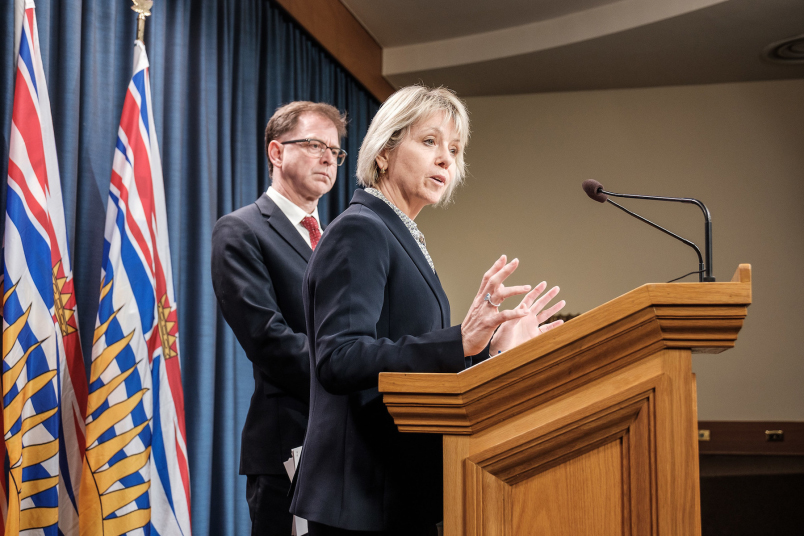 Changes to B.C.'s COVID-19 rules were announced by Premier John Horgan, Minister of Health, Adrian Dix and Public Health Officer, Dr. Bonnie Henry earlier this week.
They lifted several COVID-19 restrictions, allowing many activities that have been off-limits since December 2021 or longer to resume.
Dr. Bonnie Henry, outlined how we came to be at the stage we are now when it comes to community transmission of the virus, and which restrictions would be lifted.
Starting at midnight on Feb. 17, restaurants, bars, nightclubs, gyms and fitness studios will be able to operate at full, unrestricted capacity.
For restaurants, the eased restrictions mean no table limits, thus bringing to an end again the cap at six guests per table. Additionally, mingling between tables will be allowed. Barriers, like the Plexiglas dividers we've grown accustomed to, will no longer be necessary, however employees will still be following their own workplace safety plans.
In one significant and long-awaited change, dancing will be allowed again. One of the longest-held COVID-19 restrictions in the province, dancing has been off-limits in places like nightclubs and bars since restrictions were first implemented in B.C. in March 2020.
However, some key restrictions remain in place province-wide that affect who can—and cannot—dine at all restaurants or dance the night away at a B.C. club. Face masks will still be mandatory when not seated, and the BC Vaccine Card will still be required to be scanned at the door showing proof of full vaccination.
Indoor personal gatherings will also see a return to normal and indoor seated events will also return to full capacity with the BC Vaccine Card program and face masks in place.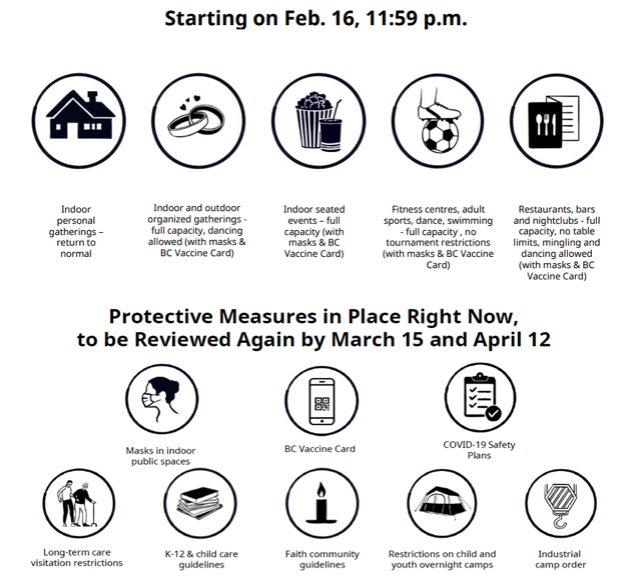 Also this week the announcement that the federal government is dropping the molecular COVID-19 test requirement to enter Canada. Starting Feb. 28, travellers may use a rapid antigen test to meet Canada's COVID-19 travel requirement instead of a PCR test. However, fully vaccinated travellers from anywhere in the world could be subject to random PCR testing upon arrival—although they will not be required to quarantine while awaiting the results.
Children under 12 who are not fully vaccinated and travelling with fully vaccinated adults will no longer need to wait and self-isolate before attending school, daycare or day camps. They will also no longer be subject to testing and other specific requirements.
The requirement for unvaccinated travellers to be tested on arrival and on their eighth day in Canada will remain in place. They must also quarantine for 14 days.
To prove a previous COVID-19 infection, travellers must show proof of a molecular test result taken at least 10 calendar days and more than 180 calendar days before entering Canada.
This is a good step in removing restrictions however Fernie is now out of sync with Alberta and its Family Day long weekend with thousands of Albertans visiting.
Happy Family Day to everyone!