A new Fernie winter trails and grooming initiative lead and organized by Tourism Fernie has secured Resort Municipality Initiative (RMI) funding to help trails keep up with the increased demand.
Canadians are using trails in greater numbers since the onset of COVID-19, with usage up close to 50 per cent across all age groups. That's according to a recent national Léger survey, commissioned by the Trans Canada Trail organization, which is the steward of the 27,000 km Great Trail of Canada, the longest recreational trail in the world.
Fernie trail usage has been consistent with the rest of Canada and with winter approaching, a cohesive plan was required to manage demand and prevent overcrowding. "Part of the solution is to groom additional trails to better accommodate and spread out larger crowds as well as mitigate the congestion at access points," said Scott Gilmet, Tourism Fernie board member. Winter improvements can be something as simple as a plowed parking lot with an outhouse, a trail kiosk and more groomed trails.
With the new funding we can expect Fernie's Winter trails experience to improve. Groomed trails are available in several areas for non-motorized use including fat biking, snowshoeing, nordic skiing, hiking, running, and walking. Our groomed trails are all unique, here is a brief description:
Fernie Winter Trails Overview:
Fernie Alpine Resort (FAR)– Nordic trails are multi-use and groomed by FAR staff, funded by the FAR Homeowners Assoc. Free for everyone and no restrictions, other than dogs are to be leashed.
Fernie Dyke Trail – Multi-use and groomed by the City of Fernie. Free for everyone. No restrictions.
Fernie Nordic Centre – Snowcat and snowmobile groomed trails for nordic skiers, no dogs or any other users. Volunteer and paid grooming. Membership required.
Fernie Golf Course – Snowmobile groomed trails for nordic skiers only. No dogs or any other users. Membership required.
Montane Trails – Snowcat and snowmobile groomed Nordic only trails, and multi-use. This area is well signed, please respect the trail designations. Grooming is supported by Montane strata fees and volunteers. Free for everyone.
Mount Fernie Park & Lizard Creek Area – Snowshoe groomed trails by volunteers for multi-use. Please respect the volunteer effort and tread lightly Trail Pass recommended. Island Lake Lodge is closed for the season.
Mount Fernie & Burma Road – Snowshoe and snowmobile groomed trails by volunteers for multi-use. Please respect the volunteer effort and tread lightly. Trail Pass recommended. Supported by the FTA.
Ridgemont Trails – Snowmobile groomed multi-use trails on private land. Groomed by volunteers. Free for everyone.
Please respect the volunteers and their grooming, think before you sink!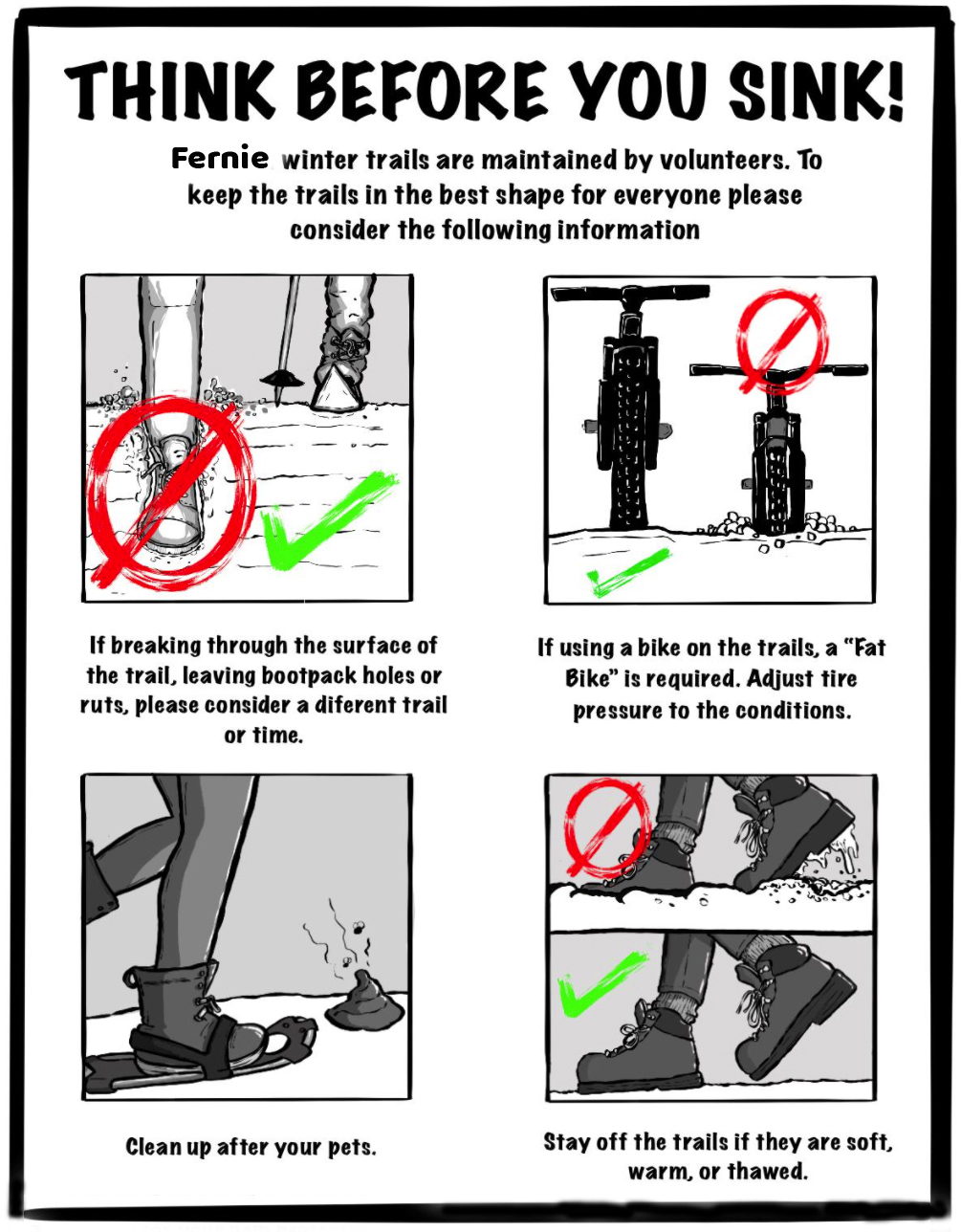 Please be respectful of the snowmobile and snowshoe grooming and better still, help out by packing a trail with snowshoes. Don't have any…we have a solution!
Free Snowshoes and Groomers:
Local sports stores, Gearhub Sports and the Guides Hut, are signing out free snowshoes with a pull groomer for use by the public. For information on which trails to groom trails check out the Fernie Fat Bike facebook page.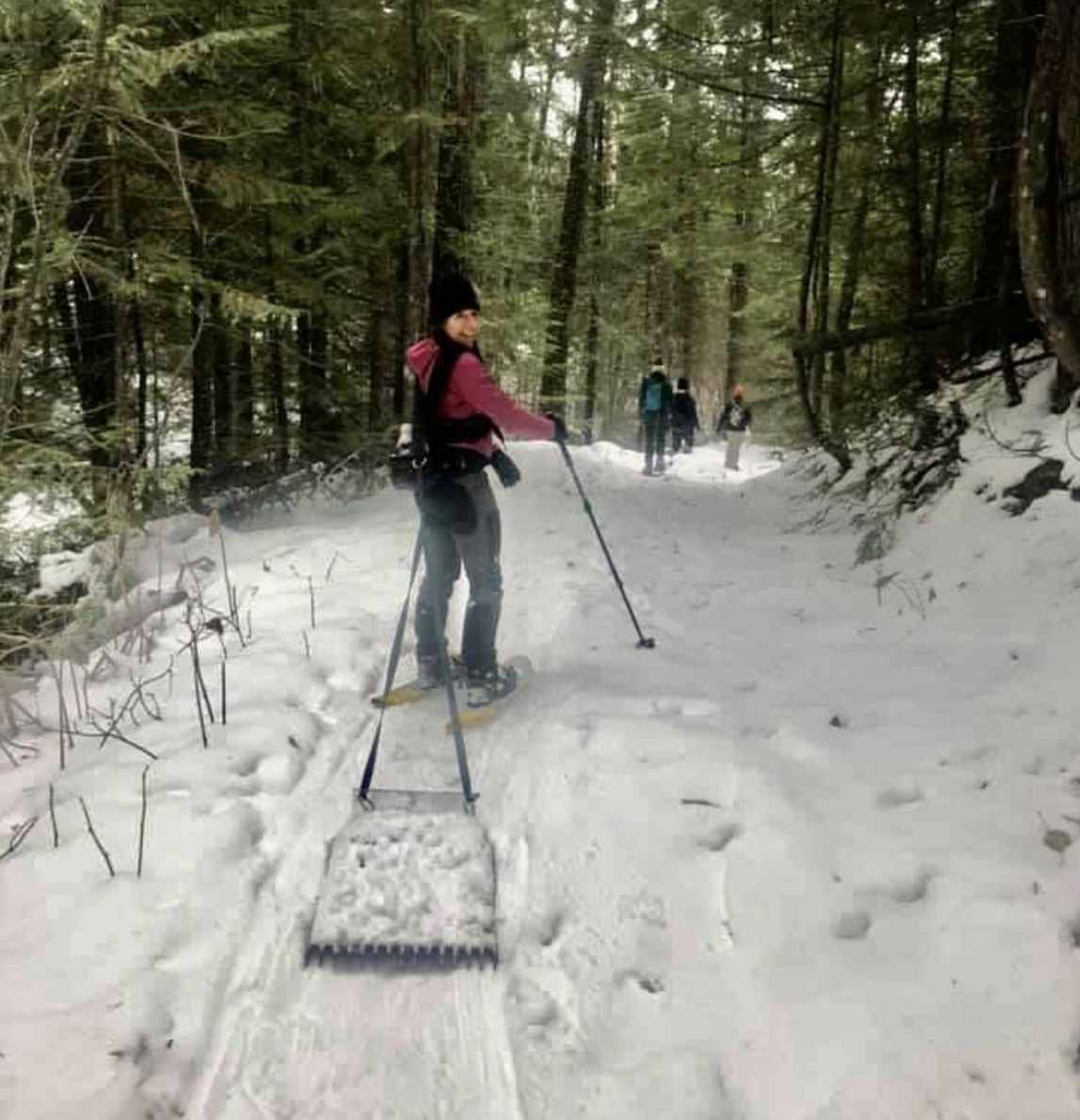 Trail Etiquette for users:
Regardless of whether you're fat biking, walking or running, remember–everyone out there is trying to have a good time, just like you, so please be courteous and considerate.
Walking and running is best on trails when the surface is hard-packed. In soft snow, boots make holes that damage the trail, spoiling the experience and making the trail unsafe for other users when the snow hardens. Wait until the snow hardens or wear snowshoes when the conditions are soft..
Nordic trails are for skiers only. Walking or fat biking on nordic ski trails is never allowed. Volunteers work very hard at setting and maintaining the tracks and groom for skiing. Walking or fat biking makes the surface uneven and hardens the trail base, creating conditions that can be dangerous for skiers.
Take care of your pet. Pets are allowed on the winter walking and hiking trails, but must be kept on a leash. Remember to pick up after your pet, or flick the poo off the trail. Please don't leave poo-bags for others.
Public Health
Follow public health directives and measures established by local authorities apply at all times.
If you are experiencing symptoms of COVID-19, are waiting for test results or have tested positive, stay home and follow isolation guidelines.
Keep a two-metre distance from others, even if you are wearing a mask or face covering.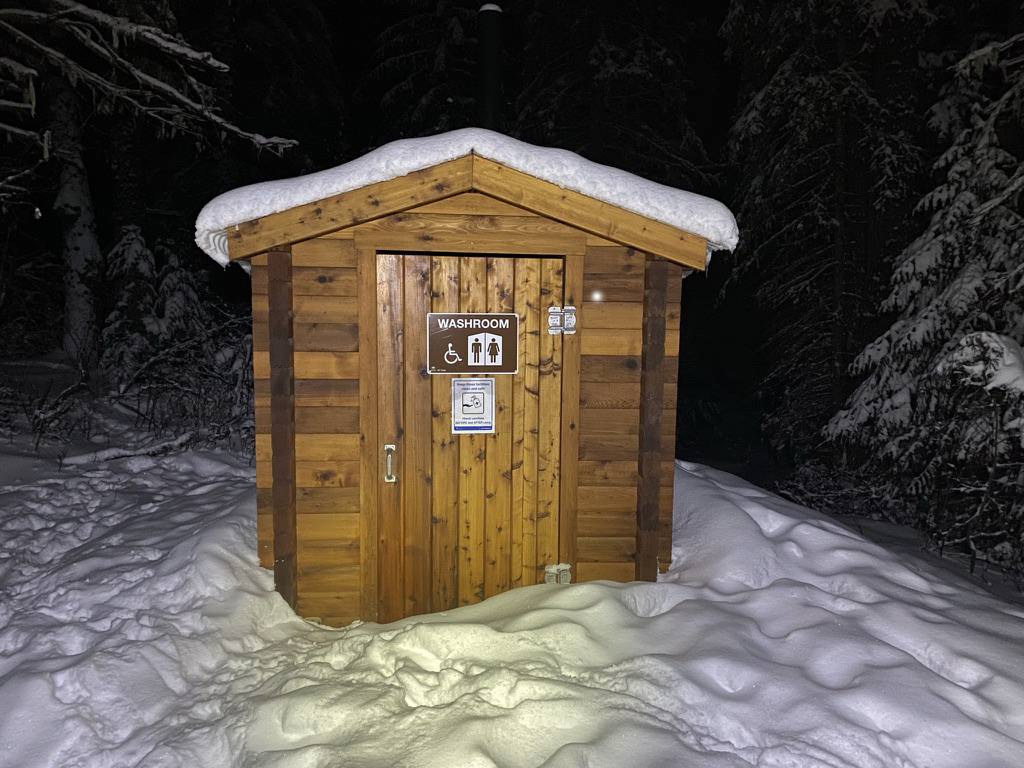 Fernie Winter Trails & Grooming Funding:
This December the City of Fernie approved $37,000 in funding through the RMI program designed to enhance Fernie's Winter trails.
Tourism Fernie RMI application priorities:
$18,000 – Increased trail grooming under the Fernie Trails Alliance
$10,000 – Funding to support snow clearing, sanding and removal of the Hedonism parking lot at Mt Fernie Prov Park. This helps address the over-crowded parking lot at the Nordic Centre and parking along the residential roads. This supports all activity users including snowshoes, fat bikers, walkers etc.
$6,250 – Funding support to have the Mt Fernie Prov Park outhouse toilets open and cleaned for the winter season (park entry, hedonism parking lot, Gorby parking lot) and a porta-potti rental for Montane trailhead on Coal Creek Road
$3,000 – New and enhanced signage to support further needed winter activity wayfinding, connectivity, notices, trail etiquette etc across the various trail networks
$17,000 – Partial funding support for Fernie Nordic Society's snowmobile replacement/groomer upgrades
$8,000 – New winter trail map and updating Trailforks with winter trail networks
$750 – Training volunteer trail groomers
Total Budget $63,000
Total Requested of RMI Funds: $37,000 (estimated to be 21% infrastructure, 79% non-infrastructure). The remaining funds coming from Fernie Trails Alliance, Fernie Nordic Society, RDEK and Tourism Fernie.
Since 2006, BC's RMI program has doled out more than $140 million in funding to the 14 resort communities in B.C.
With this funding we're all going to have a wonderful time enjoying our enhanced winter trails. We hope the above information was useful and improves your experience.
Happy Trails!