The Fernie Heritage Library recently held its annual dinner to thank the volunteers who give countless hours to assist the library in many ways.
Held at the Park Place Lodge Fireside room the evening had a mix of individuals that comprise volunteer members of the Library. Board members, Friends of the Library, persons volunteering time during library open hours, city liaison and CAO and staff attended to hear thanks expressed by the Library Board Chair Karla Germaine, Mayor Mary Giuliano and from Library Director Emma Dressler.
The similar theme of the speeches was how the volunteers are very important for any community but especially in our town there are incredible people who give of their time and talents to many organizations including our amazing library that is truly the "living room of our town" as Emma said.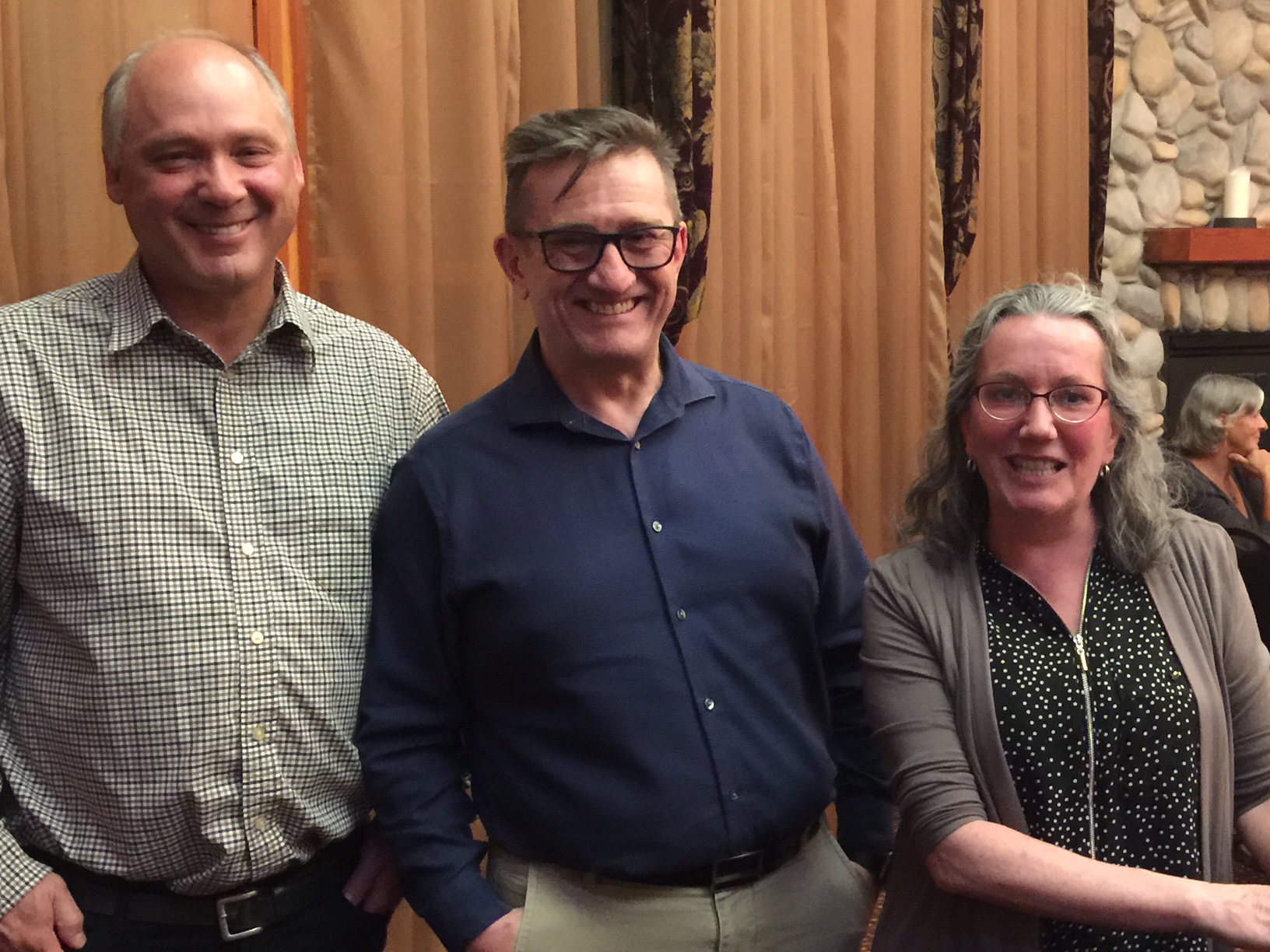 The evening began with a short speech by me to thank the volunteers and staff of the Library. I said that volunteers are the heart and soul of any community and it is a combined effort by the entire team of staff, volunteers and board members that makes the Library the wonderful unique place that it is. Chair of the board Karla Germaine spoke next. She welcomed everyone adding thanks to me for organizing the dinner for over 30 years, a task I enjoy immensely and also thanked everyone present saying, "It's wonderful to come together to share this particular night in recognition of the work of our library volunteers. This town, this area of the world – is Ktunaxa territory. It has been cared for by the Ktnuaxa people for thousands of years, and is unique in its history, culture, environment, economy, literature, and traditions." Karla then went on to talk about the digital world and the speed of communication that makes it easy to favour a global uniformity instead of the local cultural identity so that at times one can lose connection with what is truly important. She added that the library volunteers have chosen to " Give time and energy to The Fernie Heritage Library, a place that both symbolically, and quite literally, functions at the heart of our community. It is a place steeped in local knowledge – a place which works to empower and celebrate the cultural, artistic, and historic resources of our local community. It is a place which serves to strengthen and deepen our sense of community and our connection to our particular area". According to Lane Zucker, renowned author of Place Based Education: Connecting Classrooms and Communities, it is essential for individuals "to respond creatively to stories of their homeground so that, in time, they are able to position themselves imaginatively and actually within the continuum of nature and culture in that place, so that they become a part of the community rather than a passive observer of it." The Fernie Heritage Library is wonderfully positioned to provide both stories of our "homeground" and opportunities for creative response. Furthermore, the library is, itself, a space owned by all, where we as staff, patrons, and volunteers can connect to ourselves, to one another, and to the larger Elk Valley community. All of you here tonight have done as Lane Zucker hopes for all individuals – that is, through your work at The Fernie Heritage Library you have "become a part of the community rather than a passive observer of it." Your efforts serve to strengthen our relationships – to family, community, and our physical space. We celebrate your contribution and cherish our shared experience in this town, this place, at this particular moment in time."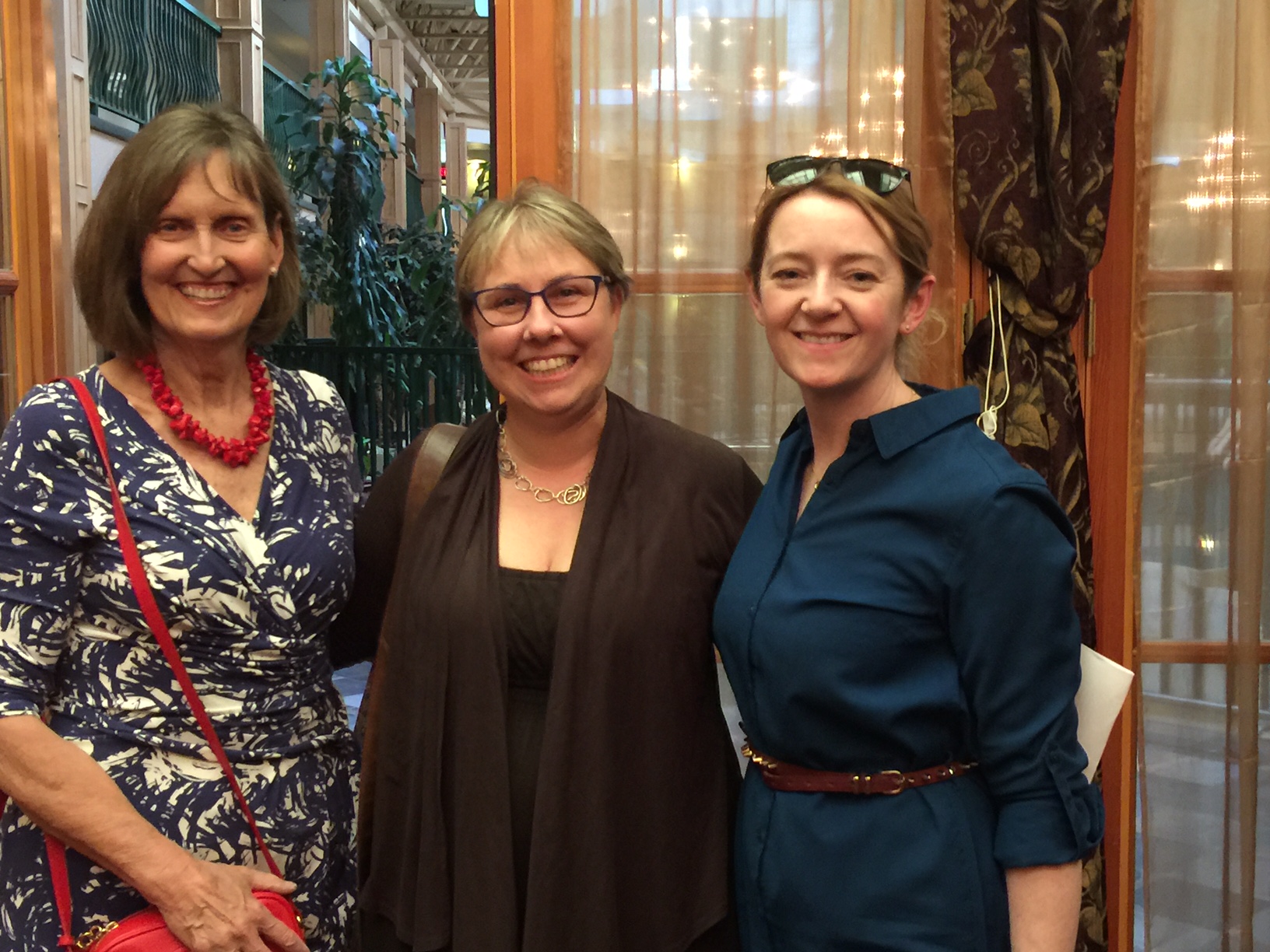 The library has truly become a hub of the community, a place where everyone can go and feel welcome and if needing assistance with computers or finding books or needing research help is there.
After dinner Library director Emma Dressler thanked all volunteers individually as well as staff members for their continued excellent work. She said that in the month of April 5000 people entered the library, 150 people were helped with computer requests, 1500 questions were responded to and over 1000 people attended programs and circulated over 7000 items. She said volunteers shelve books, assist with special events, look after the library garden, assist with fundraising, sort books and magazines, help with programming, help with computers and even bar tend at special events.
Volunteers are responsible for launching the library over 100 years ago and they continue to be important contributors to the library today. Emma said that the library is a charitable organization run by a volunteer board of trustees. She then mentioned each volunteer by name giving a bit of info on each one. Below are the current volunteers, Angie Abdou, Johnna Abdou, Cathy Barnett, Lynda Bird, Mary Elson, ,Mary Giuliano, Mary Hafke, Annette Harrison, Marilyn Holmes, Betty Johnson, Lorrie Kremer, Judy Little , Laura Loest, Kevin McIsaac, Randal Macnair, Anne Majic ,Mary Martin, Guylaine Chagnon ,Angela Morgan , Meg Prentice, Jason Raymond, Stephanie Saumur, Terry Tomboso , Joe Warshawsky – Current trustees are: Chair, Karla Germaine, Treasurer, Anna Piney, Secretary, Judy Little, Todd Fyfe, Teresa Caufield ,Shelby Knudsen, and Frank Longo.
Emma ended by thanking the City of Fernie for all of its support of the library. Saying they were fortunate to have such a supportive Mayor, Council, and staff and thanked Norm McInnes, City CAO for coming.
She ended by saying, "Please join me as I thank all of you for your work to make the library the living room of the community, A place that enriches lives and community and builds community". On behalf of Council and the City of Fernie we thank you for your continued dedication to volunteerism at the Library and thank you to the great staff that makes the building more than a structure but a delightful place of learning, of love and welcome acceptance.