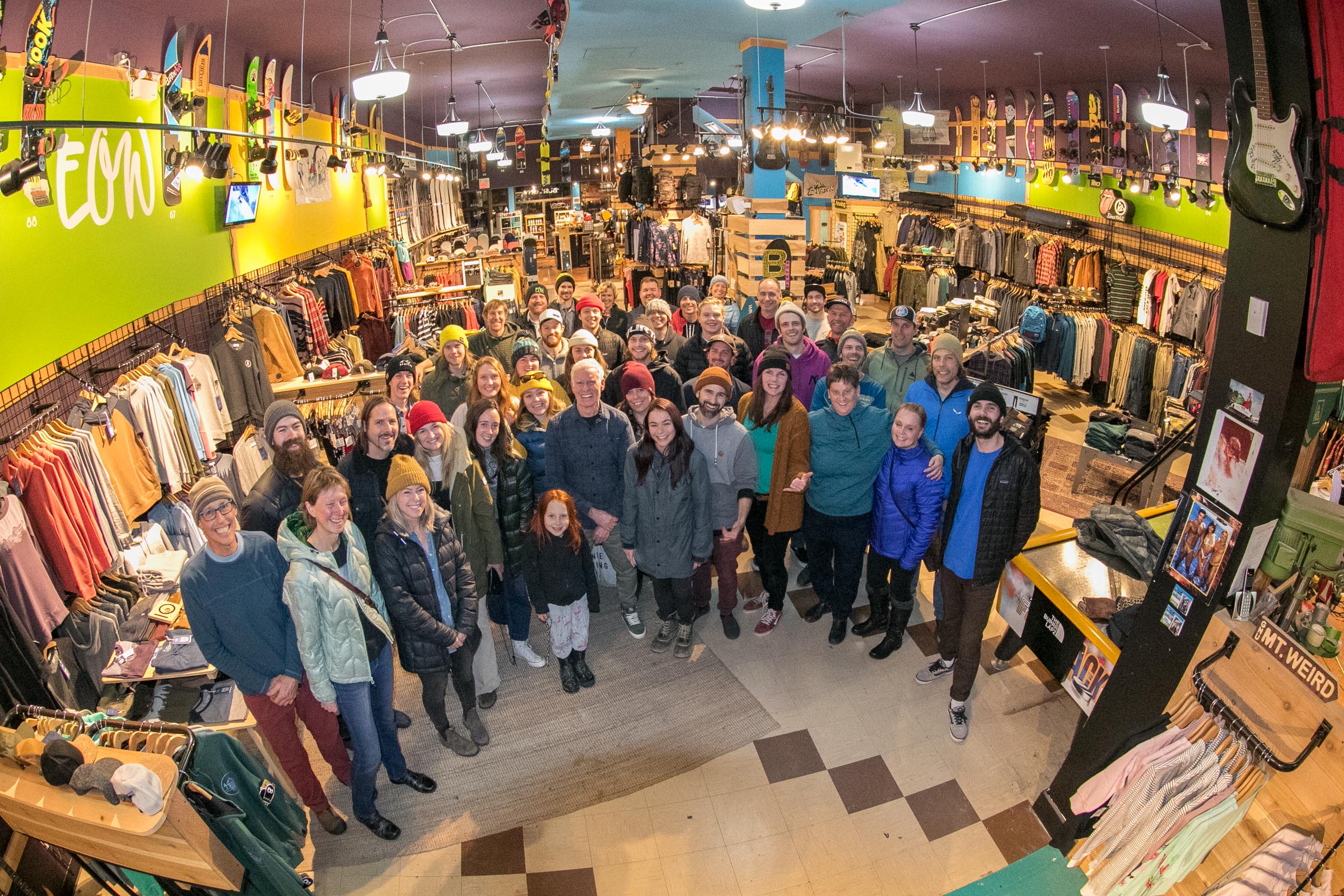 Fernie's Edge of The World snowboard shop hosted a Jake Burton Memorial as a fundraiser for Fernie Friends for Friends on Sunday, November 24th. Jake Burton passed away last week at 65 after a recurring bout with cancer. Jake was an innovator who brought the snowboard to the masses and helped turn the sport into a billion-dollar business. A dedicated group of boarders attended to pay their respects.
Greg "G-Money" Barrow, owner of Edge of the World, had a friendship with Jake that goes back to the 80's when snowboarding was not permitted at ski resorts. G-Money commented, "I bought my first eight snowboards from Jake at the ski show in Vegas. Actually outside the show because snowboard companies weren't allowed to attend. Burton shipped me 16 boards and I sold them all." That was the beginning of their lengthy relationship. Edge of the World continues to sell Burton boards and the shop chronicles the history of snowboarding with numerous displays and autographed Burton boards by Jake.
Jake's death is going through the entire snowboarding community like a big rumble. Hundreds of tributes are on social media platforms and we can expect the accolades to continue through the snowboard season. The following video is one of many and was played at last night's memorial:
Fernie Friends for Friends is an organization that helps individuals and families in Fernie who are going through cancer treatment and offers them financial and emotional support during this stressful time. Founders Chris and Shelley Moulton, who formed the Fernie Friends for Friends based on their personal cancer experience, attended the memorial. Chris commented, I haven't been the the ski hill since I was 13 and have never been on a snowboard however I understand the magnitude of Jake's passing and am honoured to participate in this memorial."
@markgallup
Fernie local and legendary snowboard photographer Mark Gallup also participated. Mark shared tearful stories and images from his many photography trips with Jake. Their relationship stemmed from Mark's photo journalism with the late Craig Kelly. Mark auctioned off a 20×30 print of Craig Kelly for the Fernie Friends for Friends. In a contested auction Mark Hall from Gearhub Sports stood tall and paid a cool $575 for the print.
G-Money and Dan Savage organized the memorial service over a phone call late last week. Dan had a relationship with Burton through past work and had a cancer experience in 2018. Dan commented, "I heard that Jake's cancer had returned however I expected him to overcome it News of his death was devastating." The Fernie Friends for Friends were there to support Dan and he connected the event to help future Fernie cancer victims.
It was an emotional night full of tears and great memories. $1575 was raised at the memorial and the fundraiser continues, people can continue to make a donation and receive a memorial sticker at the Edge Of The World in Fernie.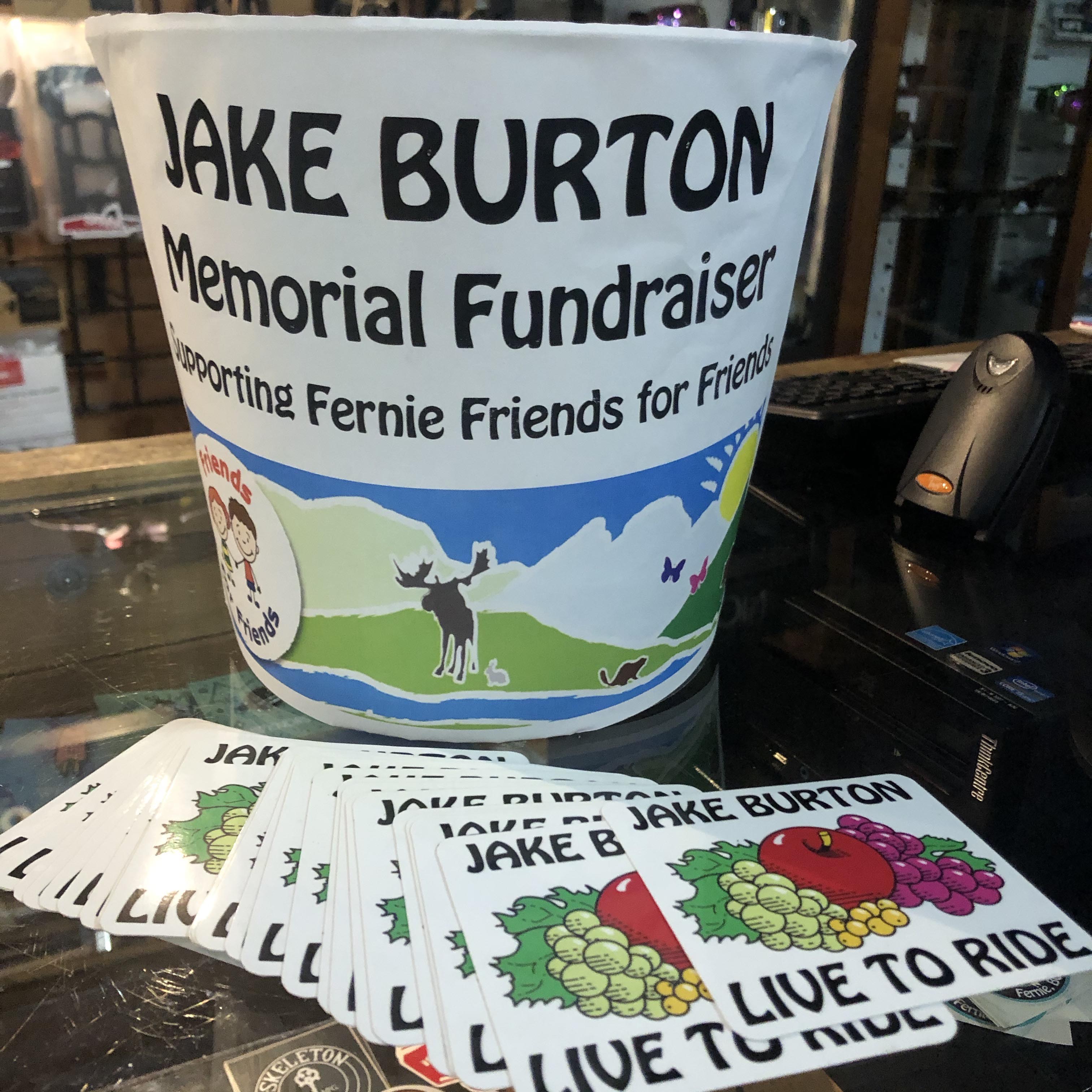 Greg's final thoughts at the memorial, "Just keep riding! And if you get the opportunity to do something cool, take it! Don't wait! Don't hesitate! It might not ever come along again…!"
EOW group shot by Mark Gallup