The Fernie Business Excellence Awards 2018 organized and hosted by the Fernie Chamber of Commerce were held on Friday, October 26. The Best Western Plus Fernie Mountain Lodge's ballroom sparkled with excited nominees as this event showcases the best in industry and community in Fernie for this year.
It was a sold out event that saw MLA Tom Shypitka attending to say words of congratulation. Shypitka commented, "Fernie has outstanding businesses and this year's nominees are further proof of this town entrepreneurial spirit."
I took the opportunity to congratulate and thank all of the nominees. Fernie is fortunate to have so many people providing unique services and amenities; this is what has made Fernie so vibrant and what has attracted new residents as well as increasing visitor numbers.
As this was my last official social event I was particularly pleased to present the Citizen of the Year award to someone I admire greatly as he is one of those very special individuals who is kind and considerate and does a lot to help others behind the scenes without ever looking for recognition.
The Citizen of the Year Award recognizes an individual in our Community who continually gives back, who helps make Fernie a great place to live, and who has also demonstrated leadership abilities. Chuck Shoesmith of Shoesmith Construction is this year's recipient. Chuck was the first person bringing other members of the Lion's Club to show up at a City Council meeting to offer to put in a temporary ice arena so that Fernie's kids would have a place to skate over the winter. He was instrumental in organizing and bringing the outdoor skating rink to reality which provided a necessary optimistic focus during a time of tragedy.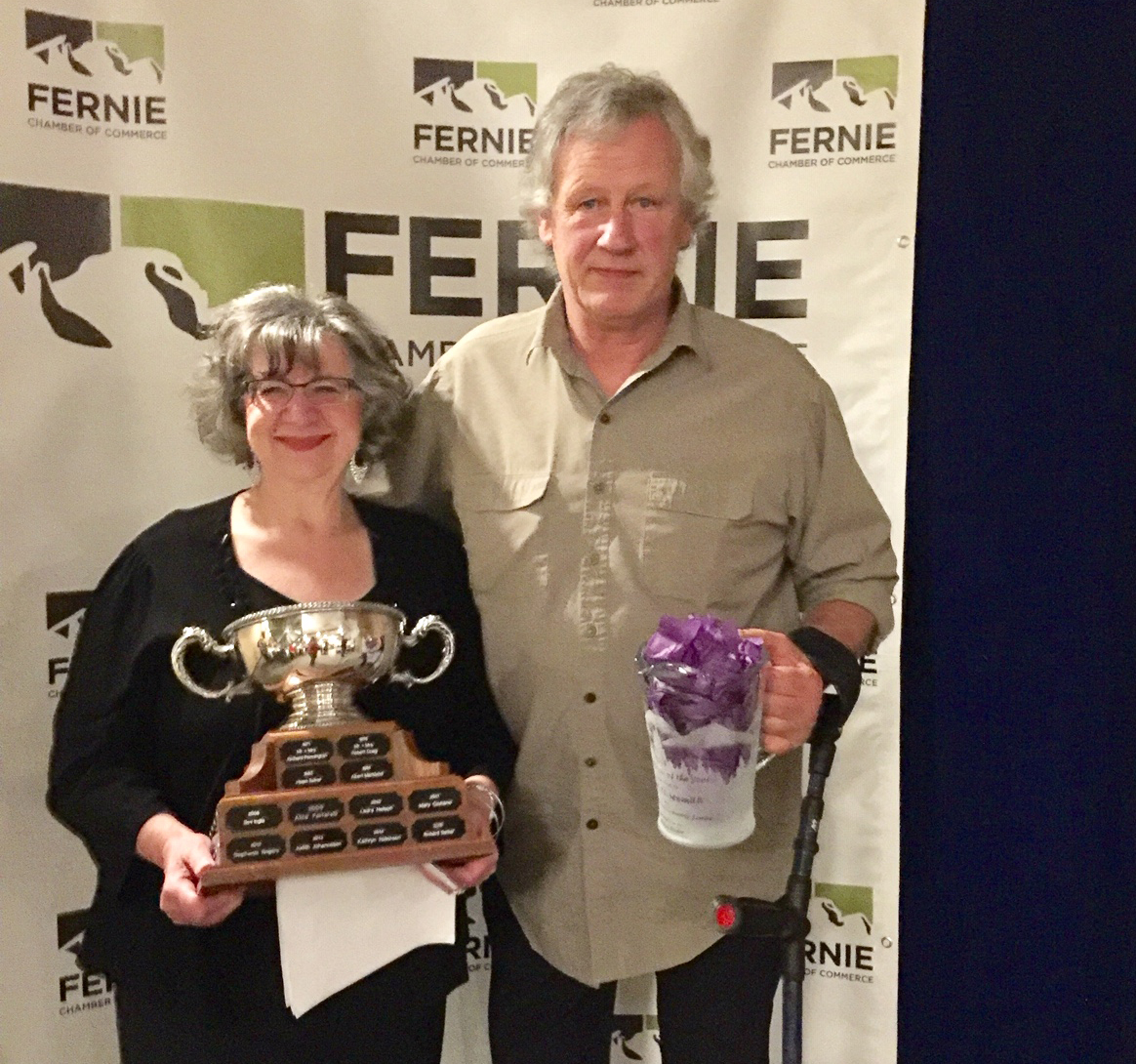 Chamber Manager Patty Vadnais said that Chuck's hard work, both personally and professionally, made the project a success. Additionally, he was also directly responsible for the donation of the paving which has turned the rink into a year-round facility to be enjoyed by residents and visitors alike. Chuck has been a member of the Fernie Lions Club and 3300 Club for decades holding multiple executive positions over the years. Vadnais commented, "Without Chucks expertise and donation of his equipment and manpower, the Fernie Lions Club Demolition Derby would not be possible, a charity event which brings thousands of dollars into the community."
Chuck is also responsible for arranging the leasing of the land for the Derby after the previous site became unavailable. Many families in Fernie have benefited from his generosity, as he's helped build ramps to provide mobility access for those with disabilities. Earlier this year, his business was a Top 5 finalist in the BC Small Business Awards for its apprentice work. I know he has supported many young people in earning their journeyman tickets and has assisted them in building their own careers.
The Chamber Legacy Award went to another deserving individual, Gerald Price. Gerald is well known for his continuous support of the community with sponsorship, hosting information sessions for the Chamber membership, for volunteerism and generosity in so many ways. He has continuously given back to the community for decades and has truly made and left an impact on the business community and others. This award is like a Hall of Fame award in stature as this individual is exceptional in what he is constantly giving of time and information to the business community.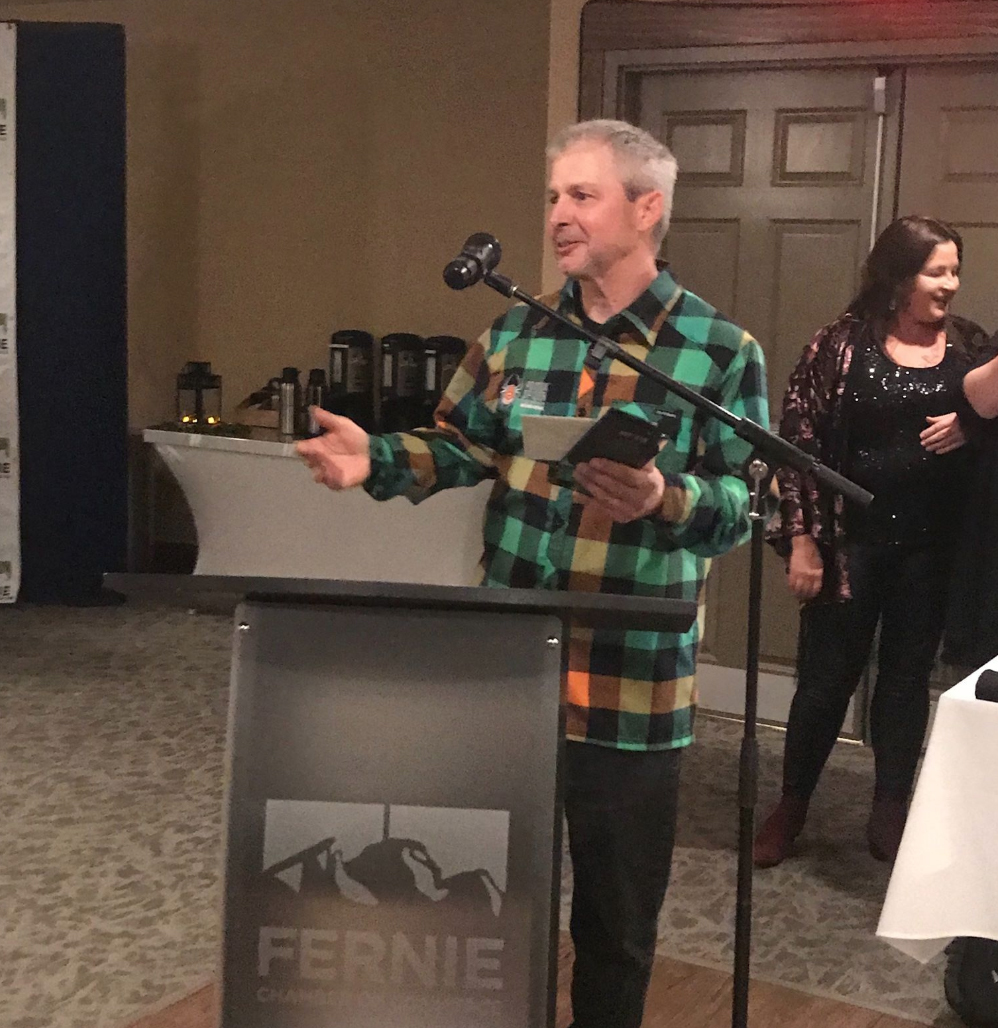 The Volunteer of the Year Award went to Rick Wiess who is well known for his work with the trail system. Rick is a passionate about this work and he does it with much joy because he enjoys it so much as for him this is fun it's not work he said in his acceptance speech. He was much humbled at receiving the award as he was totally surprised at getting it. People that know Rick say that although he hasn't been in Fernie for a very long time it feels like he has been here forever because of his total commitment to this work and his generosity in sharing his expertise. Congratulations to these three exceptional men, Fernie is so fortunate to have them call Fernie home and for contributing so much to the benefit of our community.
The winners of the remaining awards were:
Wapiti for Spirit of Fernie
Fernie Wilderness Adventure for Community Tourism Achievement
Big Bang Bagels for Outstanding Customer Service
Fernie Copperworks Inc. as new Business of the Year
Chopstick Truck for Entrepreneur of the Year
Three Sisters Day Spa for Team of the Year
Give'er Shirt Works as Employer of the Year
LWE Builders for Fernie Business of the year
Denham GM won the People's Choice award
Fernie Brewing Company Community the Leadership Award
Congratulations to all nominees and winners, Fernie is very proud of you and your accomplishments.