The Awards committee of the Fernie Chamber of Commerce is excited to announce the finalists for the 2015 Community and Business Excellence Awards. This was the first year that the nominations were collected only through online nomination forms. Received were 125 submissions that included 60 different businesses, organizations, and individuals.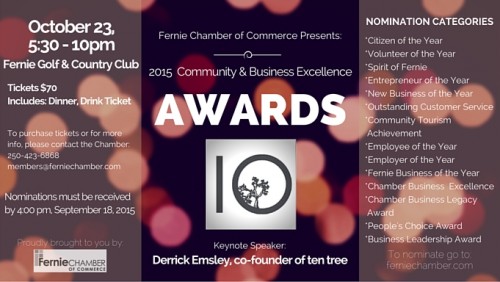 A volunteer judging panel has gone through the nomination applications and narrowed down each category to a list of finalists. We have a community full of fantastic business and simply trying to identify the top three or four was a challenge. We are excited to celebrate the success of these great businesses at the Awards Gala on October 23.
Community and Business Excellence Award Finalists – 2015
Spirit of Fernie – Sponsored by Best Western Plus Fernie Mountain Lodge
Elk Valley Hospice
Emily Brydon Youth Foundation
Wapiti Music Festival
Community Tourism Achievement – Sponsored by Tourism Fernie
Happy Cow Ice Cream & Desserts
Infinitea T-Bar & Boutique
Spa 901
Outstanding Customer Service – Sponsored by Fernie Alpine Resort
Elk Valley Hospice
Healing Hollow
Nevados
New Business of the Year – Sponsored by Majic, Purdy Law Corporation
DIY or DIE
Eye of the Needle/Fernie Forge
Lilac Media
The Chopstick Truck
Entrepreneur of the Year – Sponsored by Community Futures East Kootenay
Elevation Showcase
Nourish Through Nature
Three Sisters Day Spa
Employee of the Year – Sponsored by EK Employment and Work BC
Catherine Sullivan
Deanne Milley
Paul Rolph
Shayne Brideau
Employer of the Year
Canadian Tire
Heaven Boutique
Nevados
Super 8 Fernie
Fernie Business of the Year – Sponsored by Telus
Infinitea T-Bar & Boutique
Rocky Mountain Chocolate Factory
Super 8 Fernie
Chamber Business Excellence – Sponsored by Fernie Chamber of Commerce
Fernie Brewing
Mow and Snow
Rocky Mountain Chocolate Factory

Business Leadership Award – Sponsored by Finning
Claris Media
Fernie Brewing
Grow Children's Boutique
Home Hardware
Other awards to be given out at the Awards Gala include Citizen of the Year, Volunteer of the Year, and The Chamber Legacy Award. The Chamber Legacy Award recognizes a business or business personwhose efforts have accomplished extraordinary things that have benefited Fernie and area in unique and meaningful ways. It is a business that is an inspiration and role model for the community. To be considered for this award, the business or individual must have been operating for ten plus years. It is achance for the business community to recognize those businesses that have been integral to the Fernie community.
The Chamber of Commerce thanks the many businesses and individuals who help organize and sponsor these awards. Including Telus, ISL Engineering, BC Hydro, Super 8 Fernie, Fernie Brewing Company, Western Financial Group, Freshies, and the Bridge Bistro.
You can buy your tickets for the Awards Gala through the Fernie Chamber of Commerce, call 250.423.6868 or online
The Fernie Chamber of Commerce represents over 260 business in Fernie and the Elk Valley. Its mission is to strengthen commerce in the Fernie area and is guided by principles of membership, integrity, bestpractices, business excellence, and non-partisanship. The Fernie Chamber of Commerce is "The Voice of Business in Fernie."