In Fernie, we live closely with wildlife travelling along the narrow Elk Valley, who have to deal with humans and all their homes and roads. The proposed development would add roughly ten new houses within the critical pinch point for grizzly habitat connectivity between Fernie and the ski hill, making it harder for bears to travel down the Lizard Basin and into the Elk Valley – and increasing the risk of dangerous interactions between bears and humans.
A public comment period is open until May 24th – please send a message to the RDEK letting them know that you oppose this rezoning and OCP amendment.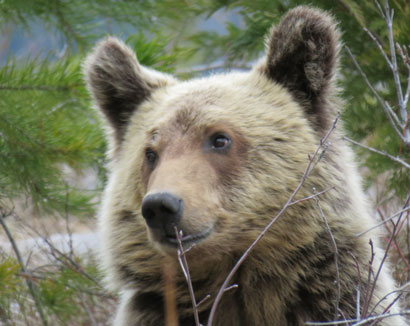 If you can, please attend the public hearing at 7PM on May 24th at the Fernie Family Centre to stand up for grizzlies and habitat connectivity (public notice here).
But don't just take our word for it: this area was identified as one of high conservation significance and highly vulnerable in the 2007 report "Carnivores in the Southern Canadian Rockies: Core areas and connectivity across the Crowsnest Highway" from the Wildlife Conservation Society of Canada. The grizzly bear population in the larger area declined 40% from 2006 to 2013, with the Highway 3 corridor area described as a population sink because of the many grizzly deaths from rail and road traffic and bears put down after becoming habituated to humans (in a report from the Ministry of Forests, Lands and Natural Resources).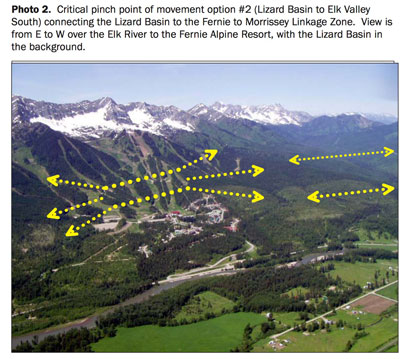 RDEK staff have recommended against this re-zoning (PDF) for many reasons including that:
– it would impact the rural character and lifestyle of the Official Community Plan area and goes against the designations set out in the OCP.
– it would create rural sprawl.
– it may impact future trail networks to connect Mt. Fernie Park and Fernie Alpine Resort.
– and, many other properties are zoned for residential subdivision in the RDEK Area A and City of Fernie, with potential for 85 lots in Area A and many more in the City of Fernie.
In addition, the City of Fernie and the RDEK Area A Advisory Planning Committee do not support the application, the Ministry of Transportation has raised concerns about access and traffic, and the Interface Fire Hazard Rating for this area ranges from moderate to high.
Despite the widespread opposition, RDEK Area A Director Mike Sosnowski is supporting the proposal, and it has passed first and second reading without any opposition.
It may seem like a small change, but even a few small area of rural sprawl in a critical connectivity area can have a real affect on grizzlies and other wildlife, so please register your opposition to this ill conceived proposal today HERE!