Nonstop Ski & Snowboard Offering ski and snowboard improvement and instructor camps ranging from 2 to 11 weeks, Nonstop has courses to suit all goals; from starting a career in the industry, to progressing into the backcountry. Packages include coaching, meals, accommodation, lift passes, and more.
Powder Canada Powder Canada is your powder resource website, find everything you need to know about powder right here. Listings include backcountry lodges, cat and heli operations and chairlift resorts with powder.
Deep, Fluffy Powder…
by Gerry George
Powder. If there is one word that describes the reasons why people come to Fernie I think the word powder is it. Deep, fluffy powder. Powder so deep you have to spit out snowballs of it as you cascade down the mountainside. Powder so light you have to memorize the landscape in order to make your way through the trees between face shots. So much powder in fact that the locals get tired of waking up in the morning and having to shovel their way out of the driveway before heading to work.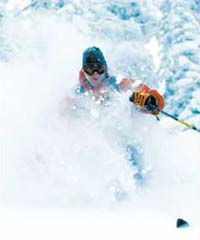 If this is your first time to Fernie in the winter you were probably shocked to find a town buried under so much snow. Especially if you came from either side of the Rocky Mountains where the snow fall accumulations in any given year amount to no more than 30 centimetres. Travelling from the East or West into Fernie is like passing through a gateway to a different world. The Rocky Mountains cut into the crisp winter air and snow banks tower above the city streets forming miniature mountain ranges of their own. Fence lines, over the course of the winter, get shorter and shorter before they are buried altogether beneath a smooth blanket of snow.
The powder that has made Fernie a haven for deep snow enthusiasts is produced by storm systems that develop in the Pacific Ocean, off the coast of Northern Oregon. The predominant Southwesterly flow chugs across the near desert like terrain of central Washington and Idaho before slamming into the Lizard Range of the Canadian Rockies. A lack of significant mountain ranges between Fernie and the coast ensures that the storm arrives with a full payload of dry powder. Once the system reaches the Elk Valley it seems to churn like a great spinning vortex dumping powder throughout the entire area. Storm systems can come overnight and in the past, have dropped as much as 100 centimetres before morning. A good storm cycle grinds for up to four continuous days before dissipating, usually to be followed quickly by the next wave of white.
If by chance, you arrive in Fernie and the mountains almost seem to be superimposed against the blue, crystal clear sky, savor the moment. Blue sky can be a rare thing in Fernie and there is nothing more spectacular than watching the Rockies wake up as the early morning alpenglow casts its magical pink light across the ridge lines. Just remember, you are in a place where storms systems can move in overnight and powder snow can be so deep that they have a height restriction on the lift for fear of loosing little kids on epic days. It is not until you have one of those days, when you are giggling with joy as you drop weightlessly down the mountain side as clouds of powder billow around your body, that you realize that there is nowhere else that you really want to be.