Everyone knows Fernie is a pretty scenic locale. Not much news there. But that becomes particularly exciting when you are offered the opportunity to rediscover the atmosphere that surrounds the town.
Scenic Fernie is a high-quality package of words and images, featuring local scenery in all of its splendor, and people doing what they love.
Savage Publishing has created Fernie's premiere full-colour coffee table book with a quality of the photography that is just stunning-rich in its warmth, pristine in its depiction of nature-the imagery draws you in until you feel you are seeing Fernie again for the first time. Scenic Fernie showcases the beauty that is found all around the area.
Terry Parker, one of four local photographers who were called on to offer a new perspective of the valley, said anyone picking up the coffee table book is "going to see a lot of stuff they take for granted," vistas they may never seen from that angle before.
The 72-page full-colour book gives new perspective to things seen everyday, and the story of Fernie surrounds the photographs in the first pages-the rest of the narration is left to the captioned images.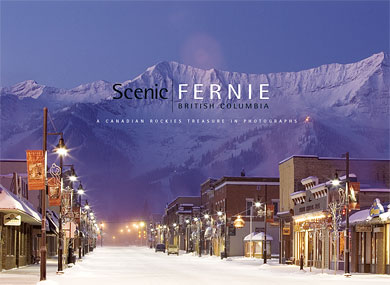 Local photographers Mark Gallup, Gerry George, Henry Georgi and Parker captured the natural magnificence of the region's mountains, forests, rivers, lakes and people in four stunning seasons.
The book is chock full of extraordinary action photography that depicts not just the activity. Each image is of a beautiful vista that just happens to also show whitewater rafting or mountain biking or skiing or fishing and so gives a sense of the scope of excitement that goes along with beauty of living in Fernie.
When he went looking for images suitable for the book, Georgi said an important "factor in what I chose was that they showed a full range of the activities available in Fernie."
Georgi also said "having the four different view points (from the photographers) really brings it together," because despite they were all capturing images with the same (Fernie) subject in mind, each photographer will see it differently.
Georgi summed up the book as a pretty complete look,that shows "Fernie in its best light as a place to visit."
Scenic Fernie has become a Canadian bestseller with over 6000 copies sold and its 4th edition is available at Polar Peak Books in Downtown Fernie.