The world's greatest freestyle skiers will descend on Calgary next week to compete in two mogul events and one aerial competition. In this Olympic year, the competition is sure to be fierce at the only Canadian qualifying event. One hundred and seventy two athletes from 24 countries will compete at WinSport's Canada Olympic Park from January 8 to 10.
Canadian Freestyle Ski Association CEO Peter Fudge said, "Because this event is an Olympic qualifier for our team and many of the other nations, we expect the level of competition to be very high. Anyone who comes out to COP to see the show will be amazed at the speed and acrobatics of these world-class athletes."
The Canadian Freestyle Ski Team boasts five Albertans including aerialists Warren Shouldice (Calgary), Kyle Nissen (Calgary), Ryan Blais (Grande Prairie) and Jon Vellner (Red Deer) as well as Olympic champion mogul skier Jenn Heil (Spruce Grove), all of whom are scheduled to compete in Calgary.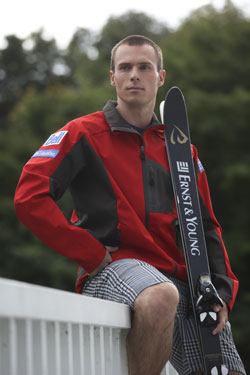 Fudge praised the organizing committee in Calgary, which is comprised of more than 100 local volunteers. "It is a tremendous feat to pull off an international competition of this calibre and our organization has been overwhelmed by the support and professionalism of the Alberta freestyle community."
The event is free to the public and all are welcome. The finals for each event are as follows:
Friday, January 8, Moguls: 6:30 p.m.
Saturday, January 9, Moguls: 7:00 p.m.
Sunday, January 10, Aerials: 1:30 p.m.
Related posts: