10 November, 2013
Comments Off

on Fernie Ski and Board Film Fest Launched Season
The Fernie Ski and Board Film Fest launched the Fernie winter season with a sell-out crowd at the Fernie Community Centre! The event is the seasons sole fundraiser for the Canadian Ski Patrol(CSP). Each winter CSP members provide over 400 days of volunteer patrol services in Fernie and Elkford. Tom Little, Elk Valley CSP Director, commented, "We are pleased to have such support with attendance and sponsors, thank you and see you all next year!"
The event rocked with the years best films shown on a big screen and supported with professional sound. Attendees also enjoyed Fernie's best fresh noshes from the loaf and hand crafted brews from Fernie Beer!
New this year was the addition of six VIP couches lining the front row. Anyone who's ever sat in the community centre seat for more than 30 minutes can appreciate this! Park Place Lodge donated the couches to raise extra funds for the CSP. A fee of $50 got you the couch for the evening and free delivery on request.
The first film was the Sherpas "Into the Mind" featuring stunning cinematography and groundbreaking storytelling techniques. At the 1st intermission Mark Gallup, owner of the Guides Hut, presented North Face down jackets, a Whitefish ski vacation and a day of guided cat assisted touring at Island Lake.
We also were joined by Gord Ohm and Jennifer Coulter from the Canadian Avalanche Association. They gave a short presentation and updated the audience on the latest local public safety programs and potential hazard with the new Smartphone Avi Apps.
The second show, McConkey—a documentary of the life of Shane McConkey, quickly quieted the crowd and held their focus for two hours. McConkey was awarded People's Choice and Best Film by the judges panel at this years Fernie Ski and Board Film Fest. Congratulations Matchstick Productions for such a strong production and thought-fullness in donating proceeds to a trust set up for the McConkey family.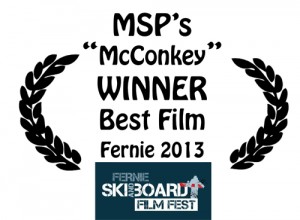 At the second intermission Mark Hall, owner of the Gear Hub, gave away a pair of skis, Cat skiing at Great Northern Powder Guides and a deluxe accommodation package from the Fernie Lodging Company.
At this point the evening took an unexpected turn…we had technical complications with the final film, Naturally and had no show. Fortunately Adam Lauren, Commit's owner, pulled "What's in the Fridge", a local Fernie production, out of his hat and we had a third show! Adam was joined on stage by Greg Barrow, owner of Edge of The World, to give away two snowboards, snow accessories, and a day of powder from FWA Powder Catskiing, and a second day of guided cat assisted touring at Island Lake Catskiing.
SnoDay Skis, a producer of handcrafted toys from Cochrane Alberta, participated in the show and presented the Fernie Factor, an all mountain ski being given away on Facebook.
We thank all those who attended and sponsors who helped the CSP raise money to offset their cost of volunteering. Our supporting sponsors are: Teck, Fernie Real Estate, Fernie Alpine Resort, SnoDay Skis, Park Place Lodge, Fernie Brewing, the loaf, The Free Press, The Drive, Whitefish Resort, Fernie Lodging Company, FWA Powder Catskiing, Great Northern Powder Guides, and Island Lake Catskiing. Have a great winter and we'll see you next year—same time, same place!