The Fernie TransRockies Society is pleased to present a new mountain bike event for 2017– the Fernie Lucky 7's (7 hours – 7 categories – 7 winners) to be held on Saturday June 24th.
The Fernie Lucky 7's is a cross-country mountain bike event that caters to those looking for a fun experience. Competitive endurance and XC racers will be challenged in the 7-hour solo and team category events. Families, youth and company teams will love the team options and easy course.
The Fernie Lucky 7's replaces the Fernie 3 for 2017. The Fernie 3 was a three-day XC endurance stage race that raised money for trails and charity, and supported youth cycling. In 2016 $10,000 was raised and in the past 3 years $27,000 was raised overall.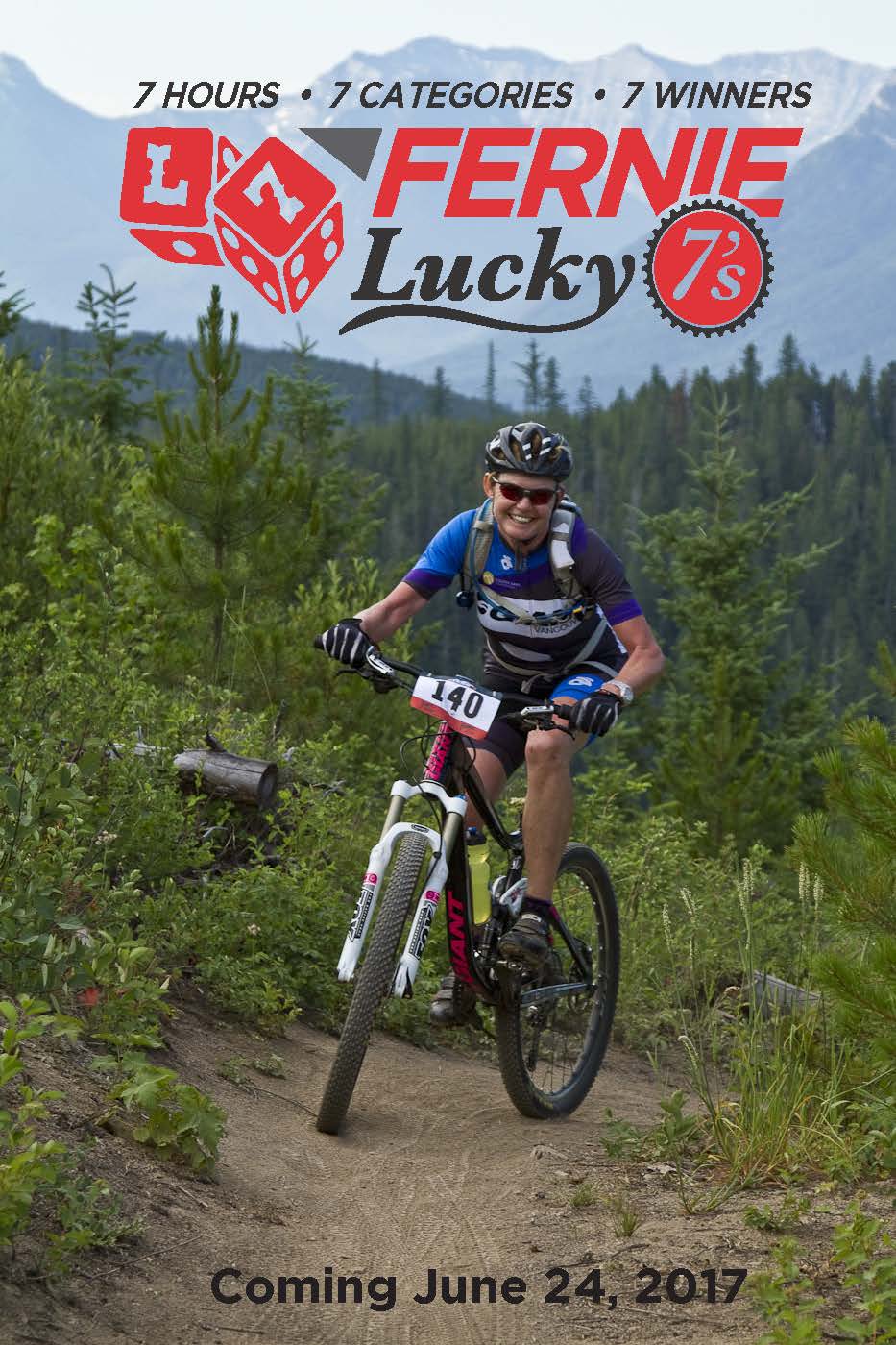 The Fernie TransRockies Society will be managing the Fernie Lucky 7's and once again will be fundraising for local trail organizations and not-for-profits and focusing on engaging youth and community cycling. With over 15 years of event experience you can expect a well-organized event. Professional timing, great prizing, first aid, food stations, trail support, bike support and a well thought-out course are the standard. The Fernie TransRockies Society was formed in 2002 as a not-for-profit with the objective of growing destination and community biking.

Fernie Lucky 7's details:
The Fernie Lucky 7's course will feature moderate climbs with lots of passing options and fun rolling downhill's. The selected course is a 15 km loop with only 350 meters of vertical climbing. Course details will be released prior to the event.
Lucky winners will be selected from the Lucky 7 Craps table. All participants will have a chance to roll the dice for the winning Lucky 7's. The top finishers from the categories will also be recognized.
The Fernie Luck 7's categories are designed to be inclusive. The U15 and U9 events will continue and the family and corporate categories open new opportunities for great experiences.

Categories include:
Men's Solo, Open, 40+, 50+
Women's Solo, Open, 40+
Teams of 2: Men's Open, Mens 40+, Women's, Mixed & Family
Teams of 3: Men's Open, Women's, Mixed, Family & Corporate
One lap: U15 Girls & Boys
Kids' Lucky 7 Rally: U9 Girls & Boys FREE
Fernie is famous for its hospitality and the Fernie Lucky 7's will be taking that to a new level! Food vendors, Beverage Gardens and entertainment will fill the day.
Registration opens November 1st and entries are limited. Rally your friends, family and workmates to register early for early-bird pricing. Everybody will be a winner at the Fernie Lucky 7's!