Nipika-Whiteswan Lake
115km/1342m climbing
After a two-day stopover at Nipika Mountain Resort, the 283 teams remaining in the 2007 TransRockies Challenge set out on Stage 4 for the mountain campground of Whiteswan Lake, the last and most remote wilderness day of the race. With a route which was longer and more physically punishing than technically difficult, there was a feeling that some new faces might get to show their faces at the front on this 115km odyssey which crossed two major passes, finishing with a leg-sapping rolling 38km drag along the White River Forestry road.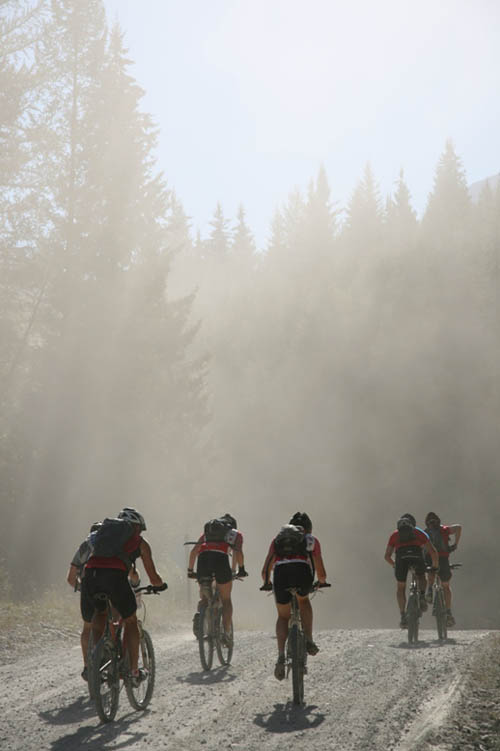 The heat has been building for the last few days, and day 4 was easily the hottest and dustiest yet. The medical team were kept busy at the end of the stage dealing with exhausted and dehydrated riders, most of whom averaged 6 ½ hours in temperatures which ranged up to 90 degrees, compounded by the dust, low humidity and a average elevation of roughly 1400 metres above sea level.
A couple of long forestry road sections made it difficult for riders to escape early as they would inevitably be pulled back by larger groups working together and catching them from behind. Instead, the day became a war of attrition as the strongest kept up the pressure and waited for their competitors to wilt in the conditions.
In the Open Men's Category, the Costa Rican duo of Ivan Amador and Federico Ramirez clearly felt at home in the heat and were able to resist all the attacks from Team United Cycles throughout the day and managed to come around the Overall Leaders for their first stage win of the event and the first stage to be won by a team other than Heemskerk and Lega of United.
On the women's side of things, Sue Haywood and Hillary Harrison took back the leaders' jerseys after losing them the day before. Their finishing time of 5:38:59 was good for a six-minute lead on the day and a two-minute lead in the overall standings.
Recovering on mountain-ringed fields at Whiteswan Lake, riders in every class spent the afternoon looking for shade and trying to stay cool in the midday sun. Many riders went so far as to drag their tents from the regular compound into the groves of trees while the glacial creek next to the campground and the Whiteswan Lake beach were popular destinations.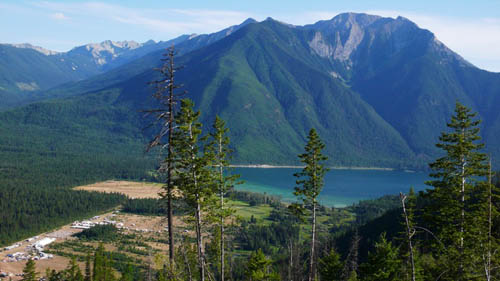 With three tough days of racing and no sign of letup in the heat, the overall lead in several categories remains up for grabs, most teams remain focussed on the goal of simply finishing this epic challenge. Upon arriving in Elkford, riders will no doubt be quickly reaching for their phones to check in with friends and loved ones after three cell phone-free days in the wilderness .