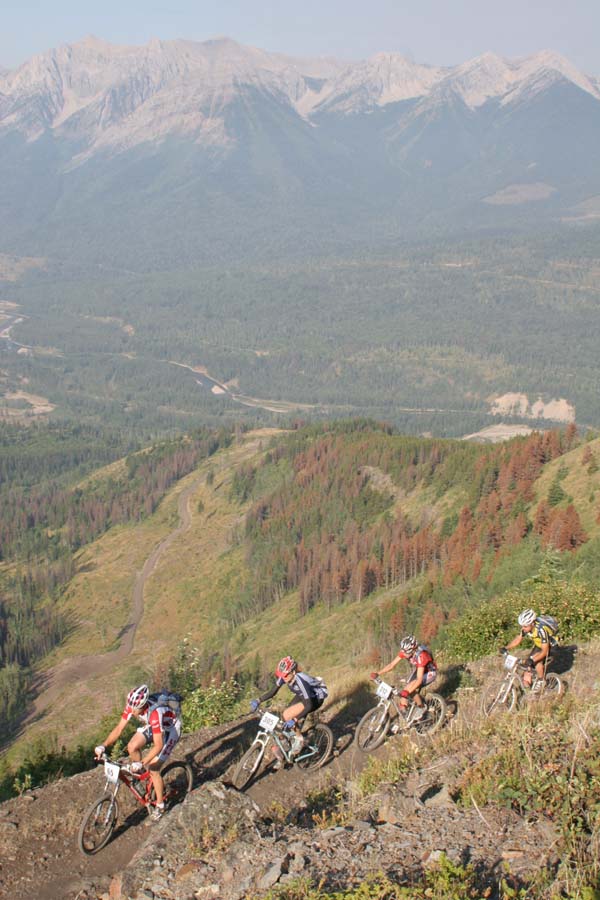 Stage 1 Route Overview
Panorama to Invermere: August 12th
Data
Altitude Uphill 1139 m
Altitude Downhill 1453 m
Total Distance 33.0 km
Paved Road 2.7 km 8.0 %
Gravel Roads 5.2 km 16.0 %
Double/Single-track Trail 25.1 km 76.0 %
Description
0 to 2.2km
Beginning in Panorama, the race follows primarily paved roads on a rolling
start through the mountain village of Panorama.
2.2 to 6.5 km
Gravel Forest Service Road on a fairly decent riding grade up. Looking for
a single-track trail to leave on your left 6.5 km into the route.
6.5 to 8.8 km
This is an uphill climb on single track. Very little of this portion will be
riding. Racers will gain approximately 1100 meters in elevation from
Panorama to the summit of Taynton Pass.
8.8 to 13.6 km
Across a breathtaking pass, Taynton Pass to the top of Castle mountain.
Views on a clear day allow riders to see the Royal group of mountains due
East and Mt. Assiniboia to the north east. Rideable single track area.
13.6 to 17.8 km
Technical downhill section, of single track "switchbacks" (approx 36). Do
not take short cuts as they are not cleared, stay on main trail.
17.8 to 33 km
Combination of double track trail along a power line, to the Canyon trails
which are approx 7 km of "outstanding" single track riding to a short
access road which leads to the finish line.
2007 TransRockies Challenge
Stage 2 Route Overview
Invermere to Nipika: August 13th
Data
Altitude Uphill 1302 m
Altitude Downhill 1285 m
Total Distance 60 km
Paved Road 5.3 km 9 %
Gravel Roads 27.3 km 45.5 %
Double/Single-track Trail 27.4 km 45.6 %
Description
0-5.3 Rolling start through Invermere and off of highway 93/95
5.3 – 24.2 Uphill climb on very good surface that eventually
deteriorates as the trail progresses up. The second half is
heavily waterbarred double track.
24.2 – 28.1 Technical single track "flat" with features.
28.1 – 33.0 Hazardous downhill section, very primitive trail, perhaps only
50% or less rideable. Use caution.
33.0 – 44.0 Forest Service Road (FSR) section.
44.0 – 60 Combination of scenic single track and double track riding to
the Nipika resort area.
2007 TransRockies Challenge
Stage 3 Route Overview
Nipika to Nipika: August 14th
Data
Altitude Uphill 1522 m
Altitude Downhill 1522 m
Total Distance 90.1 km
Paved Road 0 km 0%
Gravel Roads 51.5 km 57.1 %
Double/Single-track Trail 38.6 km 42.9 %
KM Description
0 – 7 Nipika trail system of double and single track.
7 – 21 Old forestry road, undulating but generally a gradual uphill ride.
21 – 22 Cross a wide gravel bar and river system
22 – 38 Uphill ride up forestry roads, at times steep grades.
38 – 45 Single track / quad route through Miller pass. Deep back country with various hazards to be aware of.
45 – 64 Down hill gravel forest road.
64 – 82 Double track pass. Up and over a very scenic route with generally a good riding surface.
82 – 90 Single track ride on the cliffs above the Kootenay River.
2007 TransRockies Challenge
Stage 4 Route Overview
Nipika to Whiteswan Lake: August 15th
Data
Altitude Uphill 1342 m
Altitude Downhill 1297 m
Total Distance 113 km
Paved Road 0 km 0%
Gravel Roads 62.0 km 54.9%
Double/Single-track Trail 51.0 km 45.1%
KM Description
0 to 12.5 Travel on a combination of double track and FSR to the Cochran Creek road.
12.5 to 31 Double track riding up Cochrane Creek and down and out little Elk creek.
Fairly good surface, for riding, an elevation gain of approx 450 m on this short section.
31 to 46 Uphill on the Palliser Forest Service road. In very good shape, however,
may be very dusty.
46 to 52 This is a combination of a short section of gravel road, single track riding a couple of river crossings and great double track, (very smooth but uphill). This section courteously made available by the local guide-outfitter. Very scenic section.
52 to 70 A combination of double – single track riding works its way up and over
Lodgepole creek into Schofield creek that connect the main drainages of
the North White river to the Palliser River. At times this section is very rugged, with switchbacks, large cross ditches and rough trail.
70 -79 Two fords of the North white river incorporate a down hill double/ singletrack route.
79 – 113 The race follows the North White FSR down hill to link up with the scenic
Forest Service Road on cliffs above the White river, Ending in Whiteswan,
2007 TransRockies Challenge
Stage 5 Route Overview
Whiteswan Lake to Elkford: August 15th
Data
Altitude Uphill 1528 m
Altitude Downhill 1368 m
Total Distance 93.28 km
Paved Road 1.6 km 1.7%
Gravel Roads 48.09 km 51.5%
Double/Single-track Trail 43.60 km 46.8%
Description
0 to 14.3 km Departing Whiteswan Lake, a gradual climb on gravel Forest Service Road to Elk Creek
14.3 to 27.2 km Uphill double track through the Elk Creek Drainage. Includes a creek crossing and crossing six substantial debris torrents.
27.2 to 30.9 km Pass between Colin Creek and Elk Creek.
30.9 to 49.1 km Descending approx. 600 m elevation on double track and Forestry Road,
down Colin Creek and the North White FSR.
49.1 to 72.5 km An ascent up the East White River Drainage. A combination of gravel, double and single-track riding in a very scenic area. Much of this stretch in on the east side of the river (non-road). This is a nice section generously made available by the local Registered Trapper in the area.
72.5 to 93.0 km A tough climb and decent as the route is characterized by a few boulder fields that are non-rideable. Riders should note the dangerous "Rock Garden" just over the pass that has been the site of injuries in previous years. It is recommended that riders walk this section. Finish in Elkford.
2007 TransRockies Challenge
Stage 6 Route Overview
Elford to Sparwood: August 17th
Profile
Statistics
Altitude Uphill 2300 m
Altitude Downhill 2420 m
Total Distance 116 km
Paved Road 18 km/16%
Gravel Roads 66 km/57%
Double/Single-track/Trail 32 km 27%
Description
0-25: Begin Day 6 in the community of Elkford and climb the paved Fording Mine Road for 5 km. The route then follows Josephine Falls single-track for 5 km. A fast rolling descent of Lost Lake and Sulphur Creek gravel roads for 15 km ends when crossing Line Creek Mine access road.
25-85: After crossing the Line Creek Mine road a 23 km climb on gravel logging roads and ATV trails arrives at Alexander Creek summit. Next a 6 km steep and rocky descent is followed by another 20 km of moderate rolling descent to Highway 3. Cycle along Hwy 3 for 3 km, go under the Michel Creek Bridge and then cycle 8 km up the Coal Mountain Mine paved access road to the Coal-Leach gravel road.
85-116: Climb gravel road and ATV trails for 700 meters vertical over 11 km. Then a mostly downhill 9 km with 900 vertical meter descent on rocky and bushy ATV track to Highway 3. The last 10 km is a roller coaster ride of old roads and single-track that goes past Sparwood and then enters the Sparwood finish on Aspen Drive from the north.
2007 TransRockies Challenge
Stage 7 Route Overview
Sparwood to Fernie: August 18th
Tour Data In
Altitude Uphill 655 m
Altitude Downhill 790 m
Total Distance 48 km
Paved Road 6 km/12%
Gravel Roads 30 km/63%
Double/Single-track Trail 12 km/25%
Description
0 to 28 km: Beginning in Sparwood the route goes north on Highway 43 and then backtracks southward towards Fernie on gravel roads on the west side of the Elk River. The route then drops down to
Highway 3 south of Hosmer.
28 to 48 km: Go north along the highway and cross under the Elk River Bridge. Route winds around Hosmer on pavement and then climbs a power line road towards Fernie. Power line road merges with Ridgemont Logging Road and then descends on single-track down to the Elk River and up to the Fernie finish line.