Posted by admin in : Fernie Ghostriders , comments closed
The Ghostriders had an important 4-3 double overtime win over the hated Kimberley Dynamiters. Marty Wicks scored the O/T winner and Brendon Mangone and Alex Pronchuk (2) had the other goals. Chris Solecki got his eighth win of the season and after the weekend was in second place in KIJHL goaltending.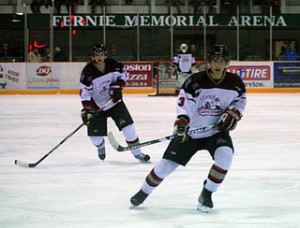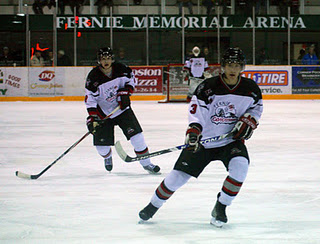 Fernie is now 2-1 vs Kimberley but the teams are just two points apart in the standings and seem destined to fight it out for first place in the division this year. It's the first time since 2008/09 that the Riders have had any competition at all for first place, especially from Kimberley. The Riders finished a hilarious 47 points ahead of the Nitro's last year and 30 points ahead of Creston (second), but this year we may see a photo finish and only one team get to be Secretariat. The other will be imitating 60's TVs talking horse, Mr. Ed​.
With four points in three games last week Connor McLaughlin is leading the team in scoring with 20 points. McLaughlin is easily the Ghostriders best all round forward, he competes hard every night, is good defensively and usually gets in on the scoring. Actually he is in on almost 30 per cent of the Riders scoring. McLaughlin came to Fernie late last season in a trade with Nelson and the Scottsdale Arizona native has been an on ice leader since game one. Another former Leaf now in Fernie is defenseman Ty Morton. Coach Verner traded with Nelson for Morton's KIJHL rights last season when he returned from a year with the junior "A" Nanaimo Clippers. Ty is second in team scoring with 16 points, he played with Nelson in 2008/09. Expect both Morton and McLaughlin to be wired up next Thursday.
They are always one of the top teams in the league and on November 10 the Nelson Leafs (25pts) are here for a rare Thursday night game. Their coach this season is Frank Maida and he says he wants his team to be like the KIJHL championship team that he and Simon Wheeldon coached in 2009. They were all offence that year and defence was just something a player would jump over behind the local establishment when the coach showed up late at night. Could be a fun game for the Rider fans to watch.
With George Hurlbut