1
02
2016
The 10th Annual Fernie Mountain Film Fest (FMFF) is coming to Fernie this February 19 to 20th. The College of the Rockies and its Mountain Adventure Skills Training (MAST) program successfully presented the first annual Fernie Mountain Film Festival in 2007 and created an event that was to become highly anticipated. The second FMFF saw attendance double and now it's celebrating a decade.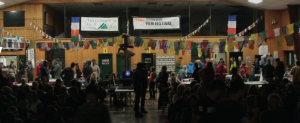 The festival is held at the Fernie Community Centre. Doors open at 6pm for the popular Fernie Mounain Social – dinner and drinks before the films!!! Films start at 7pm each night. The Festival takes place Friday and Saturday night with a FREE kid's Saturday matinee.  
Festival Weekend: Friday and Saturday nights will highlight a feature film  and a number of exciting and diverse short films to round out the evening. 
Best of Festival: Each year the festival board and the students of the Mountain Adventure Skills Training Program at the College of the Rockies vote on their favourite film. We tend to choose smaller production films that embody our mission statement… "Dedicated to filmmakers who spark awareness of mountain cultures, fragile environments and the passion and perseverance of global explorers." The Best of Festival Award being announced on Saturday night.
The Fernie Mountain Culture Award is presented on Saturday night. Nominees have demonstrated a long-term commitment in their contribution to mountain life in the Elk Valley; includes people and groups who contribute to mountain sport, mountain environment, mountain culture, mountain art and mountain science.
Free Kid's Sat Matinee: 5 pm : Films and popcorn – the perfect winter's afternoon post-ski entertainment. The Fernie Mountain Film Festival has been snowballing its way to success over the years and continues to build. 
Comments :
Comments Off

on 10th Annual Fernie Mountain Film Fest
Categories :
Film Fest