Posted by admin in : Wildsight , trackback
Almost 100 people gathered at the Canada-U.S. border in the Flathead River Valley for the 'Flathead Feast' on Monday, August 20 to celebrate the transboundary Flathead River Valley and call for its permanent protection.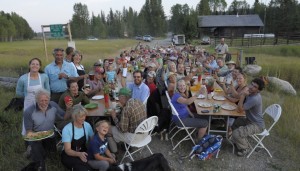 The Flathead River has dual citizenship: beginning in southern British Columbia, it flows south across the U.S. border into Montana. Efforts to add the B.C. Flathead Valley to the adjacent to the Waterton-Glacier International Peace Park—a World Heritage Site and two UNESCO Biosphere Reserves – have been ongoing for decades.
The Flathead Feast was the culmination of 10 days of activities in the B.C. Flathead, including a Bioblitz, an artist retreat and artist workshop, and a celebration of a 2011 legislated ban on mining and energy development in the B.C. Flathead.
People gathered on each side of the defunct border crossing, sharing conversations and food. While there were curries on one side and organic yak burgers on the other, everyone shared the sentiment that the Flathead is a special place that deserves permanent protection.
Wildsight and other conservation organizations are calling for a National Park in the southeastern one-third of the B.C. Flathead, to fill in the missing piece of the Waterton-Glacier World Heritage Site. They are also urging the B.C. government to agree to a Wildlife Management Area in the rest of the Flathead and adjoining habitat, to preserve a vital link in a wildlife corridor stretching from Glacier National Park to Canada's Rocky Mountain parks.
For 10 days, scientists and artists visited the Flathead, each documenting in their own way the biodiversity and beauty of the area. Scientists from the Royal BC Museum, Parks Canada and the American Bird Conservancy participated in the Bioblitz, whose findings will be released later this year. Artists from across the East Kootenay joined wildlife and landscape painter Dwayne Harty for workshops and 'en plein air' painting sessions, and will contribute to an upcoming art exhibition.
Conservation organizations working to protect the Flathead permanently are Wildsight, Sierra Club BC, the Canadian Parks and Wilderness Society, Headwaters Montana, the National Parks Conservation Association and the Yellowstone to Yukon Conservation Initiative.