Posted by admin in : Wildsight ,

add a comment
Wildsight's Jumbo Wild campaign received another boost last week, in the form of a $5,000 award for first place in the fourth-annual Mountain Equipment Co-op (MEC) Wild Bucks competition.
Wildsight's Jumbo Wild project beat out such high-profile competition as Ontario Nature, Clean Nova Scotia, and Alberta's Castle-Crown Wilderness Coalition, taking 40% of the overall votes in this national online voting competition.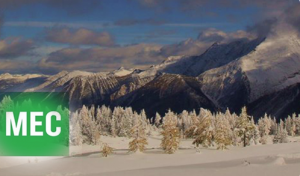 "At MEC, we're inspired by wild places – places like the upper Jumbo Valley," explains MEC's Community Program Manager Andrew Stegemann.
"MEC Wild Bucks support our commitment to conserve ecologically and recreationally important places by giving our members the means to register their support for groups like Wildsight that are working to raise awareness of what's at stake in Jumbo and other threatened places."
"We are really pleased to accept this award, and very pleased to have received more votes than some really high profile, and important campaigns," says Robyn Duncan, Wildsight's Purcells Program Manager.
"This really shows how important the Purcell Mountains, and the Jumbo Valley in particular, are to people across the country. People really get it: now more than ever Canadians want to protect the wilderness we have, rather than developing remote valleys like Jumbo for more real estate profits, and trying to mitigate the impacts after the fact."
Funding will go towards continuing the successful two-decade-long effort to protect critical cultural, recreational, and wildlife values in the Central Purcells from permanent real estate development.
MEC Wild Bucks was first inspired four years ago by a partnership between MEC and the Canadian Parks and Wilderness Society. To date, the project has awarded $30,000 in bonus funding to MEC grant recipients.
Posted by admin in : Wildsight ,

2comments
Teck Resources announced Oct. 17 that it has purchased more than 7,000 hectares of land in the Elk and Flathead river valleys of Tembec Inc. for conservation purposes.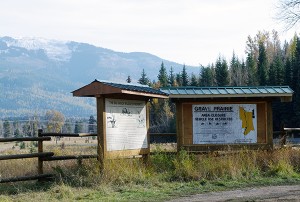 The company, which operates five coal mines in the Elk Valley, spent $19 million on three parcels of land, including the Flathead Townsite, a 1,000-ha riverside parcel southeast of Sparwood, that is important for bull and westslope cutthroat trout.
The largest parcel is a 3,098-ha property in Alexander Creek, on the north side of Highway 3, running adjacent to the Alberta border.
"The Alexander Creek parcel is critical for wildlife connectivity, allowing wide-ranging species such as grizzly bear and lynx to make their way from Waterton-Glacier International Peace Park, across Highway 3, to Canada's Rocky Mountain parks," noted conservation coalition Flathead Wild, a coalition of conservation groups in B.C., Alberta and Montana, in an Oct. 17 news release that praises Teck.
The third parcel Teck purchased is 3,059-ha at Grave Prairie (pictured above), an important wintering area for elk located at the north end of Lower Elk Valley Road, between Elkford and Sparwood.
Teck president Don Lindsay said the company intends to keep working with conservation groups and the Ktunaxa Nation to protect key wildlife and fish habitat in the region.
"Teck is committed to responsible resource development and we strongly believe that it's possible to have both world-class mining and a world-class environment," he stated.
"We're very excited that Teck has made a significant investment to purchase and work towards conserving this important wildlife and fish habitat," said Wildsight Executive Director John Bergenske.
"We look forward to continuing to work cooperatively with Teck on the details for the stewardship framework for these lands," added Harvey Locke, strategic advisor to the Yellowstone to Yukon Conservation Initiative (Y2Y).
The Flathead Wild coalition is calling for more permanent protection for B.C.'s Flathead River Valley, which provides rich habitat for species including grizzly bear and a wide variety of bird species, and is a vital link in the continent's longest remaining wildlife corridor.
Flathead Wild also includes Sierra Club BC, CPAWS BC, Headwaters Montana and the National Parks Conservation Association.
The conservation groups have long advocated for a national park in the southeastern one-third of the Flathead, to fill in the missing piece of the adjacent Waterton-Glacier World Heritage Site. They also call for a Wildlife Management Area in the rest of the Flathead River Valley and adjoining habitat.
Posted by admin in : Wildsight ,

add a comment
What's your favourite class? 'Magic of Ecosystems', 'The Web of Life', 'Lessons from Nature' or 'Diversity of Life and Nature's Services'? All are on offer with Wildsight's Classroom with Outdoors – full-day field trips for kids grades 4-7 offered for free!
Bookings are open for our September and October programs running in communities across the Columbia Basin.
Book online at www.wildsight.ca/classroom or call us at 250.427.9325 ext. 1 for more details.
Thank you to the Columbia Basin Trust, who's support enables us to offer these programs free of charge.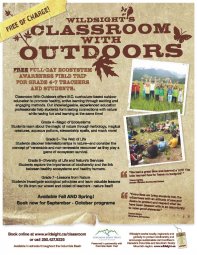 Posted by admin in : Wildsight ,

add a comment
Why have you been hearing about the Farnham Glacier in the news this summer? Because it was the setting for two inspiring and powerful statements of opposition to the Jumbo Glacier Resort. After more than 20 years, you think you've seen it all, but then the people of the Kootenays find yet another way to say JumboWild!
The Jumbo Glacier Resort has their sights on 4 glaciers in the Purcell Mountains – Farnham Glacier is one of them. The Citizens for Jumbo Wild have established the Farnham Checkpoint to keep an eye on activities on the Farnham Glacier and monitor any construction taking place. Observe, record, report. People have been camping or day-tripping to do their part to keep Jumbo Wild and a minimum of 2 people per night have been sleeping in the Farnham Valley each night.
If you want to support, participate or visit the Farnham Checkpoint, please contact the Checkpoint Scheduler at: cdcamp13@gmail.com for full details. Camp protocols apply to all participants in order to assure a respectful response to all visitors to the Farnham valley.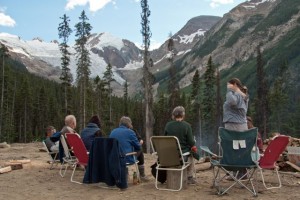 The Farnham Checkpoint?
While summer ski operations have been announced (but not yet actualized), many outstanding commitments, in the Environmental Certificate and Master Development Agreement,(full details here), remain ignored and nearly impossible to achieve. These agreements are legally-binding. It is critical to monitor activities taking place to ensure compliance to these agreements and to keep Jumbo Wild.
Requiem For A Glacier
On July 27, the Farnham Glacier heard its first live symphony. More than 80 people participated in what may be the most creative form of opposition to Jumbo yet: a 4-part symphony lamenting the melting of the glaciers and the approval of the Jumbo Glacier Resort. Sung in Latin, the haunting words were a direct translation into Latin of the government's Jumbo Resort approval. More details here.
Thank you for your support; together we will keep Jumbo Wild forever!
For Jumbo Wild,
Robyn and the Jumbo Wild Team
Posted by admin in : Wildsight ,

add a comment
Dawn Deydey has lived in Fernie for nearly 15 years and has dedicated the last decade to taking a lead role in increasing Fernie's environmental sustainability through community-based programming and projects that create environmental awareness and action.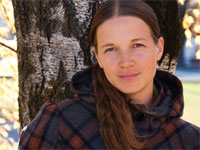 Dawn's most notable environmental initiative is the founding of the Community EcoGarden. As a sole-coordinator, she designed, implemented and managed the garden initiative in its first four years. The garden is now coordinated by a volunteer advisory committee, in which Dawn continues to play an integral role, and consists of 24 garden plots and demonstration gardens that are used by community groups, schools and individuals.
Dawn facilitates a wide range of events and activities at the EcoGarden including, educational programming for students, an Apple Share program to improve the utilization of locally grown apples, seed swaps, hands-on workshops about growing and preserving fresh foods, interactive gardening experiences for families and children, a school salad bar program that feeds 500 students daily and promotes the consumption of locally grown food, and composting and vermicomposting workshops. She also offers locally grown produce and gardening information at the farmers market.
Dawn has been instrumental in addressing food security issues in her community and has inspired community members to take action by making sustainable choices.
In addition to the EcoGarden, Dawn has demonstrated her commitment and passion for the environment through a variety of volunteer-based environmental community projects. As the Community Program Coordinator for Wildsight Elk Valley Branch, she develops, supports and promotes programs to maintain biodiversity and healthy human populations in the Columbia and Rocky Mountains eco-region. She is the founder and coordinator of the Earth Day: Trashy but Flashy Fashion Show, an annual event that inspires the community to fuse trash and fashion by creating costumes from trash and recycled materials. She was on the Environment Sector Advisory Committee for the Columbia Basin Trust for seven years. Dawn is also a Director and a founding member of Advocates for Local Living, a group of volunteers that manages several action oriented sustainability initiatives to support and inspire a sustainable community.
Source: www.earthday.ca
Posted by admin in : Wildsight ,

add a comment
When the Outdoor Recreation Council of British Columbia first came out with a list of the province's most endangered rivers, the idea was to spark government action to save threatened watersheds.
Publication of the most recent list, to be released Monday, makes it clear that 21 years later, B.C. still has a lot to learn about managing its watersheds. Some of the most beautiful and environmentally productive rivers on the planet are being terribly abused, or threatened.
More Related to this Story
This year, instead of naming the top 10 endangered rivers, as it usually does, ORC has tightened the focus to just three: the Peace, lower Fraser and Elk.
In part, the short list was done because so many participants in the selection process highlighted those three. But it was also done in the hope that a shorter list would help drive home to government the need for urgent action.
"We recognize there are other threatened rivers out there," said ORC spokesman Mark Angelo. "But these are the most imminently threatened. They need action now."
The Peace is threatened by BC Hydro's proposed Site C dam, which would flood more than 80 kilometres of rich valley bottom, backing up the Moberly and Halfway rivers in the process. It would destroy the habitat of moose, deer, elk, black and grizzly bears and cause the loss of 5,000 hectares of boreal forest and 5,000 hectares of productive farmland.
Migratory Arctic grayling would be affected in the Moberly River, as would bull trout and mountain whitefish in the Peace.
Native burial grounds and prehistoric sites where dinosaur footprints can be found embedded in rock formations would be drowned.
ORC's report contains a list of Site C impacts that goes on for an entire page. It ends with this item: "Essential destruction of one of the most visually attractive and much-visited landscapes in the province."
And what would B.C. get in return? Power that it doesn't need right now, because there is already an excessive amount of electricity being generated around the province.
"Given the dam's adverse impacts, the extensive local opposition and the current surplus of power recently documented by BC Hydro, the case for the dam has largely vanished," says Mr. Angelo, who recently retired as chair of the Rivers Institute, at the B.C. Institute of Technology.
The second river on the list is one that Mr. Angelo has spent much of his life trying to protect. He calls the lower section of the river "the heart of the Fraser" and has long called on government to properly manage it.
It is, he says, "one of the most productive stretches of river in the world," because of the huge salmon runs it supports. But there are myriad problems threatening the health of the river, from the excessive use of fertilizer on farmland in the Fraser Valley, to a city plant that spews out sewage near the mouth, bathing migrating salmon in a sickening mix.
"This discharge contains high levels of traditional contaminants that can be toxic to aquatic life such as copper and zinc but there are also concerns around … emerging contaminants … that are not filtered out, or contained, by current sewage treatment practices," writes Mr. Angelo.
That isn't the biggest worry. Gravel mining, which takes place on exposed bars during low water events, threatens to destroy vital salmon spawning habitat, Mr. Angelo says.
Third on the list is the Elk River, which recently made headlines because of growing concerns about the amount of selenium leaching from coal mines. The pollution has reached such high levels that cutthroat trout eggs hatched in a lab produced deformed fish.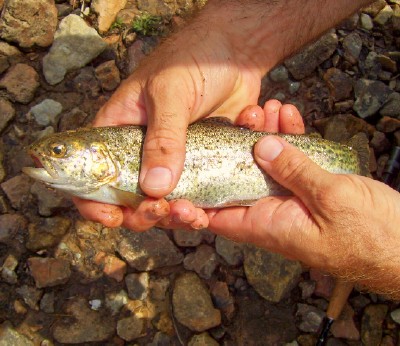 Mr. Angelo's report notes there are proposals to build another five coal mines in the Elk Valley which can only increase the selenium levels. The report commends Teck Coal Ltd. for recognizing how serious the situation is, but says "clean-up efforts must be ramped up … so that the current trend is reversed."
Mr. Angelo has been involved with the list since the first one in 1992. Over the decades, he's seen many endangered rivers saved by government. Among them are the Tatshenshini, the Upper Pitt and the Sacred Headwaters, a region where three rivers form.
"The list isn't the only reason those rivers were saved, because a lot of people are working on these issues," says Mr. Angelo. "But I do think it helps government focus."
Let's hope so, for the Peace, the Fraser, and the Elk Rivers.
Source: theglobeandmail.com
Posted by admin in : Wildsight ,

add a comment
A new study clearly indicates that the Elk River is being poisoned by toxic levels of selenium leaching from Teck Coal's open-pit coal mining waste rock. The high rates of selenium – far in excess of British Columbia guidelines – have created a crisis for fish and other species in the Elk River.
It is time to take a big step back and look at how this area is managed as a whole. Not to rush through new mining permits.
This Canada Water Week, the Elk River especially could use some love…visit www.ilovemylake.ca and share your love for the Elk! Sign the declaration and help us remind Environment Minister Peter Kent and Fisheries Minister Keith Ashfield how much we all love our lakes and other waterbodies!
Posted by ryland in : Wildsight ,

add a comment
The Elk Valley is known worldwide for its wilderness and wildlife values. It is equally as well known for its extensive metallurgical coal resources. It is no easy task to find a balance that can see both of these values sustain themselves into the future.
Wildsight respects the efforts taken by Teck Coal towards reducing the trend of increasing selenium levels in the Elk River. We are supportive of the progress made by Teck and the Ktunaxa towards developing a Cumulative Effects Management Framework for the Elk Valley.
However, an effective cumulative effects review must include all activities with the potential to cause impacts in the valley. New coal mines and gas field development outside of Teck's operations are not part of this locally developed process and could threaten the long term viability of mining and wildlife values in the Elk Valley.
Past industrial management policies and practices in the Elk Valley have allowed selenium levels to reach toxic levels in our river, and in our fish. Selenium levels at the US border are hovering, and sometimes exceeding, enforced legal limits, causing the US Environmental Protection Agency to raise concerns about the issue. Wildsight is concerned about our local water quality, fisheries, and wildlife, and does not support any new mining activity until it can be assured that the values we all care about are being protected in the long term.
The community's involvement in addressing the selenium issue demonstrates the need for a comprehensive long-term plan that reconciles the Elk Valley's world-class wildlife and wilderness values with the region's metallurgical coal resources. This plan should be based on a comprehensive landscape-scale baseline assessment that evaluates the long-term impacts to water quality, fish, wildlife and evaluates cumulative effects of all current and proposed activities.
We look forward to working with all interested parties to find a solution that protects the values that make this place exceptional.
Ryland Nelson
Southern Rockies Program Manager
Wildsight
Fernie
Posted by ryland in : Wildsight ,

add a comment
An open pit coal mine proposed for the Elk Valley could jeopardize a crucial international wildlife corridor and contravene a United Nations recommendation for a moratorium on new coal mines in the Elk, conservation groups warned today.
"This mine would be smack in the middle of a globally-significant wildlife corridor that UNESCO has asked B.C. to protect," said Wildsight Southern Rockies Program Manager Ryland Nelson.  "It would be added to five existing coal mines, four mine expansion proposals and three exploration projects in the Elk valley. This is simply too much stress for this watershed."
Centermount Coal Ltd.'s Bingay project, which is 45 per cent Chinese-owned, has just entered the B.C. environmental assessment process. The open pit mine would be built alongside the Elk River, which is a specially designated as a classified waters trout fishery (a special designation for highly productive trout streams). The Elk is one of the last strongholds for genetically pure westslope cutthroat trout and endangered bull trout.
"A new open pit coal mine next to the Elk River is a crazy idea," said Sierra Club BC spokesperson Sarah Cox. "The Elk River already has alarmingly high levels of selenium from Teck's coal mines. And this mine would be smack in the middle of a wildlife corridor that connects two World Heritage Sites."
The proposed mine, 21 kilometres north of Elkford, is located entirely within identified Ungulate Winter Range, a habitat that is already heavily impacted by historical mining activities. At completion, it would be more than a square kilometre in area, and up to 500 metres deep.
Sierra Club BC, Wildsight, CPAWS BC and the Yellowstone to Yukon Conservation Initiative (Y2Y) are calling for a federal environmental assessment of the Bingay project in addition to a B.C. assessment.  The public can request a federal review by sending a quick note to Bingay@ceaa-acee.gc.ca by December 23, 2012.
The Bingay mine site forms part of the same wildlife corridor that includes the Flathead River Valley and Waterton-Glacier International Peace Park – a UNESCO World Heritage Site. Mining and energy development has now been banned in the adjacent Flathead River Valley through provincial legislation in B.C.
"In a 2010 report, UNESCO's World Heritage Committee called for a moratorium on mining developments in the Elk Valley," said Chloe O'Loughlin, Terrestrial Conservation Manager for CPAWS BC.  "An open pit mine this close to the Elk River will negatively affect wildlife. This could ultimately impact the whole corridor, including the nearby Waterton-Glacier International Peace Park."
Conservation groups are asking for a comprehensive long-term plan for the entire Elk Valley that reconciles its world-class wildlife and wilderness values with its metallurgical coal resources, in keeping with the recommendations of the World Heritage Committee report.
Contact:
Ryland Nelson, Wildsight: (250) 531-0445
Sarah Cox, Sierra Club BC: (250) 812-1762
Chloe O'Loughlin, CPAWS BC: (604) 685-7445 x 33
Posted by admin in : Wildsight ,

add a comment
The Grizzly Bear Spirit was in their hearts and minds as they marched to the passions of a new battle cry in a more than two decade old war. The cry; 'Stand our ground.'
About 350 Ktunaxa Nation (KN) and East Kootenay residents took part in a noon rally against the Jumbo Glacier Resort proposal on Friday, Nov. 30, in downtown Cranbrook. The rally was held to mark the filing of an application for judicial review of the resort's approval in BC Supreme Court.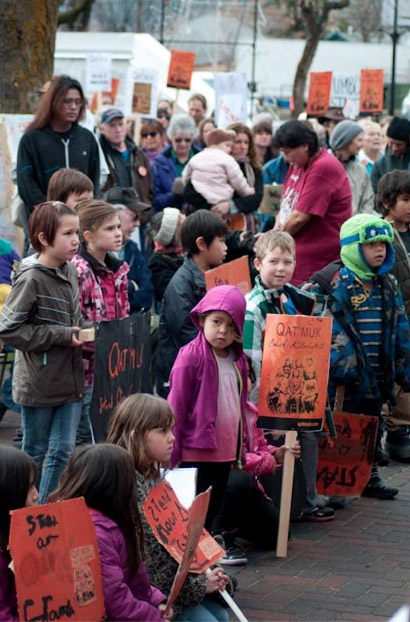 A procession formed at the KN's new Cranbrook office complex, in the old Tembec Building, and moved through the downtown to Rotary Park, where a series of passionate speeches were heard, as well as music and voices.
The public rally was held in Cranbrook because it is believed the legal proceedings will occur there. Additionally, a second, much smaller event was held at the BC Law Courts, prior to the filing of the application for judicial review.
Kathryn Teneese, Ktunaxa Nation Chair, said the application for judicial review is a result of the provincial government approving the proposed ($450 million to $1 billion – depending upon who you speak with) ski resort in the upper Jumbo Creek Valley, 55 km west of Invermere, and for threatening the Ktunaxa peoples' ways of life.
"Jumbo Resort, if built, will forever destroy the connection Ktunaxa have with Qat'muk. It will sever this special and significant relationship that we have developed with that land for countless generations," Teneese stated.
"Ktunaxa have been the victim of residential schools, and attempts to systematically destroy our culture and heritage. We had to hide our language, culture and spiritual beliefs away, simply in order to save them. We have kept our most precious beliefs a secret, in accordance with our laws and in order to protect and preserve them for future generations of Ktunaxa," she said, adding, "Now, after overcoming these incredible adversities, working to develop our nation, and getting to a place where we are starting to see some real successes, we are faced with the reality that the B.C. Government is once again trying to destroy something vital to who we are as a people."
Teneese said the Ktunaxa intend to continue to fight the resort proposal because it would be located in the heart of Qat'muk (GOT-MOOK). For Ktunaxa, Qat'muk is where the Grizzly Bear Spirit was born, goes to heal itself, and returns to the spirit world. The Grizzly Bear Spirit is a unique and indispensable source of collective and individual guidance, strength, and protection for Ktunaxa. Qat'muk's importance for the Grizzly Bear Spirit is interwoven with the living grizzly bears of today, and into the future.
"I can tell you with all my conviction, that Ktunaxa will never allow themselves to be damaged as a people, ever again. Nobody has the right to take away what is rightfully ours. The fight to save Qat'muk is far from over, and it's long overdue that we start asking harder questions of the BC Government, and challenge their process," Teneese said.
Cranbrook's most famous son also once again stated his support for the Ktunaxa and opposition to Jumbo. Rally emcee Joe Pierre read a prepared statement from the retired NHL superstar and captain of Canada's 2010 Gold Medal team, Scott Niedermayer: "I would like to thank everyone for coming out, showing their support and sharing their voices today. I continue to support the Ktunaxa and Wildsight in their efforts to protect Qat'muk, and to keep the Jumbo Valley wild. Good luck and have a great day."
A host of speakers railed against the resort proposal, including recently elected Chief Jim Whitehead, and Kootenay East NDP candidate Norma Blissett, but perhaps none more passionate than Gwen Phillips, who warned about the impacts of greed on the land.
"We must think with our minds and our hearts, and not just with our pockets," she exclaimed.
Regional District of East Kootenay Electoral Area G director Gerry Wilkie said he is ashamed he is part of the regional government that gave away jurisdictional planning rights back to the province in 2009.
"Thank you for doing what I ashamed we couldn't do as a regional district back in 2009. We didn't deliver democracy to the people of the East Kootenay," he said, noting that handing Jumbo back to the province was a giveaway.
"This big, bad government, after threatening us for so many years, said to hell with you," when it approved Jumbo earlier this year, Wilkie said, calling the resort proposal "a monumental playground for the forces of greed. Today, you the Ktunaxa people are taking an important stand. Most of us in the Kootenays respect and revere the land. We just want to let it be."
One of Jumbo's most vocal and visual opponents has been Invermere resident Bob Campsall, former long-time District of Invermere councilor and co-founder of the Jumbo Creek Conservation Society (JCCS). Campsall, who has been voicing his concerns about the proposed resort since proponent Oberto Oberti first began airing his dream of creating a 5,500 bed resort village in the Jumbo Valley, between the Purcell Wilderness Conservancy and Bugaboo Provincial Park, on the glacier-encrusted spine of the Purcells, with Jumbo Pass and the West Kootenay on the south and west of the proposed village site and the Horsethief, Jumbo and Toby Creek drainages spilling east, down to the Columbia Valley.
"On behalf of the 1,609 members of the JCCS, I want to tell you how much we respect the Ktunaxa and how proud we are to join today's celebration," Campsall said.
Campsall said the government's recent outlining of the Mountain Resort Municipality structure of the proposed resort is farcical, calling it "a pretend municipality up in Jumbo and we have a pretend mayor and council with no population."
There are three things that make the Jumbo proposal a risky venture for the region and province, Campsall said.
Climate change/global warming means the resort proposal's strongest positive will soon become a negative that will cost taxpayers, he said.
"The great pretenders in Victoria are pretending it (climate change) doesn't exist. These glaciers will be gone before the development is ever built," Campsall exclaimed.
The lack of a government-funded independent economic feasibility study is indicative of a government too eager to pad its stats, he said, adding that two previous studies clearly showed there would be few long-term economic benefits.
Campsall also reminded the audience about the Commercial Alpine Ski Policy (CASP). "It says that if a ski resort goes under, the government will run it," he said, drawing a loud murmur from the crowd. "Can you also believe neither level of government (regional district or provincial government) has ever sponsored a public hearing? We in the Kootenays are not being listened to."
Wildsight executive director John Bergenske took a different approach, stating that Oberto Oberti should be thanked.
"He has given the region something we didn't have before – the ability to work together," he said, "Because we care about a spiritual common ground. We go away with a feeling of community. I have no doubt there will not be a resort in the Jumbo Valley."
Nelson-Creston MLA Michelle Mungall said the Liberal government displayed its lack of interest in listening to the people of the Kootenays when it approved the Master Development Agreement "after 20 years of opposition. In the legislature Norm Macdonald (Columbia River-Revelstoke MLA) and I have been unwavering in every opportunity to speak out against this proposal."
She said she was shocked by the decision to go ahead with a Mountain Resort Municipality, despite the fact there isn't a single shack or even a lone resident in place.
"To allow a ghost town… we were floored. We railed against it and they made excuse after excuse. That Mountain Resort Municipality is anything but democratic, no matter the rhetoric put out there by (Kootenay East MLA) Bill Bennett," Mungall said. "We are not that dumb Bill. We are not that dumb."
Mungall concluded by pointing out she and Macdonald's "purpose is a Jumbo one" and promised that if the NDP gain control of Victoria following next May's provincial election, it would do everything it could to kill Jumbo once and for all.
The Ktunaxa welcome contributions to the legal costs through their web site www.beforejumbo.com.
For more information on the Ktunaxa visit: www.ktunaxa.org
For more on CASP: http://www.for.gov.bc.ca/ftp/resort_development/external/!publish/web/asr/ASR_Policy.pdf
More on the resort proposal: http://jumboglacierresort.com/