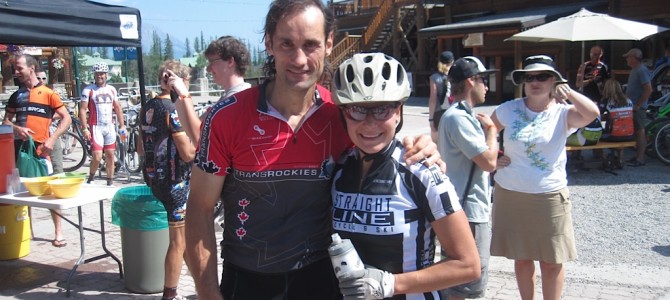 The TransRockies riders came, the weather was perfect, the trails were ready and everybody had a great time! Fernie hosted the TR3 and TR7 riders in the 11th TransRockies event held in Fernie, the only community to host all 11 TransRockies.
The TR3, a three day solo event held in Fernie, included a Time Trial on Castle Mountain and Ridgemont, a Mount Fernie to Fernie Alpine Resort stage, and a FAR to Island Lake Lodge stage. Stage 2 was voted as the riders choice. The TR7 is a seven day team race and these riders enjoyed three days Fernie and then headed off to the Kananaskis for four days and will finish in Canmore.
The top Fernie Finishers were Krista Turcaso finishing 4th in the women's open—she was in 2nd until a problematic flat dropped her back on the final day, and John O'Shannassy finished 3rd in mens 40+. Other Fernie riders included Jesse Mong, Rob Hewett, Tom Ryan, Ange Krasnay and Angela Ethbridge. Overall Fernie had a very good showing as a host community and the Fernie riders were top-notch!
On Sunday the 6th annual Blackstone Kids' Bike Rally took to Fernie Downtown. The free and fun educational stage rally for kids' aged three to nine began at Freshies where event plated, streamers and bells adorned all bikes. From there they headed to the Fernie Heritage Library where another layer of decoration was applied. Next stop was at the Fernie Firehall where a riding skills development course was waiting along with stickers and real firemen with firetrucks! From there they headed to Overwiatea for fuel and then to Freshies for face painting and a bouncy tent. For many riders this event has become the highlight of the TransRockies!
We look forward to hosting the 12th TransRockies and welcome the inclusion of the new 7-day solo category.
Without great supporters this event would not be possible, we offer them a huge thanks for their ongoing commitment.
The official sponsors of the Blackstone Fernie TransRockies include Blackstone, Fernie Real Estate, Parastone Development, Straightline Skis & Bikes, Overwaitea Foods, Island Lake Lodge, Fernie Alpine Resort, Fernie Fix, Fernie Free Press, Fernie Getaways, Lizard Creek Lodge, Stanford Hotels & Resorts, Best Western Fernie Mountain Lodge, Red Tree Lodge, The Fernie Lodging Company and The Raging Elk.
Blackstone is an environmentally sensitive master plan mountain community that is currently completing its planning and approvals stage. It will feature an 18-hole championship golf course designed by David McLay Kidd.