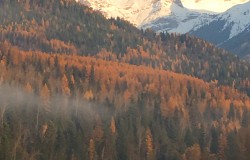 Posted on October 31, 2016 by admin in Off Camber

In Whitefish they asked, "Has it rained like this in Fernie?" "Yes. Like a Fernie month of monsoons." "We've had the wettest fall on record this year." I talk of how the Elk runs chocolate brown, like it's May runoff, and we joke about developing webbed feet and hands to survive. Rain fell leaving Whitefish. […]

No Comments. Continue Reading...