Posted by admin in : News ,

add a comment
Fernie is covered with a blanket of soft white and it looks gorgeous. A perfect day for checking out the Craft Fair at the Community Center where I purchased the most adorable handmade wooden horse and buggy by Fernie resident Ted Ashmore and a teapot arrangement by master crafter Mary Pisoni. There are always so many beautiful crafts to choose from that I always find it hard to walk away empty handed as well baking, honey, and fresh Creston fruit was difficult to resist.
After the craft fair my husband and I took in the United Church Tea. There was a festive mood to the room with tables dressed in red linens and colourful centrepieces. Long tables were filled with an astonishing assortment of fresh cookies for the Church's annual Cookie Walk. Fifteen dollars gets you a plastic glove and a large container that you can fill to the brim with whatever dainties catch your fancy.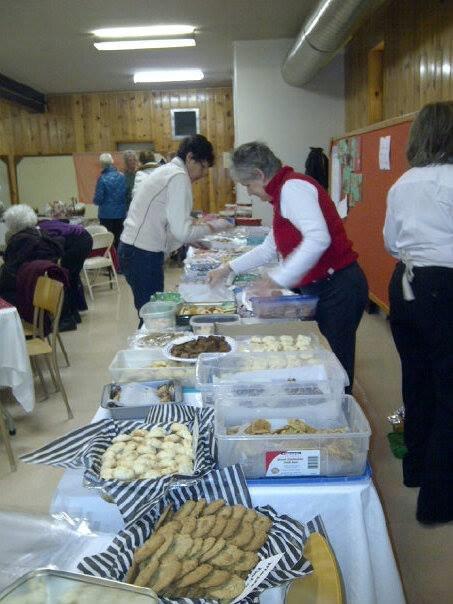 Now let me tell you a little of what has been going on at Council. GPI Chartered Accountants have been appointed the City's municipal auditors for five years, a 2014 Wheel Loader has been ordered and the City is modifying an agreement that will eliminate the requirement to construct an eighteen hole golf course at Coal Creek. Established golf courses struggle these days, finding interest and funding to build new ones is very challenging; one only has to look towards our neighbouring communities to see that this is true. Council recognizes that but with the future in mind Council has ensured that the lands set aside for a golf course will be retained for that specific use when the situation changes.
After much research by staff Council has finally authorized the purchase of appropriate audio/video equipment so that council meetings can be televised.
The beautification committee has met with Hal Anderson of South East Disposal and Neil Cook of Waste Management to discuss painting of the large dumpsters in order to make our town look more attractive. More about this initiative will come forward this spring when the call for artists goes out. I want to thank Courtney Baker of the Arts Station, Vanessa Croome of the Fernie Fix, Gail Adams of the Beatification committee and Julie Comette of the Royal for joining me in this endeavour by forming a subcommittee to work on this project.
I have been asked to address the water turbidity notices put out by the City. Our water system relies on Fairy Creek spring as the main source for Fernie and West Fernie. A structure directs chlorinated water into a pipeline that goes into homes. Turbidity levels are measured regularly on a daily basis and when it is FAIR: it means turbidity levels are higher than 1 NTU, Children, seniors, people with weakened immune system are advised to drink boiled water or a safe alternative. POOR; means turbidity has exceeded 5 NTU's and everyone is told to drink boiled water or a safe alternative. NTU stands for nephelometric turbidity units. Turbidity is caused by fine suspended particles of organic and other microscopic matter picked up by the water as it passes through the watershed. The City is developing wells at James White Park so that this problem of turbidity can be solved. To accomplish bringing the wells online the budget includes 2.6 million to be spent in 2013 and 2014 that includes cost of crossing the river that was done two years ago as part of setting the community up with two pressure zones, one for low neighbourhoods such as the Annex, Mountview, Maintown and one for the high neighbourhoods such as Ridgemont, Castle Mountain and Parkland Terrace. This may sound costly but the alternative is a water treatment plant for Fairy Creek that could cost between 7to10 million or more. Fairy Creek will always be the main source however when the turbidity levels are high it will be possible to switch over to the wells once functional. I understand the inconvenience and ensuing problems for businesses when turbidity levels are high however safety is paramount for residents and visitors. It is expected that having another source of water will prevent turbidity notices.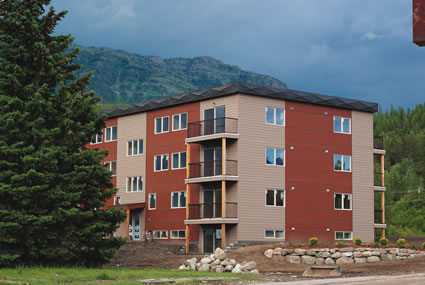 Another issue I would like to address is the amendment to the partnering agreement with Veneto Place Properties. First some background. The City has been part of all affordable housing in town by providing assistance in some form. When this project came forward Council and mayor of the day approved $338,000 and with a partnership that included BC Housing 45 units were created, a number for rent and some for sale. The rentals filled quickly but home ownership had two sales in the past years since this project was completed. There are a number of reasons that could have contributed to this lack of interest one being the covenant placed on sale restricting the ability to resale at a profit. Others that did look at the units were dissatisfied with lack of elevator and communal laundry. The covenant is now being changed to make the units more saleable however the covenant still restricts who is eligible, has an income threshold and requires that buyers must be the residents for two years before they can resell the unit. This is a solution presented by BC Housing in order to keep the units still in the affordable range. At last council meeting a motion was passed, "Following the review of the correspondence received from Cindy Corrigan and Ian Bradburn, and the presentation made by delegation Gayle Vallance, on behalf of Fernie Family Housing Society, Council approved the draft Amendment to the Partnering agreement to delete the requirement for repayment of 2/45 of the $338,165.80 contribution to the City upon discharge of the 10 year AHO covenant for each strata lot where it is proposed to be discharged and substitute with a requirement that upon the sale of the a strata lot subject to the replacement BC Housing Covenant, the City shall be provided with a copy of the Vendor's statement of Adjustments in relation to such a sale and shall pay to the City 50% of the net proceeds (as defined in the Amendment) resulting from such a sale."
When this project was begun it was hoped to be a success, the rental section is indeed a huge success and with the home ownership units being used as rental until they sell a niche has been filled that is needed here. It should be pointed out that although the City has invested the above amount it has also gained development cost charges ($312,000), taxes, permit costs and finished roads going into and out of Veneto. But most of all it has provided housing rental for many people including seniors and those with disabilities.
As usual the month has passed filled with meetings on a variety of topics. I welcome feedback from everyone regarding decisions made by Council. Negative and positive remarks are appreciated because it is through those that Council hears other points of view. Every decision made by Council is arrived at with much thought and discussion for the good of the whole despite opinions to the contrary.
Posted by admin in : News ,

add a comment
Volunteers are the heart of our town and for a long time I wrote a column that singled out a special volunteer for recognition each week.
So on Wednesday November 6, it was a real pleasure to attend the Community Sports Hero Awards held at the Golf Course Clubhouse.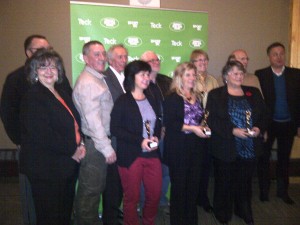 About forty people gathered to honour the eight recipients of this prestigious award.
Mr. Rob Newman, president and CEO, Sports BC opened the celebration by welcoming everyone and saying "Sport BC's Community Sport Hero awards presented by Teck celebrate and honor sport volunteers in communities throughout the province. These volunteers are the lifeblood of continued development and delivery of sport programs in BC. Founded in 2001, these awards play an important role in recognizing the dedication and leadership of BC's sport volunteers."
Mr. Newman then introduced me and in my role as mayor I said the following, "It's a pleasure to welcome Mr. Rob Newman, president and CEO of Sport BC, all honored recipients of the Sports Hero award and guests here this evening. I want to take this opportunity to extend Congratulations from Council and the City of Fernie to the Sport BC organization for their presence and leadership of 46 years. Their involvement has supported and motivated the growth of amateur sport in our province by instilling the belief that everyone can be an athlete."
Congratulations also to Teck and Sports BC as they are celebrating 12 years of partnership with the Community Sport Hero Awards.
This is an important program that recognizes coaches, officials, mentors and administrators who have dedicated themselves to amateur sport at the community level.
Without the commitment of these individuals it would not be possible for communities to have the sports programs that are available for children.
The recipients of the awards were then called up and handed their trophies by Rob Newman.
Kay Chesley, Golf. Kay is in Bangkok playing golf said her friend Val Emond who accepted on her behalf. Kay has been volunteering at the Golf course for ten years in many capacities.
Phil Iddon, Hockey. Phil has been a driving force behind the Ghostrider Hockey Club in Fernie for numerous years. On accepting his award Phil said that he didn't expect to receive this award and that there were many others more deserving and then pointed to Barb Anderson, Linda Moulton and Rose Mangone, also long-time volunteers with the club who were present.
Frank Lento, Hockey. For the many years Frank has been involved in all levels of hockey and who has also volunteered in countless ways in our community was also very humble in accepting his award stating that there are many volunteers more deserving.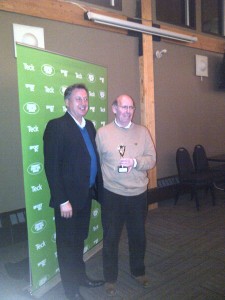 Georgina McIntosh, Special Olympics. Georgina was one of the nominees for the recent Citizen of the Year award for her many years with this organization. Sixteen years of making sure the kids in this program have attention. Without her involvement it is a safe bet that this program might not continue.
Lyle Skaien, Skiing. Lyle has volunteered and been involved with the ski racing program for numerous years in different ways.
George Smith, Various sports. George is a retired teacher who continues to volunteer for the many sports he coached when he was still working.
Diane Stemberger, Skating. Diane has been involved in skating for over 25 years as a coach and volunteer.
John and Adelaine Traverse, soccer. For 20 years this couple has been coaching soccer and doing whatever needs to be done to keep soccer going in this community. In the acceptance speech John mentioned others who have been volunteering and then pointed to Dr. Susan Rohn who has now taken over reins of leadership in soccer.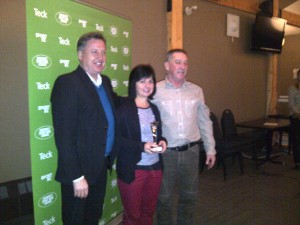 These individuals are all deserving of recognition. All very humble in accepting the honor but for each one it is obvious that they contribute countless hours to the sport because they love the kids and want to help, they deserve this accolade and much more.
Having raised five children I understand the value of the time and energy they have committed for so many years.
As mayor I thank you for the many hours of dedication you put towards sport.
On behalf of Council and our entire town, Congratulations and thank you for everything you do, you truly are HEROES.
Posted by admin in : News ,

add a comment
The past month was a whirlwind of meetings, convention, conference, the Lieutenant Governor's visit and many more interesting events.
Wanting to provide an experience a little different than usual council took Her Honour Judith Guichon to Castle mountain for a breathtaking view of Fernie and a small reception, a display of dirt jumping, a tour of the mine rescue and miners walk and a public reception at the Library.
Two days of meetings at Regional District followed and then Mine Rescue competition won by our Coal Mountain Team. It was a pretty exciting to hear they had won over teams coming from the USA and Canada.
I met the descendants of William Fernie who donated original letters from Fernie, the family loved our beautiful museum and our town and the letters will add some much needed personal information on Fernie.
The elected officials meeting was hosted by RDEK and Area A Mike Sosnowski this year with representatives from southern Alberta as well as mayors McKerracher, Halko and council members and staff . This provides opportunity to find out what everyone is doing and to cement good relations with elected officials in our neighbouring province.
The next day Mayor Halko, McKerracher and I flew to Vancouver to attend the Coal Conference. This was Lois's and my first attendance but Dean has been before and it was quite amazing to see him in action. He is not shy about going up to people and introducing himself and in no time we were chatting with attendees from around the world regarding coal and other related businesses. Teck senior vice president and chief operating officer Ian Kilgour acknowledged our presence to the attendees and thanked us for attending.
Past owner of Grand Cache Coal Robert H. Stan was presented with the Award of Distinction and in his address mentioned working at Fording saying "It was an interesting time in the eighties. In 1986 the bottom fell but in 1987 there was a correction in the coal market, I started to understand and enjoy the coal business, we were first to sell coal into Iran and Europe, in order to be successful I had to set out to find smart people.Working with tremendous amount of good people helped me look good, learned from them to appreciate and I worked with most talented people you can imagine, the team made my job much easier than it should have been, but now we need to get facts out, not emotional, coal is the most abundant energy source on the planet, it has fueled and will continue to be the economic growth in the world, if you suffer energy poverty, coal will make the better able to develop societies with cheap energy, developing nations will not accept it but it is an honorable business, steel coal fired plants are here to stay".
During the three day conference there were panel discussions and presentation by leading authorities. Analysts, consultants, presidents and vice- presidents, and general managers spoke led by moderator Gerard McCloskey, accepted as a world authority and adviser to numerous banks, power, steel and coal companies globally as well as addressing European and British parliamentary assemblies and committees. He is also a journalist working for the Financial Times as well as being press secretary to ministers in the Margaret Thatcher government.
I came away from this experience realizing that this Valley is well known and that many of the big names had cut their teeth working in the local mines. It was also obvious that coal mining is considered to be the one economic driver that can boost a country from being poverty stricken to one with a great standard of living. It was articulated that it is required to put the facts out that coal is not the awful thing made out to be by some although they also want to make sure that everything possible is done to mitigate any negative effects of resource extraction.
UBCM followed with a meeting on Sunday evening of the Highway 3 coalition of mayors who have identified priorities some of which have been addressed. Locally Alexander Creek Bridge, Sparwood passing lane, Olson Crossing, Galloway Flats and Wardner passing lane have all been completed. Creston will get a signalized intersection at Pine and Highway 3 where the grain elevators are as part of a total realignment of the intersection. At the meeting with Premier Clark and Minister of Transportation Todd Stone I got a surprise bit of recognition with the Premier requesting a photograph with me before one with the entire group.
The schedule of events at this conference is huge. It begins at 7:00am and ends late in the day. Besides the tours, clinics and forums there are meetings with ministers. I attended the Mayors Caucus on Monday and the Resort Municipalities meetings where we heard four success stories form different communities. The next day there was a West Fernie Servicing and Restructure project meeting with Minister Coralee Oaks, separate meetings with Minister Stone and Minister Thomson regarding Elk River assessment, meetings with BC Hydro regarding the substation and placing lighting along portions of highway three leading to Dicken Road as well as attending plenary sessions and voting for new members to the UBCM executive. A highlight was keynote speaker Stephen Lewis who spoke about the horrors of the AIDS epidemic in Africa as well as global efforts to address sexual violence.
Back home Saturday I was honored to give an address as mayor to the classes of 1962, 63,64, and 65. Eighty people gathered at the Best Western ballroom to enjoy an evening of reminiscing and catching up with old friends. As these were all people I knew it was wonderful to speak with them some of whom I haven't seen in over forty years.
Sunday was the grand opening of the energy diet program and the new playground at Max Turyk.
Monday was a public hearing for the RDEK and a regular meeting of Council that proved to be anything but regular as the contentious topic of home based business changes to Area A affecting Hosmer and south was on the agenda. After hearing the delegations speak Council shifted their decision to not support this request.
Tuesday had a meeting of the CBT Community Directed Funds with RDEK planner, mayors, director of Area A, representatives from the valley and CBT and Zumundo the company hired to do consultation with all communities.
Wednesday brought another public meeting for the RDEK in Hosmer Hall, Thursday a meeting with Columbia Power reps and Friday meetings regarding a number of initiatives in the works for this area.
A highlight was the grand opening of the Museum held on Saturday, Sunday evening was a tribute to retiring minister Dennis Williamson of Trinity Pentecostal church and Monday ended the month with a grand opening of the newly modernised Seniors Centre thanks to Jim and Alice Booth and executive of the Centre.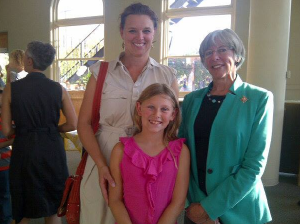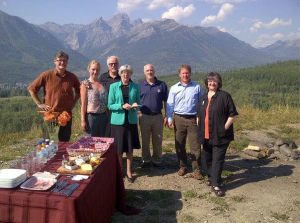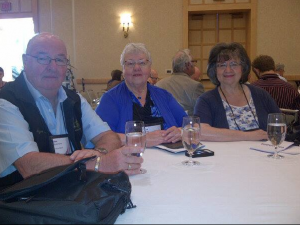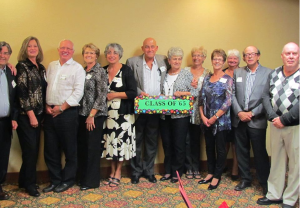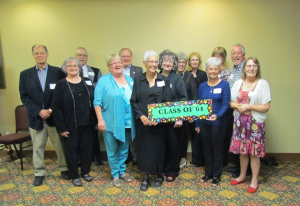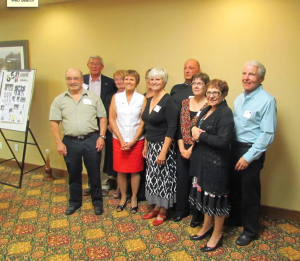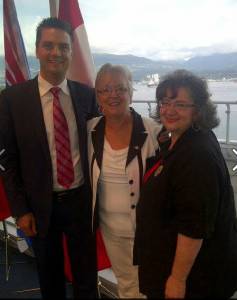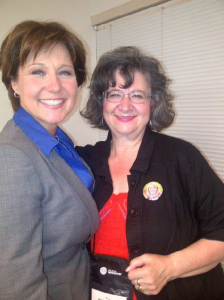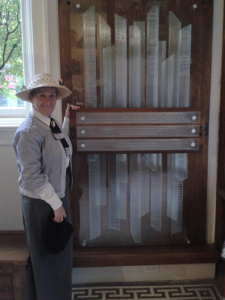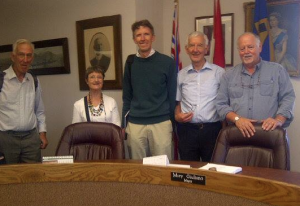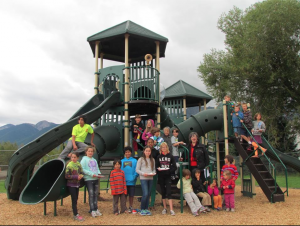 Posted by admin in : News ,

add a comment
A highlight for this month was the grand opening of the Museum held on Saturday September 28 with a Heritage tea with three sittings complete with guests dressed in period costumes. Laura Nelson welcomed everyone and said how excited they were at the beautiful space. She pointed out the silver tea service being used at the head table owned by Claire Wilson that has been in the family for more than a century and thanked the many sponsors that donated so much to making the tea a success.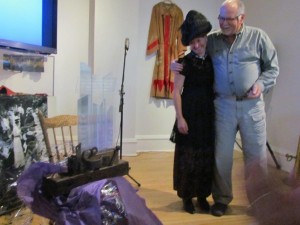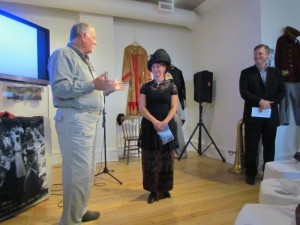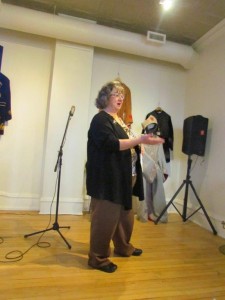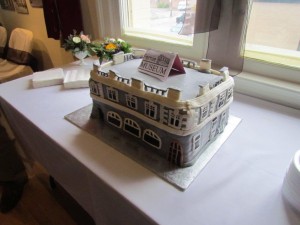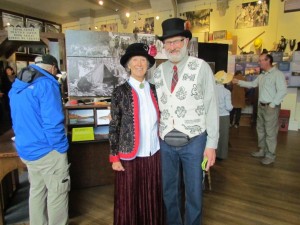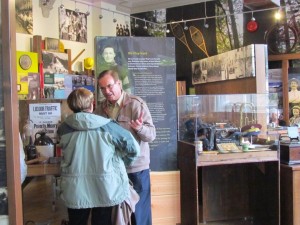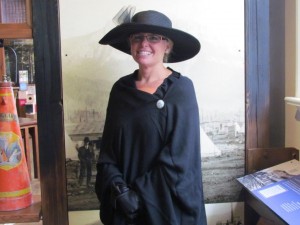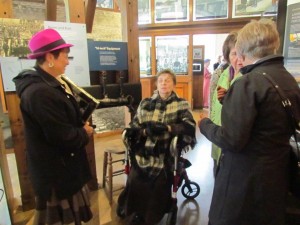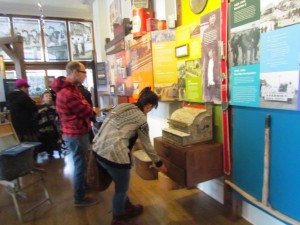 Lindsay Vallance, Tracey McGuire, Lisa Aasubo, Tanya Laing–Gahr not only greeted guests as they came into the museum they also performed a very enjoyable skit about life in Coal Creek.
The ladies captivated the guests as they had tea with their English accents and conversation from a bygone era and place.
For this special event the most minute details were completed from the period costumes worn by elegant servers Terry and Alana Tombasso, to the linens, fresh flower centerpieces, delicious high tea sandwiches and desserts to the favours, tickets and cards, decorations and photos on the walls, the entire event was most wonderful to attend. Later that afternoon an official unveiling was done of the sponsors and donors with a slide show presentation, exhibit design overview by Steve Kuijt, Mike Pennock, Lee-Anne Walker, and Natalie Fisher. As well an old fashioned Photo Booth by Jamie Hide offered fun photos for everyone.
Next were major donor guest speakers including myself on behalf of the City, MP David Wilks who said that Fernie is the only place in the valley that has historical buildings and that we should preserve as many as possible as those buildings are the history left behind long after people are gone and Nic Milligan of Teck Resources who commented on how beautiful the Museum is and how Teck is pleased to be a part of it.
Master of Ceremonies was performed admirably by Randal Macnair. A cake in the perfect shape of the Museum building was cut and served with lemonade and a delightful trio of gorgeous young ladies sang.
Sponsors for the tea were Freshies, Big Bang Bagels, CP Catering, Bunches, The Green Petal, Beanpod, Fernie Tea and Coffee House, Overwaitea, Carosella, Rocky Mountian Chocolate factory, The Fernie Academy, City of Fernie, Fort Steele Heritage Town, Cameron's, The Bridge Bistro, Jamie hIde Photography, Claris Media, Teck Resources, IGS value Drug Mart, Sombrowski Family.
A commissioned Donor Recognition Panel designed by Melanie Greenaway and created by Stephanie Rogers using reclaimed glass salvaged from light fixtures was unveiled to the delight of those present.
Thanks need to be expressed to the Historical Society members past and present, incredible volunteers, amazing generous donors and all that worked to make this wonderful building come alive.
What this group did took courage and ingenuity; they showed that even in rough times it is possible to think creatively. With vision and leadership they went for what seemed impossible and were able to inspire others to donate time, money and material towards their dream.
What seemed improbable years before has now become very tangible.
This museum is something that not only tells our history beautifully but also shows how much heart and soul the people of this community had and still hold.
Posted by admin in : News ,

add a comment
July was full of hot days but August has a morning chill giving notice that summer will soon be over. Hot days didn't stop work and at City Hall we have been pretty busy.
The June flooding prompted a joint local Government discussion regarding cleanup of the Elk River with representatives from the RDEK, District of Sparwood, District of Elkford, Teck Coal ltd, Canfor Corporation, Tembec, Elk River Alliance and interested members of the public. This initial meeting led to an agreement to share mapping information and ask for a meeting with different Ministries at the UBCM convention this coming September.
A follow-up meeting at City Hall was held August 14th with the above and with the additional attendance of MLA Bill Bennett, Jeremy Zandberger Ministry of Forests, Land, NRO, Kristina Anderson MFLNRO-Water Stewardship, Wes Shoemaker Ministry of Environment, David Curtis Ministry of Justice, Antoine Berrault Ministry of Forest, Lands and NRO and Dwayne Boyer who provided a video presentation on the aerial assessment of several sites along the Elk River and tributaries to assist with defining future activities required for flood protection. Previous to the meeting Director Sosnowski took Bennett and Ministry personnel on a land tour of some of the areas affected to view changes and damage.
Ensuing discussion was in regards to funding sources, utilizing trees and finding good rock to place in the river, responsibility for this work, streamlining process, studying only certain sections of the river, working with the Federal Government, having all levels of government working together as there isn't funding to do mitigation from one source, issue of private land, need to remove the river from high points and being pro- active before another flooding event happens. At end everyone agreed to ask for a meeting with the associated Ministries at UBCM. We want to thank Mr. Bennett, Mr. Shoemaker, Mr. Zandberger, Mr. Curtis, Ms. Anderson and everyone that attended this important meeting. The Elk River means a great deal to the entire Valley and this display of concern is encouraging.
The Beautification committee thanks everyone in the community for their support of the Fernie in Bloom initiative; the town is looking good with the "Mountain themed" flowers of white, yellow, purple and red. Although we have lost parking spaces with the patios people have noticed the vibrancy and colour they are contributing to downtown.
Proliferation of gophers and weeds has caused some residents and visitors to perceive that the City of Fernie doesn't care about the Cemetery; I can reassure you that isn't the case. I care a great deal as both my parents are buried there and changes will forthcoming next year. The Cemetery Committee is now in place and will work towards attaining a visible symbol to honour those that have no final resting place.
The Leisure Services Master plan was presented to council with recommendations previously discussed such as relocating the arena, curling club and community center to the Aquatic Center grounds. BC Hydro is proposing to upgrade the Fernie substation, the new soccer field at Max Turyk is in progress and already looking pretty impressive, new playground equipment has been installed at Max Turyk as well.
Ghostrider President Anderson has asked for support for the installation of new marsh pegs, plexi glass above the visitor's penalty box and the painting of lines and circles for the hockey ice markings instead of using paper and council has requested BC Transit to consider a Handi Dart bus door to door service for seniors and those with disabilities within Fernie.
A Development Cost Charge Update is being worked on, as is a plan for local reduction of home energy and organic waste and the Official Community Plan update could be finalized by the end of this year, thanks to a volunteer group that has been working in conjunction with the hired consultant. Congratulations to Ecole Sophie-Morigeau, the Francophone School opening its doors this September at Max Turyk.
September 6 & 7th will see the National Western Regional Mine Rescue Competition hosted here in Fernie. Mine rescue is very important to our communities, they are sometimes the first people to come to an accident and their strong training contributes greatly not only to the workplace but to the community as a whole. So please come out and support the competitions
Posted by admin in : News ,

add a comment
July 21, I listen to Corus radio's Roy Green show as I usually do when travelling home from visiting my daughters in Calgary.
This day Green was talking to a man called Walter and his son Alex about bullying.
For over five years 16 year old Alex has been the subject of bullying tactics by peers. Green commented that at times it was so severe that suicide became the only way out for Alex.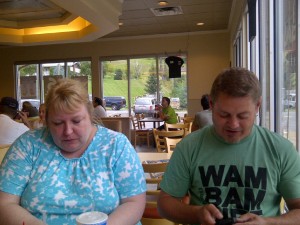 This compelled Walter to leave his job to care for his son for six months. He returned to two jobs trying to catch up when one day as he was going to head out to the evening job he heard a commotion outside. In his driveway was a group of kids attacking Alex. Walter screamed at them to leave but one kept pounding away until Walter intervened and pulled him off. When the kids left Walter called the police and told them what transpired. What happened next became a nightmare for the family. The police charged Walter with assault; the case took two years during which the stress of the situation got the better of the family with Walter suffering a breakdown, his wife developing severe arthritis and depression resulting in both being off work. For two years they used savings to cover legal costs to fight the charges eventually dropped and now with no savings left and no jobs they are losing their home.
Green was adamant on his show that these "are good people that have suffered bad luck", saying he had followed this story for two years and knew the information was legit. He emphasized this family was in this situation due to bullying something Green feels strongly about and has done several shows on.
He then went on to say that Alex had been picked by the Amanda Todd Foundation to go on a trip to Toronto with Carol Todd, mother of Amanda, the teen who committed suicide last year because of bullying and put requests out to listeners.
"Is there a resort in BC that can offer Walter and his wife some respite during the time that Alex will be in Toronto? Is there a realtor willing to sell their home for a reduced commission so that they don't lose their home entirely?
As I listened to Green's plea I contemplated on how bullying had unleashed a chain of events causing a normal family with jobs, home, and a loving environment now in a situation of having no income, sick and homeless. I thought how easily this could happen to anyone at any time.
The next day I emailed four Fernie accommodators with text from the Roy Green website to collaborate the request. Three replied immediately, I had to call several radio stations to get a message to Green who was elated that strangers had responded saying that a realtor had also called to help.
Walter and his wife have come and gone, they said the trip here was wonderful. They admired the scenery, Main Street, the mountains encircling our town, the Ghostrider image, the beauty and peacefulness of their surroundings. Most of all they marvelled at the generosity of Fernie and the people they encountered.
It never crossed my mind when I reached out to this couple that have now become friends that Fernie would get so much publicity for this. The Roy Green radio show is heard on the Corus network coast to coast, the US and online internationally. Last Saturday's show that I was part of was heard by Doug Ford who called in to say that he would take the boys to Toronto City Hall and dinner with the mayor. Green says he will do a follow-up show with Walter and Alex to talk about their trip.
Walter is so positive with the generosity he has encountered from Green and others that he wants to be called by his first name as up until they have been referred on air by middle names. Dave and Brenda asked "How can we ever thank these people? (In Fernie) I replied that I would do it for them.
Mike McPhee and Island Lake Lodge, Matt Mosteller and FAR, Shelley Le Strange and The Best Western, Marnie Green and Park Place Lodge, Tarun Patel and Dairy Queen, Martin Brock and Chocolate Factory, Carosella, Sue Hutchinson-Bawden of Evolve Inc, Simon Howse and Shelley Macgregor of Spa 901, Kim Serwatkewich and Mirror Images, Sarah Parry, Judith Johannsson and Ghostrider Trading Co., Nick Giuliano, Mike Sosnowski, Gail Adams, Joe Warshawsky, Ellen McCauley, Alice Ferrarelli, and all of the staff members, Thank You all so much for your contribution towards this family. What you all did wasn't just the material, you gave what was much more important, the thing that touches the heart and soul of a person, you gave love by your generosity and that is something that is invaluable to life.
I hope I haven't missed anyone and know that had more Fernie people been approached there would have been more contributions as this town comes through for those in need whenever they are called on.
At the risk of sounding maudlin this town is simply remarkable with the kind of citizens that call it home. You are simply the best people, because although it is the fabulous natural surroundings that bring visitors here it is the people that make the town the fantastic place it is and a place I am so proud to call home.
Posted by admin in : News ,

add a comment
After months of planning, working and fundraising the Fernie Trails Alliance held the grand re-opening of the Coal Creek Heritage Trail. The directors of the Trails Alliance and guests gathered at the bike hut by the Aquatic Centre and after a brief introduction by Terry Nelson everyone walked around the hut to check out the new kiosk interpretive sign.
From there everyone went by vehicle or bike to the official start of the trail where long-time director, trail builder and Trails Alliance president Terry Nelson pointed out the newly erected sign with the top left image of the iconic Ghostrider symbolizing the new style of signs that the City has adopted.
From there a leisurely hike was enjoyed along the trail that is cleared and easily walkable. What makes it very pleasant is not only the surrounding scenery of trees, wild flowers and grasses but also the 12 interpretive signs strategically placed to explain what the ruins that are clearly visible once were. It is a pleasant hike that is punctuated by new walking bridges over clear picturesque creeks, a bubbling sulphur creek and along the way rusty artifacts and old stone walls that once were thriving mine offices, shops and other important buildings that made up the Coal Creek Mines and the town site itself.
This hike was particularly meaningful as Pat Gilmar, a member involved for over 25 years was also present to talk about the work that had been done to make this trail possible as was Bernie Pulsifer and Ian Stokie. Doug Temple from Tembec was present as was Museum curator Mike Pennock who has a lot of knowledge of the history of Coal Creek and Dr. Macbeth, Doug Feeley, and Julie Kelly, the new manager for the Trails Alliance.
The Fernie Trails Alliance is made up of the Fernie Trails and Ski Touring Club, Fernie Mountain Bike Club, the Fernie Nordic Society and Island Lake Lodge.
Thanks and Congratulations go to all the members of this group of volunteers who are responsible for building, maintaining and enhancing the trail network in and around Fernie. This work is significant and very important both recreationally and economically to our town. To view some of the kiosk interpretive signage click below: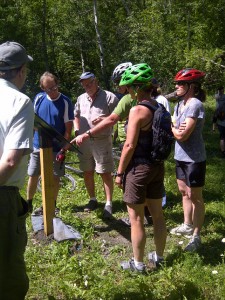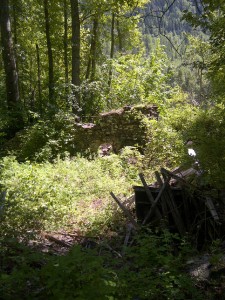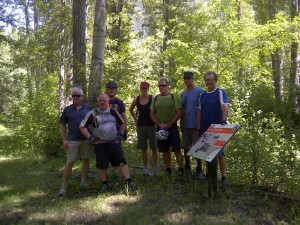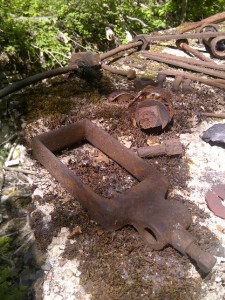 Posted by admin in : News ,

add a comment
This past Thursday Rocky Mountain Village held its annual barbecue for residents and family members. A hot summer day with just enough breeze to make sitting outside a comfortable experience for everyone and a pirate theme for table decorations and residents made for a fun afternoon of family, friends, music and food. Lindsey Mucha, RMV recreation director extended thanks to several organizations for donating the use of tents and chairs as well as providing other items to make the event a success.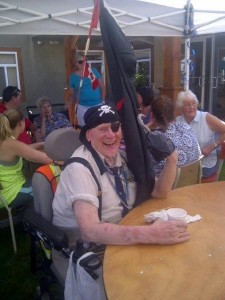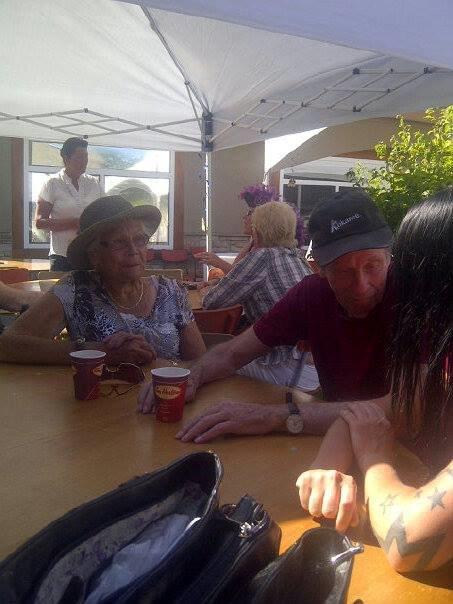 As mayor I was asked to provide a short update on Fernie happenings but I also touched on how residents have raised families, worked and contributed to Fernie and other places they called home. These residents were great providers and important members of communities at one time and still contribute by reaching out to newcomers to the home and by staying as healthy as possible both socially and physically so as to enjoy as good a quality of life as possible.
It is so easy to put the accomplishments of our seniors out of our minds when they are no longer visible in the community but I believe that we must always remember that the many amenities that we enjoy here like the Library, Arts Station, Museum, Aquatic Centre, Seniors Centre, all and more were achieved due to the volunteer initiatives of many of the people that are now of senior age and that most if fortunate enough to reach into the eighth decade or further need to call Rocky Mountain Village home.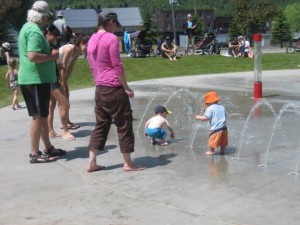 I was also privileged to deliver Congratulations to the Fernie Secondary School grads on behalf of Council. I noted that they have communication tools that I couldn't even have imagined when I was that age and that famous activist Nelson Mandela said "Education is the most powerful weapon to the world".
I suggested that they should find what ignites their passion and throw themselves into it, express gratitude to everyone who helped bring them this far and not to be afraid to say when they are wrong, or ask for help when in need. I also presented the Youth Achievement award to Cera Atherton who has an impressive list of accomplishments, 80 skating medals, volunteer coach for sports both in elementary and high school, organizer of Trash Bash, volunteer with Lions for ten years, Salvation Army for five years just to mention a few and truly a shining example of the great youth we have in Fernie.
Judith Johannsson was awarded the volunteer of the year award for Area A from the Regional District. Judith has businesses downtown and certainly deserves this honor for the many organizations she volunteers for and contributes to in Fernie. Congratulations Judith.
Long Service awards were presented to several City employees 20 years went to Dave Froese, Doug Mitchell and Kim Sedrovic, 15 to Barb Carrick, Sharon Switzer, Gino Guzzi and Allison Uphill and 10 to Randi Goertzen and Garret Sowchuck. A special presentation was made to retiring Fire Chief Shawn Ivany. Congratulations everyone.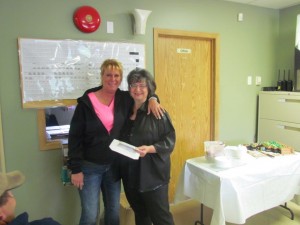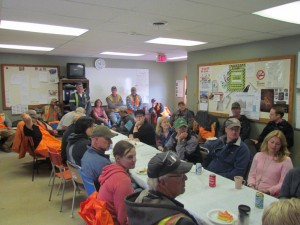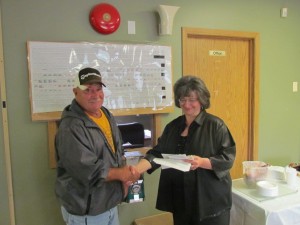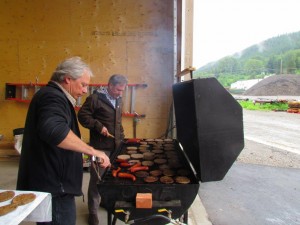 June 15 saw the annual Veterans 'Dinner held at the Legion Branch #36. A delicious dinner of roast beef and all the trimmings was cooked up by the Legion Auxiliary Ladies. President Terry Rimmer gave a short speech to thank the Veterans and MC was Derek Marshall.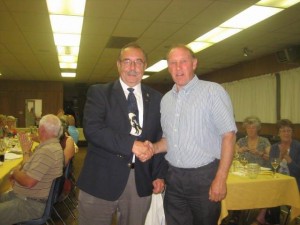 You may have noticed the ads regarding the proposed BC Hydro Substation Upgrade Project in Fernie. This was presented to Council, with feedback that included asking for the entire substation to be moved elsewhere or enclosed and landscaped so as not to be as noticed. Sue Foster of Hydro said she understands that the esthetics are very significant considering the present location but that the existing structure is approaching peak load capacity and needs to grow. It is not slated to be moved and if not allowed to progress the result could be an alternate location of supply some distance away from a neighbouring substation which doesn't sound like a positive move for us.
There was a fantastic turnout of people for the official community plan consultation held last month. People were placed at different tables with a couple of chapters to study and comment on. The feedback was very positive and well received by the consultants. Thank you so much to everyone who took time off from work and busy schedules to attend this session.
The Community Directed Funds Committee made up of Elk Valley mayors, Regional District directors and community reps will be interviewing potential candidates next week to take on the job of consulting the public in the entire Valley to research what project would be of benefit to the entire area.
Special Thanks go to everyone who helped in any way during the flooding situation in our area. From staff at RDEK, City of Fernie and especially all the amazing Volunteers that came out to help without even being asked, a heartfelt thank you hardly seems enough. There was a lot of anxiety in many areas and the show of support was tremendous. Congratulations to all of you.
Posted by admin in : News ,

add a comment
In 1989 I returned to Italy for the first time since immigrating to Canada. After landing in Rome I turned on the radio of the rental car eager to hear Italian melodies only to be blasted by familiar American music.
Last month, needing a dose of Italy, I booked the Venetian Hotel for my first trip to Las Vegas so that I could experience the Venice Grand Canal replica replete with singing gondoliers.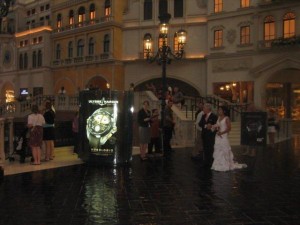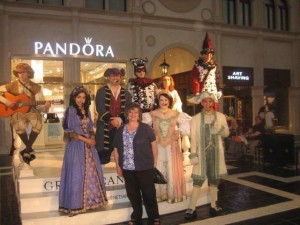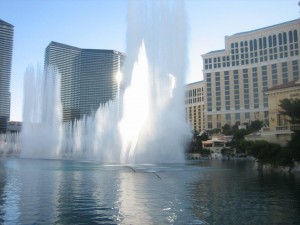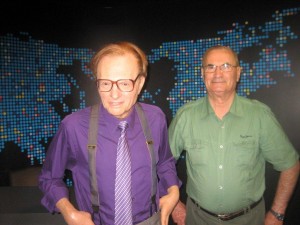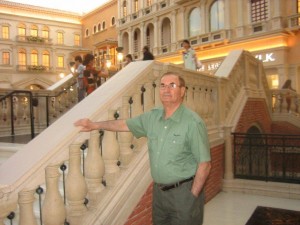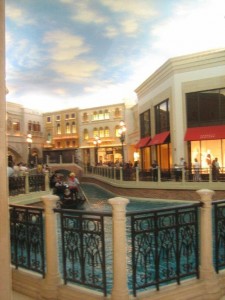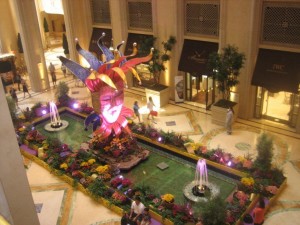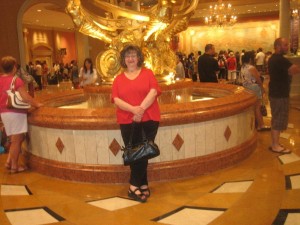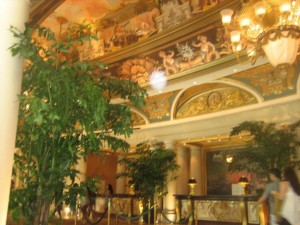 I had no idea that this hotel would be a trip back in time. What I wanted to hear on trips to my birth country was gifted to me by the city that never sleeps. That description is very apt as arriving at the hotel at midnight the streets were full of activity.
Inside, over a hundred people lined up to check into the hotel, a map accompanied direction on how to find our room. A maze of hallways and two separate elevators finally took us to the number on the key card only to discover it wouldn't open the door. Calls to the front desk were futile and I finally made my way down to the front lobby waiting in line again to be told that they had made the error and given us the wrong room number, for that they would provide a credit to be used as we wished.
An hour later we were finally ensconced in a large, lovely suite and imbibing a bottle of water costing more than a dozen would at home but after the long day and exhausting maze of hallways I was feeling a little cross and not thinking about prices.
The next morning I ordered my first room service, starched white linens, silver dome covers, delicious food, I could certainly get used to such luxury rather quickly.
Nick and I went on a tour of discovery of the Venetian Hotel and its sister the Palazzo joined by an indoor bridge.
We saw magnificent frescoed ceilings reminiscent of the Sistine Chapel and St. Peter's Cathedral in Rome, stunning pillars and marble floors. Huge framed images and potted palms, fountains and ornate chandeliers so lovely that they left me breathless. In the Palazzo lights are in the form of walls of crystal, the décor is simply decadent.
Accordion players dressed in red and white striped tops and black bottoms played the tunes I recalled as a child, ten feet tall puppets, court jesters, jugglers and women in sumptuous dress strolled leisurely down hallways.
In the Grand Canal, gondolas glide slowly by as gondoliers croon traditional Italian songs and spectators clap in appreciation. In the square there is regular performance of music and acts including living statues that makes it fun to watch startled visitors realize the statue is a real person.
We observed a real wedding ceremony take place on the bridge over the canal, checked out the clerk dipping huge strawberries in Godiva chocolate, ate breakfasts in an outdoor café, and lunch at Zeffirino, a restaurant overlooking the Canal, renowned for its food and its lush elegant washrooms.
The Venetian hosts the two hottest nightspots in Vegas, Lavo and Tao. We wondered where young women dressed in stilettos and fancy attire where headed as we made our way to our room late in the evening, for them midnight was just the beginning of the evening as the clubs stayed open till four or later. This where celebrities hung out I was told, me, I was just happy to catch some zzz's, although thirty years ago I might have joined them to dance the night away.
The Grand Canal Shoppes are high end stores with prices to take your breath away. I held a pair of Jimmy Choo shoes on sale for $2600, a pair of little flats at $1600. Another store selling bags had no prices. I remarked to the friendly sales girl that obviously I couldn't afford anything in the store and she laughed and said the prices were all in her head, the bag I inquired about was only $650. In one shop the sales woman slipped a bracelet around my wrist, I purchased it as it was below $100 and after the other places it seemed a bargain.
In the Palazzo every high couture designer is represented. Window shopping in those elegant salons was fun and interesting.
We walked miles each day touring different hotels, Caesars Palace, Excalibur, Times Square in New York New York, saw a Cirque Du Soleil show, toured Madame Tussauds wax museum, caught a live puppet show, listened to Smoky Robinson's Human Nature and saw Joan Rivers who insulted everyone and everything she could think of, and at the end of the show gave away the potted plants on the stage. We watched the dancing waters at the Bellagio, and all the man-made waterfalls at many of the hotels and had dinner at wonderful restaurants including famous chef Mario Batalli's restaurant. We walked down Fremont in Old Vegas, enthralled by the roof covering the entire street, ate gelato and fried calamari and zucchini.
I now understand why so many make the trip. This City mesmerizes, there is so much activity, so many people, and so much entertainment to suit every taste. It is a place of dreams and I hope to return. If not, I have "Italian" memories from something spectacular and surreal but real enough in the moment that will last me a lifetime.
Posted by admin in : News ,

add a comment
Last Wednesday morning I had the pleasure of hosting 33 grade four students from the French Immersion Classes at Isabella Dicken School and their teachers Mme. Danielle Gibson and TA Mireille Picard.
The students came up the stairs by two and as they arrived I shook each small hand and welcomed them to City Hall.
I took them into the Mayor's office first and showed them the view from the windows handed out City pins to each one and then asked them if they knew how our town had gotten its name.
It was quite heartening to hear the several versions of the Ghostrider Legend from the students and also that they were quite aware of some of the recipients of the Wall of Fame award like Tom Uphill, Ralf Socher and Emily Brydon.
As we moved out of the office I pointed out the beautiful City emblem produced and donated by local resident Rose Watson. They delicately touched the soft texture of the figures as they admired the work.
They met Building Inspector Duane Janssen who teased them about needing permits to be upstairs and then before entering Chambers we stopped to admire the Fernie flag that had been given to Pat and Robert Green's son when he was serving in Afghanistan, he returned it to City Hall with the signatures of the members of his troop. Right next to that is the framed Coat of Arms. Questions were asked as to the meaning of the animals and other items and also what the Latin words (In Montibus Ad Flumen) meant. If I recall correctly it means "In the mountains by the River")
In Chambers they were thrilled to take turns sitting in the Mayor's chair and bang the gavel, and also to sit around the podium and in the staff chairs. Councillor Ripley's granddaughters recognized his name immediately and had photos taken sitting on his chair and in front of his name. It was touching to see the pride on their small faces on seeing their grandpa's name.
The tour included checking the artifacts in the glassed shelving along the top of the stairs, the pen with metal knib and ink pot were quite the novelty as were other items such as the miner's gas mask and ledgers from the Crow's Nest Coal Company. The tour continued downstairs with Suzanne Gerard providing information about the numerous old maps stored inside the huge vault and Lisa Jansen showing how they are now produced on the computer. Dave Cockwell also got to meet the students and asked them a couple of questions and then everyone walked into CAO Jim Hendricks office to meet him.
The students and teachers admired his office and surrounded him asking questions. They would have liked to have seen the basement too but we determined that it was too cluttered at this time and so not safe. Mr. Hendricks jokingly commented that it was too "creepy" as well but that totally piqued the interest of the kids who then got really excited at the prospect of seeing something really fascinating. We told them that could be another visit at a different time. The tour concluded with a look at the Miners Walk exhibit outside.
I thoroughly enjoyed the 33 students who were well behaved and very interested in City Hall and the City of Fernie.
Feedback from one parent a couple of days later was that she didn't know what I had shown the children but that her child had really enjoyed the visit and had spoken about it.
I am pleased to hear this as I believe that it is important for children to see and understand a little of what City Hall represents. They are the leaders of tomorrow and we never know what they might see or hear that could instill a lifelong interest in becoming either a staff member or a member of council. Regardless, just knowing something about your City Hall and the people who work there is a good thing and I invite anyone who wants a tour of City Hall to just call me, I would be more than happy to show you around.