Posted by cindy in : Fernie Ghostriders , comments closed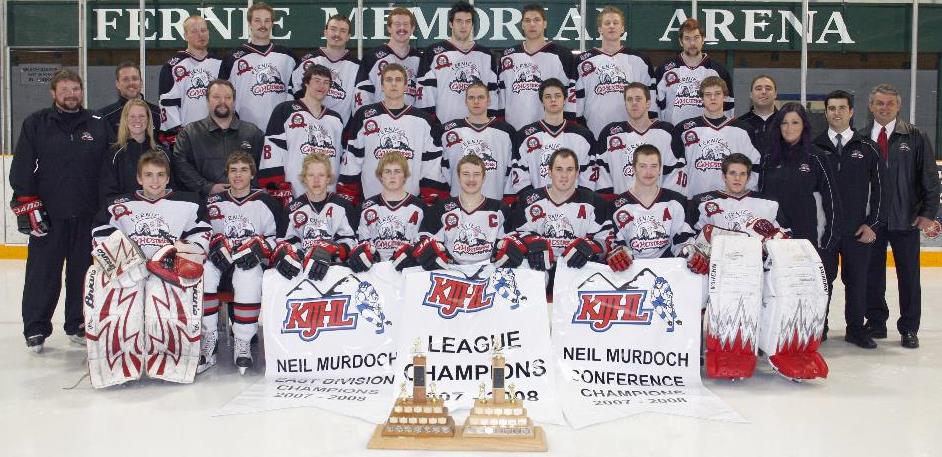 The Ghostriders training camp is just around the corner and starts Friday August 29th running through Sunday the 30th . Coach Will Verner is only bringing in about 40 players for this short intense camp that will see the players go through fitness testing, practices, scrimmages, hikes, inter-squad game and even an exhibition game in Creston Saturday night. All players will be housed and fed at the Community Center right next to the arena.
This year the Ghostriders are planning on only carrying 21 players so the competition will be intense on the Labor Day weekend. The public is more than welcome to come out and watch the players at the camp Friday at 4:00 and the team invites everyone to come out to the inter-squad game Friday night at 8:00. On Saturday there will be practices at 9:00 AM and again at 4:00 for the players who don't go to Creston for the exhibition game.
The Ghostriders can only carry 4 twenty year olds and ended last year with 11. With that thought in mind Coach Verner moved 20 year old Raymond Pressacco to Victoria for the Jr. "B"rights to star forward Jimmy Carter and future considerations. The Riders wish Ray all the best in Victoria.
Exhibition Schedule
In Creston August 30
At home Wednesday September 30 vs Kimberley @ 7:30
At home Friday September 5 vs Creston @ 7:30
In Kimberley Saturday September 6
Posted by admin in : Fernie Ghostriders , comments closed
The defending KIJHL Champion Fernie Ghostriders are gearing up for the upcoming KIJHL season by bringing in a few new players, running a couple of mini camps and completely renovating their dressing room. The Ghostriders Main Camp will be held August 29-31 with a road game in Creston on the 30th.
Head Coach and General Manager William Verner has been hard at work this summer and has already brought in a few new players and a couple of old ones too. One of the first things he did was re-acquire the rights of forward Tim Crawley from the Columbia Valley Rockies in June. After playing on the 2006-07 Championship Rider team and playing most of last year here in Fernie Crawley went to Invermere in January at the deadline. Crawley is a big 19 year old veteran from Cranbrook with a great attitude who knows what it takes to win and should blend right with the Riders again this season.
Another veteran Verner now has the rights to is former Creston Thundercat Adam Taylor. Taylor spent the last three years in Creston where he was known as a gritty stay at home "D" man. So now the stay at home defenseman who was born twenty miles down the road in Sparwood has a chance to play at home too.
At only 15 forward Jordan Hirano was an AP with the Ghostriders last season where he played four games and managed to score his first KIJHL goal in one of them. Head Coach Will Verner liked Hirano so much he has committed one of the two 1992 roster spots to him this year. Verner says "Jordan is a strong member of the community as he coaches a local soccer team, is an honor role with distinction student and is very motivated in the gym".
A few other local players are hoping to crack the lineup this year. One is seventeen year old Zak Traverse. Traverse is a defenseman who managed to get into three games last year as an AP but should be ready to play a lot more this year. He certainly has the blood lines to be a great player as he is Rider Captain Scott Traverse's cousin. And another player with the blodlines is forward Michael Anderson. Michael is the younger brother of Rider veteran defenseman Scott Anderson. Geoff Doka is yet another local with a shot at the roster. Doka is a 92 who played in Castlegar last year and will be competing for one of two 92 roster spots.
Kyle Brennan played with the Ghostriders for a few years and was on the 2006-07 Championship team but took last year off to travel Australia. Brennan was named as the the Most Inspirational Player in his last year in Fernie and everyone was disappointed that he didn't play last year. Kyle is back in Sparwood now and will compete for one of the four 20 year old roster spots.
All teams can have a couple of sixteen year olds on the roster and last year the Ghostriders had forwards Josh McEwan and Brett Lyon and both players developed throughout the year and are moving on. McEwan is headed to Langley of the BCHL and Lyon is going to the Vancouver Giants (WHL) camp. Last year 17 year old defenseman Jeff Zmurchyk played a full season with the Riders and by the end of the year was one of the top two defensemen and was named as the Ghostriders Rookie of the Year. Jeff is going to the Prince George Cougars (WHL) camp this fall. The Ghostriders organization wishes all these young players the best in furthering their hockey careers.
The Fernie Ghostriders are renovating their dressing room this summer and when it's finished the players will have lots of extra dressing room space, a separate training room and a separate skate and tool room. The room should be done by the home opener and photos of the room will be posted on the Ghostrider web site.