Posted by admin in : Fernie Chamber ,

add a comment
The Fernie Chamber of Commerce and the Canadian Home Builders Association Rocky Mountain are hosting their 1st Annual Residential Housing Awards.
If you have built a home or done a renovation in the Elk Valley (Koocanusa to Elkford) then we want you to enter for your chance to win the prestigious award and to be recognized amongst your peers and future clients. The awards will be presented at the 2013 Community & Business Excellence Awards evening on October 24. Nominations for the Community & Business Excellence Awards will open late August and close Sept 20th.
The four Award Categories are:
Best New Home Category under $500,000
Sponsored by Falkins Insurance
Category open to CHBA members
$50 per entry

Best New Home Category over $500,000
Sponsored by Focus Engineering
Category for CHBA members
$50 per entry

Best New Built Green home Silver, Gold or Platinum
Sponsored by FortisBC
Category open to CHBA members
$50 per entry
Best Renovation under $80,000
Sponsored by Fernie Home Building Centre
Category open to CHBA members and Non-members
$50 per entry for members
$75 per entry for non-members
Entry Closes: Sept 20th, 2013
Judging: Sept 21, 2013 to Oct 15, 2013
Awards: Oct 24, 2013
For more details on the awards or the Canadian Home Builders Association Rocky Mountain membership please contact Sharrie Paulsen at info@chbarm.com for details.
Established in 2003, Built Green Canada is a third party certification program for homes that are environmentally responsible. The "Built Green" name adds value to your home by promoting the use of practices and products that represents resource-efficient and environmentally construction.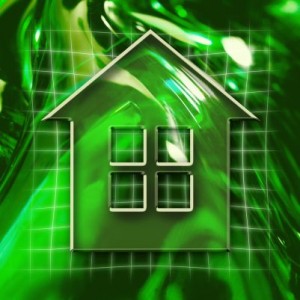 For more details visit
www.builtgreencanada.ca
Posted by admin in : Fernie Chamber ,

add a comment
Each year at the Annual Community and Business Excellence Awards Fernie recognizes those businesses and individuals that go the extra mile to make a difference in our community. One of those awards is presented to a well deserving youth in the community- The Youth Achievement Award. This award used to be presented alongside the other community and business awards in October. A couple years ago we decided to move it to coincide with graduation, and with that there was a much better response to this particular award- more individuals nominated, and more interest in the award itself.
June 2013 will mark the third year that the Youth Achievement Award has been presented to coincide with Graduation. Ballot boxes and ballots can be found here at the Fernie Chamber of Commerce and info Centre, Fernie Heritage Library, Fernie Secondary School and The Fernie Academy, as well as attached to this message.- Voting is open until June 10th
This award is sponsored by both the City of Fernie, and the Fernie Chamber of Commerce and recognizes the contribution youth make to their community and is open to any youth 19 and under, who lives or volunteers in the City of Fernie and surrounding area. This young person has contributed to their community through volunteer service, and has demonstrated leadership abilities.
Thank-you for taking the time to help recognize a well deserving youth in our community!
Click here for the nomination form: youth achievement award 2013
Posted by admin in : Fernie Chamber ,

add a comment
On Thursday April 25th the Fernie Chamber of Commerce hosted its annual General Meeting at Lizard Creek Lodge. They event drew 55 guests and a sincere thanks to those that attended.
A Special mention is extended to the AGM sponsors;
The Free Press, Teck, Fernie Real Estate Company, Grow Children's and Maternity, Investors Group, Isosceles, Koocanusa Lake Campsite and Marina, IGS and TD Canada Trust.
Martin Brock of the Rocky Mountain Chocolate Factory provided great chocolate treats and all those who kindly donated door prizes.
Thank you to Dr Mike Rumpel – Our Guest Speaker.
Special thanks to Lizard Creek Lodge who's staff provided fantastic service and a wonderful breakfast.
At this time we would like to introduce our new Board of Directors:
Todd Fyfe
Ryan Doehle
Tanya Utenda
Tammy Ogden
Sheila Byers
Aysha Haines
Ev Cutts
Mel Mackay
Vanessa Croome
Tristan Woods
Jill Barclay
Andy Cohen
City representation – Councillor Willard Ripley (non voting)
Posted by admin in : Fernie Chamber ,

add a comment
The Fernie Chamber of Commerce Annual General Meeting reviews the years financials, has a managers report, and elects new directors for the coming year. This year the format and timing has been modified to include a deluxe breakfast buffet!
Timing:
8:15am– Coffee Reception
8:30am-9:30am– Breakfast Buffet & Speaker
9:30am-10:30am– AGM Business
We invite you to make a difference in Fernie!
The Fernie Chamber of Commerce is inviting nominations for the 2013 Board of Directors
Who are directors?
Directors are people like yourself, who have taken a keen interest in creating a welcoming business climate in Fernie. They believe that the business community has a responsibility to the community as a whole, and that as individuals, working through the Fernie Chamber of Commerce, they can make a difference. Directors are leaders with a sense of direction and a strong desire to be part of a team that works in their community.
What do directors do?
Directors participate in the governance of the Chamber of Commerce, determining the focus and direction of the organization each year. Directors actively participate as representatives of the business community at various events, and meetings with all levels of government. Directors participate in committees that suit their skills and interests.
Where do directors do their work?
Directors meet at business functions and events, however, they also offer their services from their place of business as time allows.
In short – they're at work in the community.
When do directors meet?
Directors meet in the Chamber of Commerce Board Room on the second Thursday of each month.
Speaker:
Dr Mike Rumpel, B.Sc., DC
"Wellness at Work"
Cost:
Free for Fernie Chamber members, $30 for non-members
RSVP:
Seating is limited, reserve your spot before April 18th by calling 250-423-6868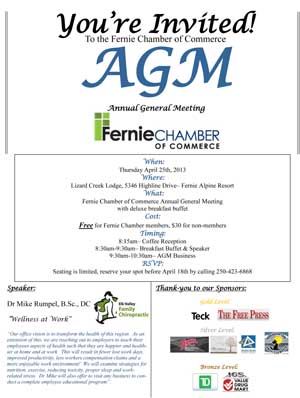 Posted by admin in : Fernie Chamber ,

add a comment
For those of you that haven't heard, Fernie is having our very own Black Friday Shopping event on Friday November 23rd!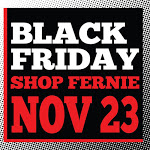 Lots of businesses are participating: Bunches, B2, Rocky Mountain Chocolate Factory, Giv'Er, Grow, Clawhammer Press, Freyja, Boardstiff,
Green Petal, Heaven Boutique, Ghostrider Trading Co., Odyssey, Carosella, Barkside, The Loaf, Cottonwood Tree, Side Street Sweet Shop,
Fernie Brewing, Bear Necessities, Hempire, Polar Peek Books, Elk River Guiding co, Extra Foods, The Free Press, IGS, Trillium Day Spa and more…
Retailers–If you don't see you name on this list, but would like to take part, please respond to us here at the Fernie Chamber before November 9th.
Visit Our Website for FULL Details. www.FernieBlackFriday.blogspot.com
Posted by admin in : Fernie Chamber ,

add a comment
Thank-you to everyone who came out to the Fernie Community & Business Excellence Awards evening last night, it was a great success!
Here are the results:
Citizen of the Year: Stephanie Rogers
Entrepreneurs of the Year: Vanessa Croome & Krista Turcasso of Claris Media-Fernie Fix Magazine
Young Entrepreneur of the Year: Naomi Lentz of Heaven Boutique
Outstanding Customer Service: Freshies Coffee Company
Fernie Business of the Year: Fernie Brewing Company
New Business of the Year: Country Animal Hospital
Community Impact Award: The Arts Station
Chamber Business Excellence Awards: Rocky Mountain Chocolate Factory
Youth Achievement Award- given at graduation 2012 in June to: Jessica Teeple
A HUGE congratulations to all our winners, as well as all the nominees, you are Fernie's finest!
Thanks again to all of the award sponsors- without you this evening of recognition would not be possible…
The City of Fernie, GPI Chartered Accountants, Community Futures East Kootenay, Finning, Teck, Fernie Alpine Resort, Columbia Basin Trust, Fernie Real Estate, The Free Press, and The Fernie Chamber of Commerce.
A special thanks to:
Bunches Flowers & Gifts for the lovely arrangements on each table, Rocky Mountain Chocolate Factory for the chocolate favours, CP catering for the wonderful food & service, and our guest speaker Bruce Kirkby.
Thanks again to everyone involved.
Posted by admin in : Fernie Chamber ,

add a comment
As you are aware the BC Chamber of Commerce recently took a public position supporting the announcement by the government to proceed with the Jumbo project.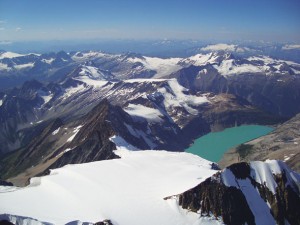 Following this announcement the Fernie Chamber contacted the BC Chamber and expressed concern raised by one of their members regarding potential impact of this development on existing communities tourism business. Further to this the Fernie Chamber Board also requested clarification regarding the process of the BC Chamber consultation regarding consultation with impacted chambers prior to taking a public stance.
Impact on Existing Business
The BC Chamber has a proven record of supporting significant projects which will benefit economic activity on a regional or provincial basis. The economic benefits of the Jumbo developments are proven to be significant to the region and to the province.
Upon completion the resort will be relatively small at 6,250 bed units (for comparison Jumbo will be about one-twelfth the size of Whistler). Despite this size the resort is still estimated to generate an investment of over $1 billion in the region. In terms of actual projections the project is estimating 700,00 to 800,000 skier days on completion. One of the clear benefits of Jumbo is the fact that the resort will be a year round resort. This will mean that Jumbo will have a summer season of 150 days of operation with a winter season of 200 days.
The role of Jumbo as a year round, global attraction should not be underestimated. The nature of the resort and the skiing opportunities it will present will give Jumbo a significant advantage in the increasing competitive global market for resort visitors. Given the highly cyclical nature of the tourism industry this advantage will help the region smooth out any downturn in the global industry by retaining a world class attraction.
Jumbo Glacier Resort will have the longest season, best climate, most reliable and largest snowfall of any ski area in North America. Further to this the resort will also have the largest vertical drop (in real powder snow) in winter and will be the only major ski area operating through the entire summer in North America
In terms of direct immediate economic benefits project proponents have estimated that we will see some $15-20 million a year in construction activity for a period of twenty years until build-out. Approximately 3,750 person years of construction employment will be created. Direct spending by visitors in the nearby communities is expected to reach $4 million annually after three years of operation. Upon completion, the resort is expected to provide 750 to 800 full-time jobs and a $20 million payroll. Taxes generated to all levels of government are estimated to exceed $12 million annually.
The Chamber does not believe this represents a threat to surrounding areas. Experience in other jurisdictions (including Kicking Horse in BC) has clearly demonstrated that these kind of developments do not result in a negative impact on surrounding regions. Indeed, as mentioned above $4 million in direct spending in nearby communities present a significant opportunity to surrounding regions.
Process
It has not been the practice of the BC Chamber to solicit input from chambers on specific issues prior to the issuing of a news release.
In terms of consultation on this project the chamber has been active on this file.
Generally it is important to note that the BC Chamber has been consistent in its supportive for developments that support provincial, regional and local economic development. This is the initial lens through which the BC Chamber views projects such as the Jumbo development.
Further to this as the project was navigating the approval process the BC Chamber was approached by the project proponent to assist in expediting the decision (one that has been twenty years in coming). At this time the Chamber approached the provincial government expressing concern over the lack of a decision and the fact that this unacceptable delay was being driven by politics rather than genuine concerns over the project.
As we became familiar with the project the BC Chamber, primarily through the District Director at the time Mac Campbell, held a number of discussions with chambers in the region on this important issue. These included several District Meetings that were attended by BC Chamber staff John Winter and Jon Garson.
These discussions showed a clear level of broad support by the business community for this project.
It is these factors that provided the basis for the BC Chamber news release regarding the government's decision to approve the project.
It is also important to note that a strong theme of the BC Chamber news release (copied below) following the government's announcement was focused on process. As the Board of the Fernie Chamber will be aware the process for approval of the Jumbo project has taken 20 years, this is despite the fact that the project has met the requirements for such a project. Much of the hesitation is due to local and often very narrow parochial objections.
This is unfortunately a strong theme across BC and the Chamber continues to be on record as opposing these kinds of delays as damaging to the economic growth of communities and of the province. Our support for jumbo was a reflection of the fact that the government had made a decision based on the merits of the project.
I hope this clarifies the position of the BC Chamber on this announcement. If you, or any of your members, have any further concerns or questions regarding the BC Chambers position on this announcement then please do not hesitate to have them contact me and I will be happy to help.
Regards
Jon Garson
BC Chamber Announcement on Jumbo Resort
The BC Chamber of Commerce would like to applaud the BC Government for its foresight in approving the Jumbo Glacier Resort.
"This project has been reviewed to death," said John Winter, President and CEO of the BC Chamber of Commerce. "It's good to see BC sending a clear signal that major projects like these will be judged on their own merits."
The Jumbo Glacier Resort is a proposed year round ski resort located at the foot of Jumbo Mountain and Jumbo Glacier 55 kilometers west of Invermere, BC. It has been involved in a lengthy Environmental Assessment process and has taken years to get to this point.
The impact this project will have on the province will be far greater than as just a ski resort. It will further strengthen British Columbia as world class destination and substantially expand tourism revenue in the Columbia Valley.
"Where major projects are concerned, we very much hope that this is a harbinger of things to come," continued Winter. "There are several major liquefied natural gas and mining projects that are currently in planning, and I look forward to seeing this as the start of a trend where economically crucial projects go through an expeditious and balanced review process."
Posted by admin in : Fernie Chamber ,

add a comment
The region's largest employer is going to remain an economic force in the East Kootenay and the world during the next few years.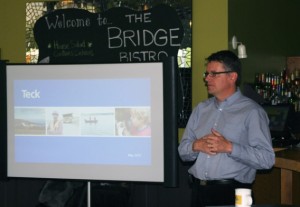 Teck Coal Ltd. manager of Community Affairs and Aboriginal Affairs Nic Milligan addressed Fernie Chamber of Commerce members May 17 during their monthly luncheon meeting, held at the Bridge Bistro (pictured above).
"It's been a banner year for our organization," Milligan said, for both company revenues and safety for employees.
Teck remains the largest diversified mining company in Canada, he said, noting it is the third largest zinc producer in the world and, specifically to the Elk Valley, it is still the largest producer of metallurgical coal in North America and the second largest producer of seaborne steel-making coal in the world.
Milligan said Teck realized "record revenues" last year, with $11.5 billion. It also established records for gross profits ($5.8 billion) and revenue for shareholders ($2.7 billion).
The 321,000 tonnes of copper produced last year was also a company record, he said, adding the companies throughput of zinc was also a record.
Teck, with a 55% expansion in coal reserves (to one billion tones), has 100 years of coal resources, Milligan told the chamber gathering, after first noting information he was providing information about some things that "may or may not happen" with a semi-comedic flare.
Last year also saw the launch of a new sustainable strategy looking at six key focus areas, he said, listing: "water, energy, ecosystem and biodiversity, materials and stewardship of our people. Weère making these commitments real. It's a very exciting time in the company."
Related to the sustainability approach is a regional committee that Milligan has struck, feature regional residents and First Nations. The purpose of the committee is "to see how we can work more effectively with communities in the future," he said.
While the past year was a great success for Teck, the next one may be even better, Milligan suggested.
"We have continued strong demand for our products," he said, pointing at China's expected seven per cent Gross Domestic Product growth for the next five years. Transmission lines and highway infrastructure projects are a-plenty in the worldès most populous nation and it needs steel.
Milligan said Teck expects a 10% increase at its six coal mines in the next year, including the five in the Elk Valley. Annual coal production is expected to rise to 30 million tones and Teck's copper production will double in the next five years.
And it is expected that the Quintette Mine at Tumbler Ridge "will become a viable operation again" because of world demand for coal. The company expects to spend $340 million on upgrades at the northeast mine, but all of Teckès mines have been receiving upgrades.
"Almost everyone of them have had upgrades in the last few years," he said.
New jobs are going to be created by the company in the upcoming few years, keeping pace with recent activity.
The company currently employees 4,300 in its coal workforce and it expects to hire 1,500 more in the next three years, with 500 jobs becoming available again at Tumbler Ridge, with an expected 12 year lifespan.
However, many of the ènewè jobs are coming open due to attrition and retirement, Milligan said, explaining itès part of the Èdemographic bubbleÈ as the large Baby Boomer generation fades into the golden years.
The bulk of the jobs will be entry-level positions, he added.
Teck continues to give back to its East Kootenay communities, Milligan told the approximately 40 chamber members, with $2.7 million invested in 2011 in "projects across the region."
The company currently employees about 1,200 workers from Fernie, Elkford, Sparwood and elsewhere in the Elk Valley. Additionally, about 450 workers come from Crowsnest Pass and many others commute from Cranbrook, Lethbridge and other locales, Milligan said.
Answering a question about where Teck expects to get employees from, as asked by Fernie Chamber manager Rachel Bone, Milligan admitted, "that's an ongoing discussion."
However, being able to advertise the regions abundant natural beauty and lifestyle, helps he said.
"It's stable employment and also an excellent lifestyle," he said.
Source: www.e-know.ca
Posted by admin in : Fernie Chamber ,

add a comment
You are invited to the next Chamber Luncheon being held on Thursday May 17th at 12noon at The Bridge Bistro in Fernie. Our speaker will be Nic Milligan of Teck Coal. As well as a short presentation from Jo Anne Smith of College of the Rockies.
Nic Milligan- the Manager of Community and Aboriginal Affairs for Teck Coal's Elk Valley operations, as well as the Cardinal River operations and the Quintette site, will provide an overview on the current state of Teck Coal, some future goals, and their commitments towards sustainable mining.
Jo Anne Smith-Coordinator of the Workplace Training Program at College of the Rockies will do a short presentation on the Workplace Training Program that has been developed to provide employed workers with training to enhance "real-life" skills and improve workplace performance. This program directly addresses the current needs of businesses, is provided to employers with no costs for training and pays eligible employees approximately $15.00 per hour to attend
We hope you will be able to join us! Please RSVP by Monday May 14th to members@ferniechamber.com or 250-423-6868
Posted by admin in : Fernie Chamber ,

add a comment
Last night (Thurs April 12th), The Fernie Chamber of Commerce hosted their Annual General Meeting at the Chamber office. They saw a good cross section of their membership turn out. Rachael Bone,Membership Services, extends a thank-you to all those that attended & helped to make the evening a success!
Please welcome the new 2012/2013 Board of Directors:
Returning Directors:
Todd Fyfe- Newly appointed Chamber President
Ryan Doehle- Newly appointed Chamber Vice President
Ev Cutts
Tanya Utenda
Dave Hamilton
Sheila Byers
New Directors:
Phil Gadd- Loaf Bakery
Melissa McKay- Grow Children's & Maternity
Hal Murdock- Fernie Ford
Tammy Ogden- Teck Coal
Tristan Woods- TD Bank (missing from photo)
Vanessa Croome- Claris Media