Posted by admin in : Fernie Council Meeting ,

add a comment
OFFICIAL COMMUNITY PLAN UPDATE – PROJECT BACKGROUNDER
At the City of Fernie, we recently launched a project to update our Official Community Plan (OCP). Last revised in 2002, our OCP is one of our most important planning documents. Not only does it establish policies around development and land use, it also gives direction to other community plans, including capital plans, transportation strategies and the like.
Our OCP also ensures that decisions from different city departments (e.g., leisure services, engineering, planning) are aligned and working towards a common direction – a vital, thriving and sustainable Fernie we all want to call home.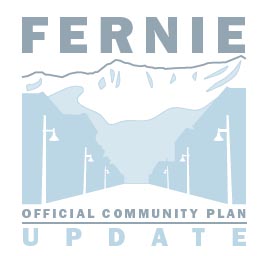 HOW WILL IT HAPPEN?
We will be taking an integrated, strategic approach to updating our OCP. The revised plan needs to maintain the pieces of our old OCP that have worked well, but also needs to address the changes Fernie has experienced since 2002. It also needs to be integrated with all the plans and strategies we've developed over the past 10 years.
Our OCP update will be a community-driven process. We are looking to engage broadly and deeply with residents, business owners, property owners and other stakeholders. We have also brought in an experienced consultant team to help support our staff with this project. Work started on our project this summer and we expect to complete it by winter 2013. The timeline on the following page outlines major project components and expected timing.
WHAT'S AN OFFICIAL COMMUNITY PLAN (OCP)?
An OCP is a provincially mandated regulatory document that provides policies on a broad range of topics including land-use, transportation, housing, parks and infrastructure. OCPs designate land for specific purposes, like commercial/retail, residential, park, industrial, and often provide specific guidelines around the form and character of buildings and streets. Local governments also use OCPs to help guide and support decisionmaking on a number of other important community matters including economic development, transportation, recreation, environmental protection, climate change, arts and culture and more.
WHO'S WORKING ON IT?
We've established an OCP Advisory Committee to help review materials, provide input and reach out to the community. The 15-member, volunteer group is made up of a broad cross-section of Fernie residents, two City Councillors and our Mayor.
We are also working with the Whistler Centre for Sustainability (www.whistlercentre.ca), a non-profit organization that provides community sustainability planning services to local governments across BC. They are working with a larger consultant team of community planners and technical staff that includes EcoPlan (www.ecoplan.ca) and Cascade Environmental Resources Group (www.cerg.ca).
WANT MORE INFORMATION?
For more information email FernieOCP@whistlercentre.ca or visit our project webpage at www.fernie.ca and click on Official Community Plan Update. You can also email a Councillor or contact city staff by emailing cityhall@fernie.ca.
ATTEND THE OPEN HOUSE
For information on the Open House
Posted by admin in : Fernie Council Meeting ,

add a comment
1) Disposal of City Property
Council approved the Lease Agreement between the City of Fernie and the Creative Energy Arts Factory for a portion of the Max Turyk Community Centre comprising 734.64 sq.ft. The Lease term is from September 1st, 2012 – April 30, 2013 with a specified monthly lease payment of $612.20.
2) The Potato Project – Kokanee Movie
The City of Fernie was contacted by representatives of the production company to provide support in the form of road closures, use of City parking lots, access to City facilities Hall for the purpose of filming etc…
Council authorized their support for the above noted requests as well the use of staff time and resources subject to availability of personnel and equipment to support the production provided that the costs are covered by the production company.
3) Design Review Panel – Appointment of Members
Council appointed the following persons to serve a one year term on the Design Review Panel (DRP):
Michael Clark, Robert G. Holmes, Michael Pennock, Stephen Robertson, Arthur Sombrowkski and Laura Weckman.
4) Operation Christmas Child Shoebox Campaign
The Operation Christmas Child Shoebox Campaign gets underway October 1, 2012. To support the local efforts associated with the Campaign, Council declared that the week of October 1, 2012 be proclaimed Operation Christmas Child Week in the City of Fernie.
This year's goal is to collect 6000 gift-filled shoeboxes to be sent to needy children around the world.
5) Monday, September 24, 2012 – Regular Meeting of Council and the Committee of the Whole Meeting have been cancelled.
The majority of Members of Council will be attending the UBCM Conference (September 24-28, 2012).