Along the snow piled highways of the East Kootenay region of British Columbia, there are two mountain towns that share the usual common traits of rural interior BC, mining and forestry. Fernie and Kimberley, deep in the southeastern corner pocket of British Columbia, both have mayors, who are making a difference. I am not saying other BC interior mayors are not doing a good job but I do know that both Ron McRae, Mayor of Kimberley, and Mary Giulano (Mary G.), Mayor of Fernie, are not your typical politicians.
They both deeply care about their respective communities and are relentless in their efforts to make their communities better.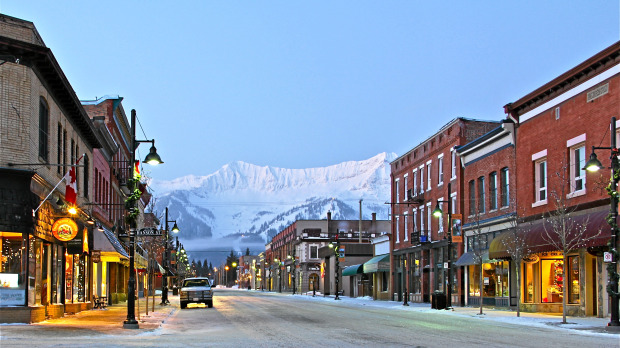 Mayor Mary G, a mom, who raised four kids, has a list as deep as the coal veins of the Elk Valley, of the good that she has done for Fernie as a community activist, volunteer, council member and now mayor. There are not many mayors who have stopped traffic on major highways to do good for their community. In fact Mary G, not only stopped traffic on highway 3, a major transport route from Alberta to BC, in a bid to save services at the local hospital, but she also stopped the flow of water, when an outside company came into Fernie with a proposal to bottle the local mountain fresh water for export. Not only a champion for social causes but a leader who understands the critical need to keep stability between resources, nature, and tourism so people have vital jobs, hunt, ski, fish and enjoy the outdoors.
Just over the Rockies, snugged tight up in the foothills of the Purcell Mountains, on the banks of Mark Creek, lies Kimberley. Kimberley Mayor Ron McRae is reaching to the stars for positive community change. Mayor McRae is a champion of economic development and is looking at all options from light industrial park to a major solar power project called the Sun Mine to move Kimberley forward. Mayor McRae understands the importance of paying tribute to the past and building for the future as he clearly understands the importance of Kimberley's history and people but also is working hard to bring out the Social Capital of the more recent arrivals, who have moved to Kimberley to enjoy its natural assets. Mayor McRae is gifted with the ability to bring out the best in people and align the community behind positive projects that will make a difference.
Too often all you hear is the negative talk about politicians but in the East Kootenay Region of British Columbia, we are fortunate to have talented leaders who are making a huge difference in their respective community.
Source: http://blogs.vancouversun.com
Related posts: