Defending Olympic Games mogul champion Jenn Heil of Spruce Grove, Alta., collected the 22nd World Cup victory of her career, and Vincent Marquis of Quebec City added a silver medal in Canada Post Freestyle Grand Prix action at Canada Olympic Park on Friday.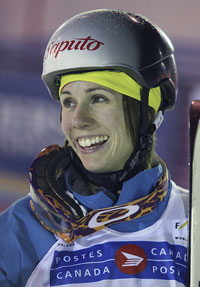 Jenn Heil
Heil won the first World Cup staged in her native Alberta in 20 years. And she did so in convincing fashion, before the 2010 Olympic Games judging panel and after placing third in the qualifying round.
"Honestly, I feel better than ever. I feel like I've won the lottery, to be able to compete at home," said Heil, 26, about the excitement of skiing before family members and so many friends from the Edmonton and Calgary areas.
After placing fifth and third in her first World Cups of the season last month, she said she wasn't skiing in a high enough gear.
"I've really tried to do that, to continue to increase the gear, but I'm not in my top gear yet," she added, alluding to the fact that she's building for the upcoming Olympic Games.
Her winning score of 23.95 came with the help of a strong second jump, an iron-cross back flip, which she modified and improved during training over the Christmas break.
Related posts: