Roses are red
Violets are blue
Relay For Life …
Needs Team Captains like you!
Relay For Life is about a community taking up the fight against cancer. Your community needs you. Relay For Life participants are the heart and soul of the event.
Share your heart this Valentine's Day by joining Relay For Life in your community www.cancer.ca/relay
Thanks to your fundraising efforts. Cancer Research: Living Progress
Need a little inspiration?
Meet Ashley, 9, who raised $1044.
Each heart on Ashley's shirt represents a loved one and a cancer story.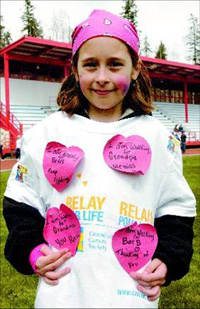 Happy Valentine's Day,
The Canadian Cancer Society Relay For Life Team
P.S. Already a Relay For Lifer? You can use your previous username: egavas and password: barney to speed up the online registration process and gain access to past fundraising information.
Teams of people from all walks of life have fun while raising much-needed funds to fight cancer, and raise awareness of cancer prevention and treatment.  No matter who you are, there's a place for you at Relay. Join us as we celebrate, remember and  fight back!
Related posts: