Warren Tanner of West Vancouver, BC, won the first World Cup of his freestyle ski career Friday despite qualifying only 14th for the men's moguls final.
Alex Bilodeau of Rosemère, Que., looked to be in medal contention after easily winning the qualification round, but he had trouble in the middle of the course and finished 15th. Tanner, meanwhile, prevailed with a score of 25.55, as two other Canadians cracked the top five.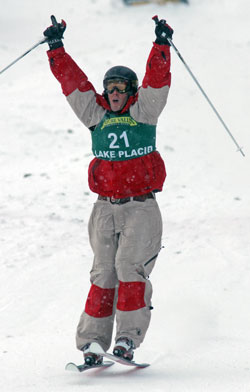 Warren Tanner
2006 Olympic moguls champion Dale Begg-Smith of Australia was a close second, in 25.49, while Patrick Deneen of the United States finished third in 25.22.
Tanner, 27, had captured one other World Cup medal since joining the national team program in 1999, a silver, at the 2006 Apex World Cup.
Friday afternoon, Tanner made the cut into the 16-skier final by 3/10ths of a point, before turning his skiing up a notch.
"It's not a regular thing to come out of 14th with the win. But that may have helped because there wasn't a ton of pressure, and I went for it," said Tanner. "I skied about as well as I could have. I pretty much left it all out on the hill. I had a plan, I executed it, and I stuck to it. I'm just elated."
Next Canadians were Vincent Marquis of Quebec City who finished fourth, with his best-ever showing in World Cup single moguls, and fifth-place Renaud Jacques-Dagenais of Prevost, Que.
"I knew I was able to compete with the best guys on the circuit," said Marquis, 23. "For sure, I'm a little surprised, but this is what I'm trying to do."
Marquis's only better World Cup showing was a dual moguls silver medal in Deer Valley last season.
The win leaves Tanner second in the season's overall moguls' standings with 110 points, behind leader Dale Begg-Smith, who has 120. Pierre-Alexandre Rousseau of Drummondville, Que., who was 37th Friday, is third overall with 100 points, courtesy of his December World Cup win in Tignes, France. Bilodeau is sixth and Marquis seventh.
In the women's final, Emiko Torito of the U.S. was a convincing winner in 25.17. Deborah Scanzio of Italy was second in 23.98 and Kayla Snyderman of the U.S. third in 23.70.
Top Canadian woman was Kristi Richards of Summerland, B.C., in seventh. Other Canadian finalists were Sylvia Kerfoot of Vancouver in 11th and Nathalie Bazin of Quebec City in 12th.
The Lake Placid World Cup resumes with aerials Saturday and dual moguls Sunday.
See pre and post competition videos at http://freestyleski.com/videos/index.htm
Related posts: