Fernie Alpine Resort announces the Reels of Wheels Mountain Biking Film Contest, presented by Island Lake Lodge. The contest is part of the many activities scheduled for the annual Full Throttle Mountain Bike Festival, taking place August 24-26, 2007.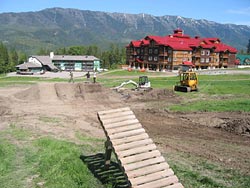 The 'Reels of Wheels' contest aims to provide amateur filmmakers the opportunity to showcase Fernie's amazing mountain biking terrain and/or local mountain biking talent. Entries should be submitted to the Resort in DVD format, and should be a maximum of five minutes in length. The deadline for entries is Monday, August 20. The 'Reels of Wheels' registration form is available for download at www.ferniefullthrottle.com.
The DVD entries will be judged prior to the festival, and the top five entries will be shown on the Big Screen during Friday's festivities. The winning video will receive a 2008 Fernie Alpine Resort Summer Mountain Biking Season's Pass!
The Fernie Full Throttle Mountain Bike Festival will feature activities, races, and competitions, with something for everyone, both on the mountain and in the plaza.
Related posts: