In Fernie, we're all about showing guests a great time. Visitors from all over the world flock here, summer and winter, to experience this natural playground in the Canadian Rockies. So when Mike Sosnowski of Prestige Tours invited Supertrax International magazine to town, he knew he could show this group of snowmobile aficionados some of the best sledding they had ever experienced.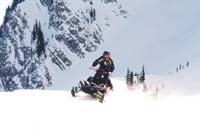 Supertrax International is a leading snowmobiling publication with more than 300,000 readers across North America. Last April, the magazine took Mike Sosnowski up on his invitation and a team of 3 left the "flatlands" of the east, heading West to be shown the ropes of sledding in the Rockies by the experts at Prestige Tours.
Thumbs up from the experts
The resulting mountain adventures of the Supertrax team are chronicled in a very positive "Feature Destination" article in the Fall 2002 issue of Supertrax International.
"I knew that Fernie's incredible snow and unmatched scenery would really blow away the experts from Supertrax," explains Sosnowski. "We worked hard to show them all we had to offer, and I'm proud of the five-star review they gave both Prestige Tours and the Fernie community."
Unparalleled conditions for every rider
Fernie's unique location provides ideal sledding conditions, even for "flatlander easterners", according to Supertrax' Harold McAdam. The relatively low elevation means breathing is easier than in other mountain locales, and sleds perform well. Best of all, snow is plentiful well into Spring. And the mountain terrain provides something for everyone, adds McAdam, from "old boys" looking for challenging packed trails, to thrill seekers chasing steep chutes.
Winning expertise and customer service
McAdam also had praise for the expertise and the customer know-how of the guides at Prestige Tours, who delivered the goods when it came to acquainting the Supertrax team with essential mountain riding techniques. Says McAdam.
"I can't say enough about the support of Mike Sosnowski…his tour company, Prestige Tours, provides excellent service … It's all available here and this makes Fernie one of the best destinations we've seen."
Related posts: